Thanks for all the cookbook suggestions! I'll let you know which ones I pick, but for now here's a recipe from a magazine. It's for Peanut Butter Blondies, and it's from the current issue of Redbook – the one with a picture of Sandra Lee on the front. I bought it partially because I liked the blondie recipe inside and partially because I like Sandra Lee. She wears goofy costumes, says silly things and makes me laugh when I'm on the treadmill (which is usually when I catch her show). Also, from what I heard from people who met her at the last Pillsbury Bake-Off, she was genuinely warm and sincere. And I think she helps a lot of people. For instance, I spoke with someone yesterday who said I should meet a friend of hers because "said friend" liked to cook and use gourmet ingredients like balsamic vinegar and onions. Okay, then! What I'm trying to say here is I like Sandra Lee because she doesn't intimidate people who haven't learned to really cook from going to the kitchen and putting together a meal.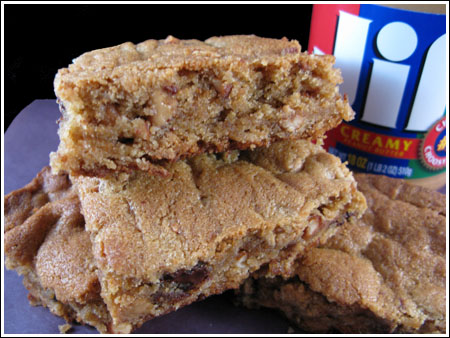 But back to the brownies. Other than the fact that I wish all magazines would put ounces/grams next to flour volumes, this recipe was perfect as is. I didn't make any substitutions. These were really moist, kind of sweet but not overly so, and had a pretty good peanut butter flavor thanks to the extra peanut butter chips. I wouldn't leave those out. I used salted nuts, so I think the sweet/salty aspect of recipe made me like it even more. Also, the brand of peanut butter I used is top secret.
RECIPE HERE…at least for now. If the link doesn't work or gets moved, let me know.