I love jellyroll type cakes, but rarely make them. I'm not sure why that is because they're not that difficult and they accommodate so many variations. You can fill them with anything you want – flavored whipped cream, chocolate mousse, ice cream.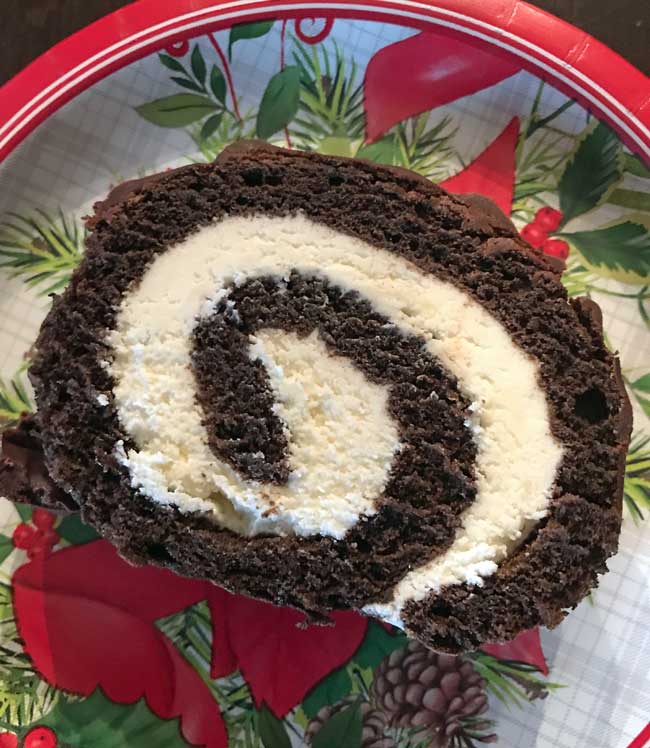 Since I had peppermints leftover from the Sunset Peppermint Brownies, I decided to stir them into vanilla ice cream a peppermint cake roll. Using this Peppermint Cake Roll recipe from Redbook, I made what we all thought was a very good cake roll. This was our Christmas Eve dessert.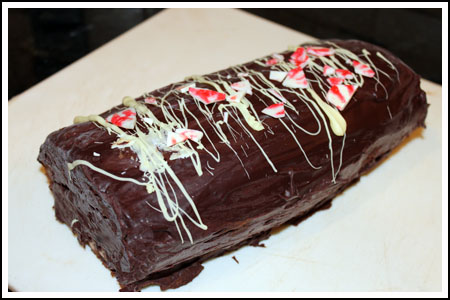 Obviously, I need some more practice making jelly roll cakes so I created a Jellyroll Cake category and filed the Peppermint Cake Roll post there.  Maybe I'll make another one at Easter.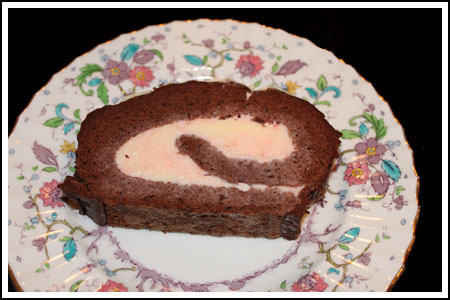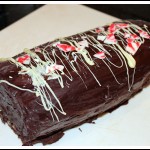 Print Recipe
Peppermint Cake Roll
For this recipe I use a stand mixer to beat the whites quickly and a handheld mixer to beat the egg yolks. If you have two stand mixer bowls you can do both things in the stand mixer. If you'd rather not pull out the stand mixer, you can do all the beating with the a handheld mixer.
Ingredients
1/2

cup

cake flour

55 grams

1/3

cup

unsweetened cocoa powder

32 grams

3/4

teaspoon

baking powder

1/4

teaspoon

salt

5

large eggs

separated and at room temperature

3/4

cup

granulated sugar

divided use (150 grams)

1 ½

teaspoon

vanilla extract

2

tablespoons

confectioners' sugar for dusting
Filling:
4

cups

vanilla ice cream

3/4

cup

crushed peppermints
Glaze:
1/2

cup

heavy cream

2

tablespoon

dark corn syrup

6

ounce

bittersweet or semisweet chocolate

chopped

1

teaspoon

vanilla extract

Garnish with melted white chocolate if desired
Instructions
Preheat oven to 400 degrees F. Spray a 15 1/2 x 10 1/2 x 1-inch jelly-roll pan cooking spray and line with parchment paper. Spray the parchment paper with more cooking spray.

In a small bowl, combine cake flour, cocoa powder, baking powder, and salt. Set aside.

In the bowl of a stand mixer with the whisk attached, beat egg whites with an electric until foamy, then gradually beat in 1/2 cup (100 grams) of the granulated sugar. Beat on high speed until stiff yet not dry peaks form. Set aside. If you don't have a stand mixer, you can do this with a handheld.

In another mixing bowl, using a handheld mixer, beat egg yolks with the remaining 1/4 cup sugar and extract until thick and yellow, about 2 minutes.Add the flour mixture and stir with a spoon or scraper until blended.

Using a scraper, fold 1/4 of beaten egg whites into mixture to lighten, then fold in remaining whites in three parts. Spread in prepared pan; smooth top. Bake 10-12 minutes or until top springs back when gently pressed. Let cool 2 minutes on a wire rack. Sift confectioners' sugar over the top of the warm cake.

Lay a clean dish towel over the cake, then lay another large cookie sheet over the dish towel, then flip so that cake is sitting on dish towel. Carefully peel off parchment paper.

Starting from the short end, roll up the cake taking the towel along with it. Place the cake roll with the towel in it seam side down on wire rack; cool completely.

When cake is cool, mix the vanilla ice cream with the chopped peppermint. Unroll cake and spread evenly with ice cream. Roll up cake. Wrap tightly in nonstick foil and freeze, seam side down, overnight until firm.

Make Glaze: In a small saucepan, heat cream, chocolate, and corn syrup over low heat until chocolate is melted and glaze is shiny and smooth, 1 to 2 minutes. Stir in extract; cool to room temperature.

Unwrap cake; trim ends. Place cake on a wire rack over waxed paper. Pour glaze along top of cake roll, spreading with a spatula to cover sides. Garnish cake with chopped peppermint