This hazelnut chocolate chip recipe was included in a Redbook Magazine interview with Giada De Laurentis. When I first saw it, I wanted to run to the kitchen and try it out, but I was on an airplane so that wasn't possible. Now I'm home in my messy house with loads of laundry and a batch of these cookies.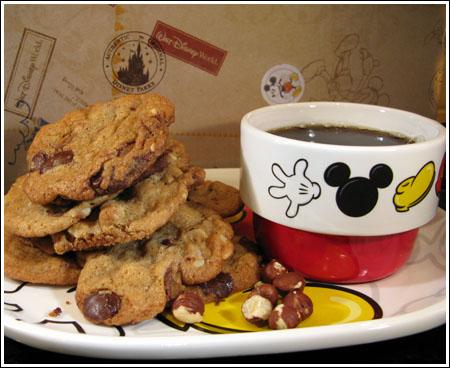 Hazelnut Chocolate Chip Cookies Recipe
I couldn't find the original recipe on the Redbook website, but the original is on Food TV where you can read reviews. Based on earlier comments, it seems a lot of people have already tried this recipe and love it. You can make these as chocolate chip or hazelnut chocolate chunk, of course.
Below is my half batch variation. It includes metric weights, which I am starting to have fun with. The problem is, I'm memorizing metric weights and volumes and forgetting other things such as why we have an Iowa Caucus, what day is Presidents Day, and where I put my keys.
Toasting Nuts in the Microwave
Here's the usual way to toast hazelnuts. However, since I was only toasting ½ cup of nuts, I did it in the microwave. The way I do it is I lay the whole, unpeeled nuts on a stack of paper towels and microwave for 2 minutes, stopping halfway through to shuffle nuts around. After microwaving, I lift the stack of paper towels with nuts out of microwave and set on a large dish towel then wrap towel up and over nuts and rub towel against nuts to remove skins.
Recipe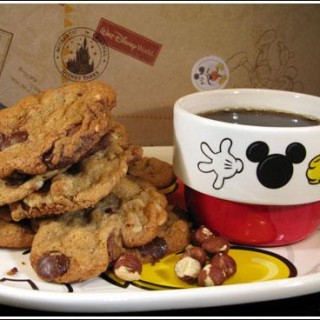 Half Batch Hazelnut Chocolate Chip Cookies
Half Batch Hazelnut Chocolate Chip Cookies
Ingredients 
¼

cup

oats

old fashioned or quick (not instant) oats (20 grams)

1

cup

plus 3 tablespoons all purpose flour

150 grams

½

teaspoon

baking powder

2.5 ml

½

teaspoon

baking soda

2.5 ml

¼

teaspoon

salt

1.25 ml – I used about a pinch more than that

4

ounces

unsalted butter

softened (115 grams)

½

cup

light brown sugar

packed (100 grams)

½

cup

granulated sugar

100 grams

1

teaspoon

vanilla

5 ml

1

large egg

½

cup

hazelnuts

roasted, peeled and chopped (see note) (69 grams)

1

cup

bittersweet chocolate chips or cut up bittersweet chocolate bar

170 grams

⅓

cup

chopped up toffee bars 50 grams

use as much as you want
Instructions 
Preheat oven to 325 degrees F (165 Celsius). Line a cookie sheet with parchment paper or Silpat.

In bowl of food processor (or use a mini grinder), grind oats. Mix the ground oats with flour, baking powder, baking soda and salt.

In a mixing bowl, beat butter and both sugars with high speed of electric mixer. Beat in vanilla and egg and beat for another 30 seconds. Add flour mixture and stir until mixed in. Stir in nuts, chocolate and toffee

Drop by rounded tablespoonfuls onto baking sheets spacing 3 inches apart. Bake one sheet at a time on center rack for 15 minutes or until they appear brown around edges.

Let cool on sheet for 2 minutes, transfer to a rack to cool.