Good Morning!  And thanks again for all the cookbook suggestions! If you missed it, they are in the comment section of yesterday's post. I'm still mulling things over trying to decide what to pick. but for now here's a new apple cranberry pie.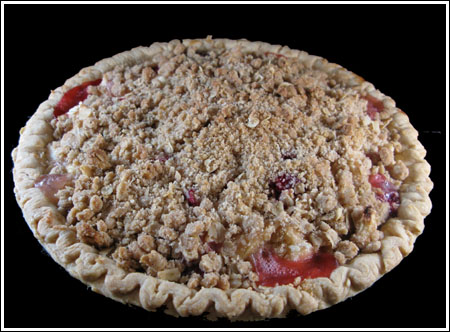 I made this late yesterday with things I had around the house, one of which was a bag of cranberries leftover from Thanksgiving. I wasn't sure I'd like them invading my apple pie, but they turned out to be a lovely addition, adding a little tartness and a whole lot of pink. Luckily, it was a nice shade of pink.
This was a great pie. I adapted the filling from a recipe that had a cooked cornstarch filling. Normally, I made apple pies by just tossing the apples with the sugar, starch and spices, but this cooked filling had a wonderful smooth and thick texture. I'm not sure if it was because the cornstarch mixture was cooked, but I'd definitely do things again the same way.
Recipe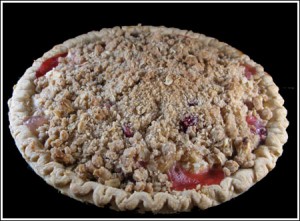 Crumb Topped Apple Cranberry Pie
A crumb topped Dutch style apple pie with cranberries
Ingredients 
½

cup

flour

⅛

teaspoon

salt

⅓

cup

oats

quick cooking or old fashion (not instant)

¼

cup

light brown sugar

packed

¼

teaspoon

cinnamon

3

tablespoons

melted unsalted butter

⅔

cup

granulated sugar

3

tablespoons

cornstarch

1 ¼

cups

water

¾

teaspoon

vanilla extract

¾

tablespoon

fresh lemon juice.

3

cups

apples

peeled and cut into chunks (tart apples like Granny Smith) (about 2 pounds whole)

¾

cup

cranberries

coarsely chopped in half and some whole
Instructions 
Preheat oven to 350 degrees F.

Mix together flour, salt, oats, brown sugar and cinnamon. Pour in butter and stir until mixture is crumbly. Set aside.

Combine sugar, cornstarch and water in a saucepan. Stir well, then turn heat to medium and bring to a boil. Cook for 1 minute, stirring often, until thickened.

Have apples and cranberries ready in a bowl.

Remove from heat. Pour sugar mixture over apples and cranberries and stir well to coat. Stir in vanilla extract and lemon juice. Pour apple mixture into prepared pie crust and sprinkle crumbly mixture over top. Bake at 350 degrees for 45 minutes or until top is brown.