I was supposed to go grocery shopping this morning, but got sidetracked by a couple of over-ripe bananas sitting on the counter. Since I've been experimenting with protein powder, I made Banana Muffins with Protein Powder.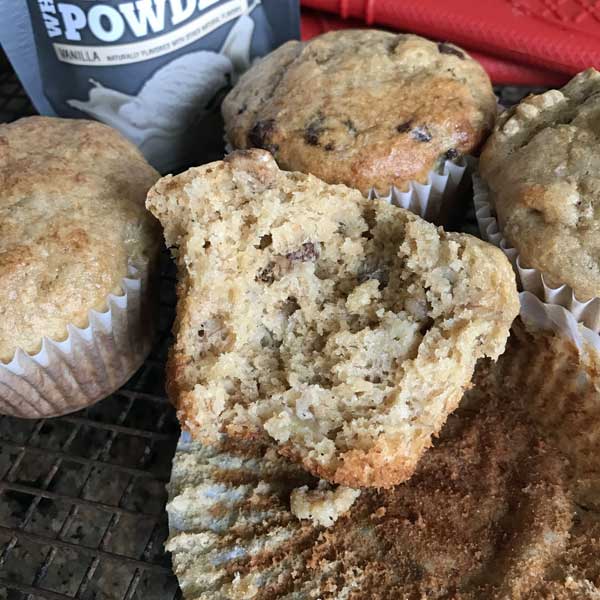 The muffins baked up big with rounded scraggly tops and a heavy texture that improved as the muffins cooled. The texture is a little different than regular muffins, but not rubbery or strange. I liked these a lot and was happy to see Mastercook show nutrition values of 190 calories and 8 grams of protein per muffin. Considering their size and weight (almost 3 oz each), that seemed pretty good. These are substantial muffins and not just balls of fluff. You could probably make them smaller, but I recommend making them larger first and working from there.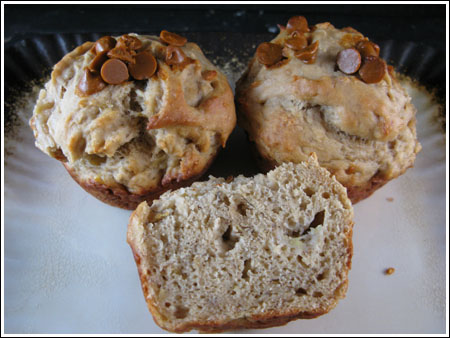 I only wished I'd used an add-in ingredient. Because I couldn't find the cinnamon, I threw some cinnamon chips on top before baking, but these muffins would be even better with extra cinnamon chips, mini chocolate chips or chopped pecans swirled into the batter. Underneath the recipe I put the values Mastercook gave me for the muffins themselves and with the add-ins.
Update: I've made these several times over the years. Results will vary depending on what type of protein powder you use. For the batch in the top photo, I used a whey blend (Gatorade) that had other things in it such as salt, sugar, etc.
Banana Muffins with Protein Powder
1 cup white whole wheat flour (4.5 oz/126 grams) – spoon and level if no scale
1/2 teaspoon baking soda
1/2 teaspoon baking powder
1/4 teaspoon salt (see note) — omit if using protein blend with sodium
1 large egg white, lightly beaten with a fork
6 tablespoons protein powder, brands vary in weight
2 tablespoons vegetable oil
1/4 cup Greek yogurt
1/2 teaspoon vanilla
2 tablespoons packed brown sugar (or Turbinado)
2-3 mashed bananas (8 oz) — the weight should be 8 oz/230 grams
Add-Ins – 2 tablespoons miniature chocolate or cinnamon chips or nuts
Preheat oven to 350 degrees F. Spray 6 muffins cups with flour-added cooking spray or line with paper liners.
Stir flour, baking soda, baking powder and salt together in a bowl; set aside.
Combine egg white, protein powder, oil, yogurt and vanilla and beat well in a medium mixing bowl. Beat in the sugar and the bananas.
Add flour mixture to banana mixture and stir just until mixed – batter should be thick. If using cinnamon or chocolate chips, add them in with the flour or save some and sprinkle on top.
Using a generously rounded quarter cup measuring spoon, scoop up batter and divide evenly between the 6 muffin cups. Bake for for 15-18 minutes minutes, or until a wooden pick inserted in center comes out clean.
Yield: 6 muffins
Note about salt: Some brands of protein powder contain salt.  If your protein powder is actually a protein powder blend with sodium in it, you can omit the salt.
Below or values Mastercook showed without and with add-ins
Without Add-Ins (will vary depending on type protein powder – I used Sunridge Whey)
190 Calories
6g Fat
8g Protein;
With 2 tablespoons miniature Chocolate or Cinnamon Chips
206 calories
7 grams fat
9 grams protein
With 3 tablespoons pecans
214 calories
8 grams fat
9 grams protein