This recipe for Hazelnut Pear Bread is adapted from my old and treasured cookbook, Canyon Ranch Cooking by Jeanne Jones. I tend to pull it off the shelf after a weekend of overdoing it on sugar sugary treats like homemade Kit Kat Bars. The Canyon Ranch book helps balance things out. Plus the bread recipes are especially good!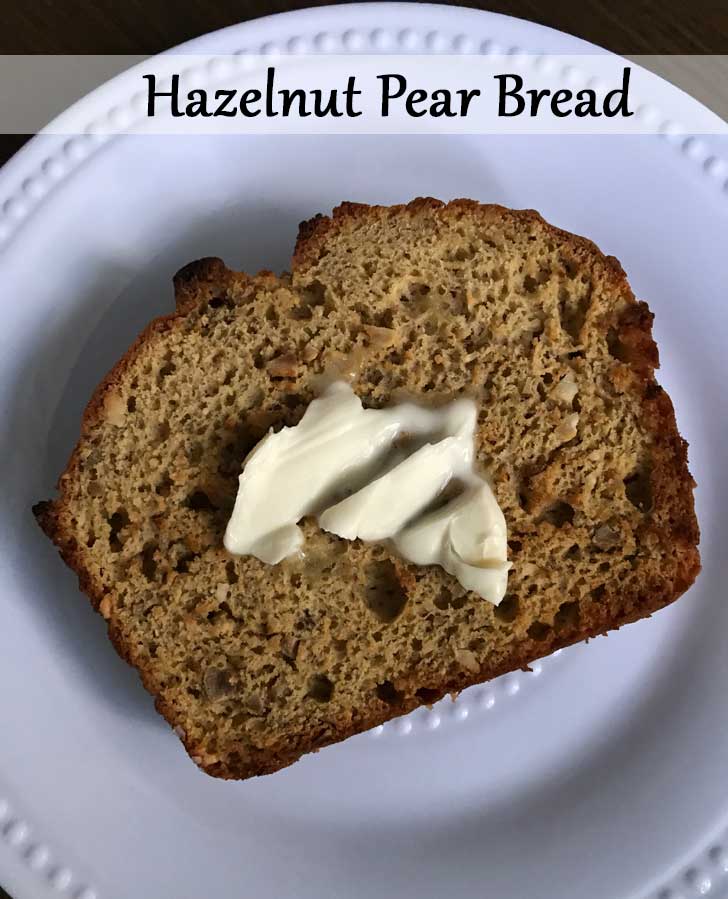 Hazelnut Pear Bread Flavor and Texture
This recipe is a new one for me. In the book, it's right next to the family favorite, Canyon Ranch Bread. The hazelnut bread is similar, but doesn't have as much fiber and has healthy fat from the nuts. Its texture is somewhere between yeast and quick bread so I'd call it toasting bread or an "along-side-something" bread.
Sweetness Level
The bread gets its sweetness from ¾ cup of brown sugar and a pear. It was sweeter than expected, which might have been due to a very large Comice pear. I'd never tasted this type of pear, but they were on sale for 35 cents each and I figured what the heck. Well, it was probably the best pear I've ever had, and I definitely recommend Comice for for eating. However, if you are going to bake with a Comice keep the sweetness factor in mind. As for the sugar, you should use the full ¾ cup (150 grams) the first time before attempting to reduce it. Then, if you think it's too sweet, you could try alternatives.
Toasted or Dry Roasted Hazelnuts
This is an easy quick bread recipe, but it does require a food processor to process the hazelnuts. I used 95 grams of roasted hazelnuts, so it might be possible to substitute hazelnut meal and just mix everything together in a bowl. Then again, the freshly ground dry roasted hazelnuts really add flavor. Here's a picture of the ones I use from Trader Joe's. I think I will go ahead and test it with hazelnut meal sometime in the next decade. Or maybe week.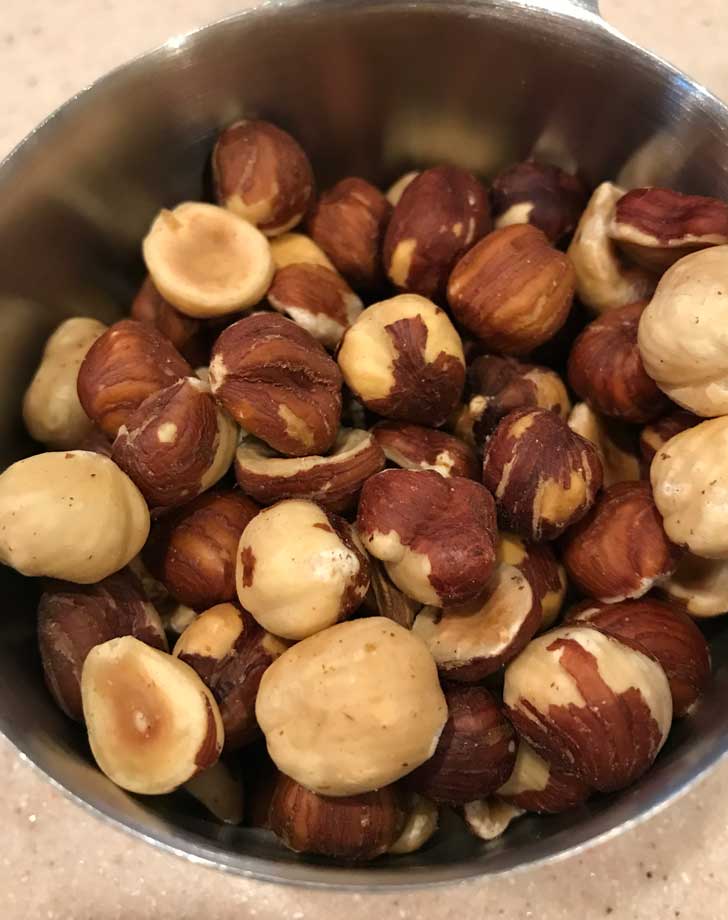 Nutrition Stats
If you are interested in the nutrition stats, the book says each serving contains 145 calories, 3 grams of fat, 300 mg sodium, 28 carbohydrates and 3 grams protein. That is if made with 2 egg whites. I think the whole loaf weighed somewhere around 24 oz, but I forgot to weight it before I cut into it! It's a pretty hefty loaf.
Related Recipes
Recipe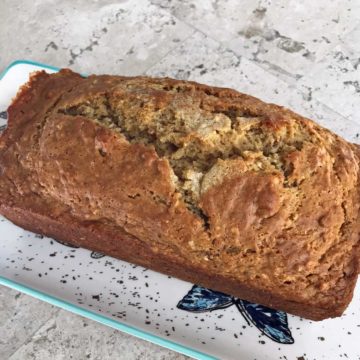 Hazelnut Pear Bread
An easy quick bread made with hazelnuts and pear.
Ingredients 
2

cups

all-purpose flour

(260 grams)

¾

cup

dry roasted hazelnuts (or just toast your own)

(95 grams)

¾

cup

light brown sugar

(150 grams)

1

teaspoon

baking powder

½

teaspoon

baking soda

½

teaspoon

salt plus an extra pinch

2

large

egg whites or 1 large egg

1

tablespoon

coconut oil or olive oil or any other oil!

6

tablespoons

unsweetened applesauce

1

whole

pear, peeled and coarsely chopped (6 oz)

¼

cup

water
Instructions 
Preheat oven to 350 degrees F. Grease an 8 ½ by 4 ½ inch loaf pan. For extra insurance, you might want to line with a strip of parchment. It depends on how much you trust your pan.

Combine the flour, hazelnuts, brown sugar, baking powder, baking soda and salt in a food processor and process for 1 minute or until nuts are finely chopped.

Add egg, oil, applesauce. chopped pear and water to processor and process just until blended.

Scrape batter into the prepared loaf pan and bake for 50 to 60 minutes.

Let cool for 20 to 30 minutes before removing the bread from the pan. Let cool another 30 minute before slicing.