After making the Apple Spice Biscotti Thins and thinking about variations, I came up with a few new versions. Coconut Sugar Biscotti Thins and Peanut Biscotti Thins are two of the new ones. I'll share the peanut version later because I have a lot to say about this version.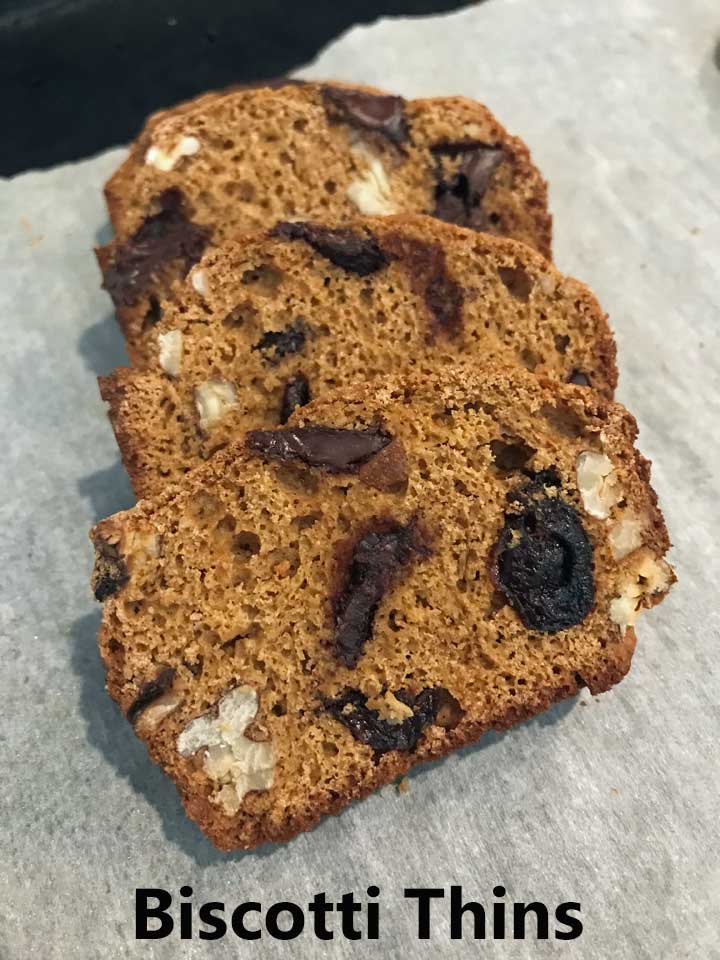 Like the Apple Spice Biscotti Thins, this biscotti is baked in a loaf pan -- or in this case, two mini (3x6 inch) loaf pans. Making the biscotti in mini loaf pans gives you square shaped thins. The advantage to this, other than that it feels like you're eating more of them, is that they dry out a little faster and you get more edges. Like the Apple Spice Biscotti, these are hard and crunchy. Adding a little oil or butter will soften the crunch somewhat, but I wanted them crunchy so I left it out.
Protein Flour, All Purpose or Whole Wheat
I tested the Coconut Sugar Biscotti Things with 1 cup (120 grams) of the Arrowhead Mills protein flour I bought a while back. It's a mixture of vital wheat gluten, garbanzo bean flour, lentil flour and wheat flour and it tasted great! But I've also made these with white whole wheat and all-purpose. The nice thing about the Biscotti Thins is they seem to work with just about any flour. The next test will be with a gluten-free flour blend which I'm sure will work just fine.
Sweetness with Coconut Sugar
The older I get the less sweet I like things and coconut sugar has become more appealing over the years. It has a warm and caramel-like flavor and is supposed to be lower on the glycemic index. Maybe it's a little better for you, or maybe it's not, but I like how it tastes. If you don't have any coconut sugar or prefer regular sugar, that works too.
Add-Ins & Extracts
So far I've made this version with different combinations of walnuts, pecans, dried cherries, white chocolate and chocolate. The fun part is mixing and matching, so you can use whatever you feel like. I especially like using almond extract, but vanilla and maple are also good.
Recipe
Coconut Sugar Biscotti Thins
These should have just the right sweetness if you add some dried fruit and/or chocolate chips in with the nuts.
Ingredients 
1

cup

protein flour or AP or white whole wheat

125 grams**

¾

teaspoon

baking powder

¼

teaspoon

salt

1

whole egg

54 grams

1

egg white

34 grams

6

tablespoons

coconut sugar

80 grams

¾

teaspoon

vanilla extract

1

cup

chopped walnuts or your favorite nuts

Use more or less to taste

¼

cup

chocolate chips or any other type of chips or candy

Use more or less to taste

⅓

cup

dried fruit such as dried cherries and apricots
Instructions 
Preheat oven to 350° F. Grease the inside of an 8 ½ by 4 ½ inch loaf pan or two 6x3 inch loaf pans, line with strips of parchment paper and grease again. Foil is okay too.

In a medium bowl, mix together flour, baking powder and salt. Set aside.

In a mixing bowl, using an electric mixer, beat the whole egg and the white for a minute. With the mixer on high speed, gradually add sugar and beat for another 2 minutes or until pale and bubbly. Beat in the vanilla or whatever flavor extract you like.

Add the flour mixture to the egg mixture and stir with a heavy-duty scraper until blended, then fold in the nuts and other add-ins.

Spread mixture in the loaf pan (or pans). Dampen fingers with a little water and press lightly to even out the top. Bake for 25 to 30 minutes or until loaves look slightly browned and set.

Remove from oven and let cool, then remove from loaf pan and refrigerate until very firm. You can also freeze, but if you freeze it don't freeze it solid or the loaves will be too hard. The goal is to get the loaf/loaves very firm so that you can make thin slices.

When the loaf (or loaves) are cold and firm, cut very thin slices and lay them on a baking sheet. Use whatever knife works best for you. I've been using a serrated knife with a sawing motion. Bake at 250 for about 30-40 minutes or until edges are brown and crisp. They should become fully crisp as they cool, so if they are well browned around the side you can take them out.
Notes
I way the flour and use 125 grams.  That's a pretty light cup, so if you don't have a scale and can't weigh, make sure to fluff up your flour and scoop it into the cup without packing.