This is a Whole Foods oatmeal cookie recipe called Oh-So-Good Oatmeal Cookies.  It's been a while since I made these, but the notes say I used turbinado sugar.  Next time I make them I'll use regular sugar or evaporated cane juice crystals. What makes these interesting are the ingredients. The cookies call for a combination of oil and butter along with both wheat germ and whole wheat pastry flour. And then of course you have your oats and nuts. You can't really go wrong here.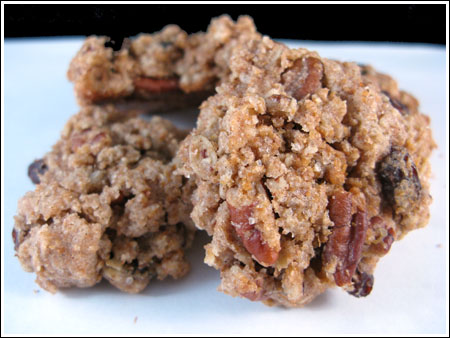 Whole Foods Oatmeal Cookies Recipe
4 tablespoons (½ stick) butter softened (56 grams)
3 tablespoons canola oil
½ cup sugar (100 grams)
1 egg
2 teaspoons pure vanilla extract
½ teaspoon fine sea salt
1 cup quick cooking rolled oats
¼ cup wheat germ, preferably toasted
1 cup whole wheat pastry flour
¾ teaspoon baking powder
½ cup raisins
½ cup toasted pecans finely chopped
Preheat the oven to 375°F. Line two baking sheets with parchment paper.
In a large bowl, mix the butter and oil until completely blended. Whisk (or just stir) in sugar, egg, vanilla and salt; set aside.
In a second large bowl, combine oats, wheat germ, flour and baking powder, then add to butter mixture and stir well to combine thoroughly. Fold in raisins and pecans.
Drop dough by the spoonful onto prepared baking sheets, spacing them about 2 inches apart, and bake until cooked through and golden brown, 10 to 12 minutes. Carefully transfer to wire racks and set aside to let cool completely.
Some Other Recipes That Sound Good