Yesterday's Blueberry Sour Cream Loaf Cake got a thumbs up from everyone who tried it.  Or at least that's what I like to think.  Maybe a couple of people hated it and didn't say anything, but all I heard was the good feedback, so that's what I'm going with.  It was really more of a cake than a quick bread, and I still wanted to make a good quick fresh blueberry bread.  Here it is.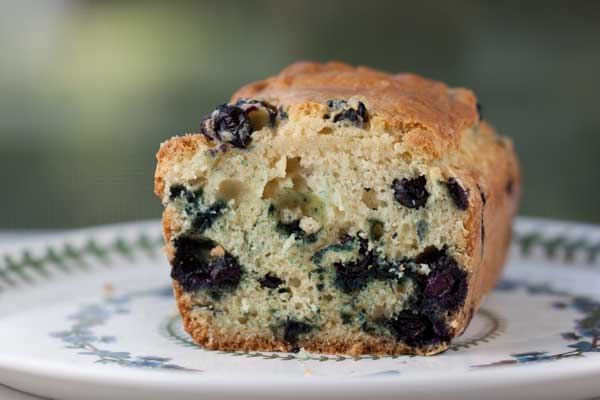 This one is less sweet that the other, plus it's made with oil, therefore there is no creaming of butter and sugar.  I just wish I had the money, time, and eaters to make a bunch of loaves of this using different types of oil and sweeteners.  I used a sugar substitute called "Ideal Sweetener" in place of sugar and used grapeseed oil for the oil, so the bread has a greenish cast to it.  But even with the not-as-mainstream ingredients, the bread as very good.  If you try the fresh blueberry bread with another oil (Sunflower? Walnut? Canola?) let me know.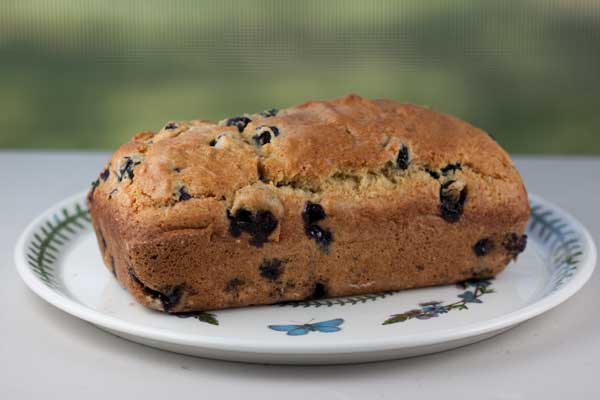 This info is in the Fresh Blueberry Bread notes, but I'm adding it here as well.  The recipe calls for an 8×4 inch loaf pan, which is not a size everyone has.  It's a common size in general, but I suspect most people have slightly larger 8 1/2 by 4 1/2 or 9×5 inch loaf pans.  The blueberry bread will definitely work in a larger size pan, but you might need to take it out a little sooner.  The 8×4 inch pans, also known as 1 pound size loaf pans, are handy to have around.  They are often sold in pairs and are perfect for making small, tall loaves.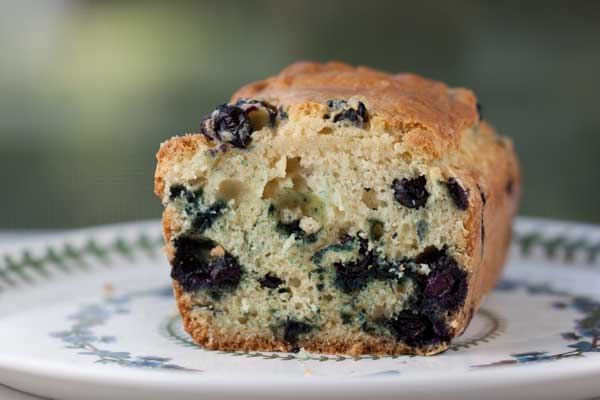 Fresh Blueberry Bread
Blueberry bread made with vegetable oil. This makes an 8x4 inch loaf with a capacity of about 4 cups. If you use a larger loaf pan, the bake time will probably be shorter.
Ingredients 
2

large

eggs

2/3

cup

sugar or equivalent artificial sweetener

1/3

cup

vegetable oil

I used grapeseed

1/4

cup

whole milk

1 1/2

teaspoons

vanilla

1 1/2

cups

all-purpose flour

7 oz/200 grams

1/2

teaspoon

baking soda

1

teaspoon

baking powder

1/4

teaspoon

salt

1

heaping cup fresh blueberries
Instructions 
Preheat oven to 350 degrees F. Grease an 8x4 inch loaf pan (4 cup capacity) and line with parchment paper (I put a strip down the middle and up the short sides).

Mix the eggs, sweetener, oil, milk and vanilla together in a mixing bowl.

Combine the flour, baking powder, baking soda and salt in a second bowl and stir well. Add to the wet mixture and stir until combined, then very carefully fold in the blueberries.

Spread in the pan and bake on the center rack for about 40-45 minutes. Let cool in the pan for about half an hour, then let cool for several hours before slicing.