Today's recipe is from Cindy, who answered my request for a cookie made with a lot of shortening. I wanted to test-drive the fancy new $6.00 Spectrum which I bought earlier this week. As much as I love butter, there's a certain texture I like in cookies that only shortening can give – a crispy, crunchy, but light texture similar to what you get in some packaged cookies.
Cindy promised the cookies would be crispy, and they were. They look like packaged cookies but taste homemade. And best of all, I didn't miss the butter.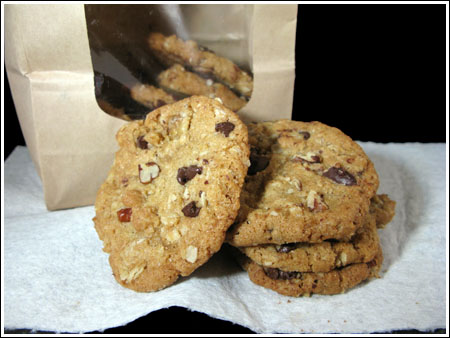 Crunchy Oatmeal Chocolate Chip Cookies
2 cups sifted flour** (238 grams)
1 tsp baking powder (5 ml)
1 tsp baking soda (5 ml)
1/2 tsp salt (2 ml)
1 cup shortening (208 grams)
1 cup brown sugar, packed (220 grams)
1 cup granulated sugar (196 grams)
2 large eggs
1 tsp vanilla (5 ml)
2 cups quick-cooking oats (200 grams)
12 oz package semisweet chocolate chips (336 grams)
1/2 cup chopped toasted nuts (walnuts or pecans) (56 grams)
Sift together pre-sifted flour, baking powder, baking soda and salt; set aside.
Cream shortening and sugars in bowl until light and fluffy, using electric mixer at medium speed. Add eggs, one at a time, beating well. Blend in vanilla.
Gradually stir dry ingredients into creamed mixture. Stir in oats, chocolate and nuts. Drop mixture by teaspoonfuls or shape into 1 inch balls and place about 2 inches apart, on parchment lined baking sheets.
Bake in 350 degree F (180 degree C) oven 12-15 minutes or until golden brown. Remove from baking sheets; cool on racks. Makes 6 dozen.
** A cup of sifted flour weighs less than a cup of unsifted flour. I sifted the flour then weighed it.