I usually make rolled biscuits rather than drop, but during these past few weeks of kitchen upheaval I've been simplifying my routine and making things that involve fewer dishes and less counterspace. So goodbye layered and hello drop biscuits! Or in this case, Buttermilk Drop Biscuits.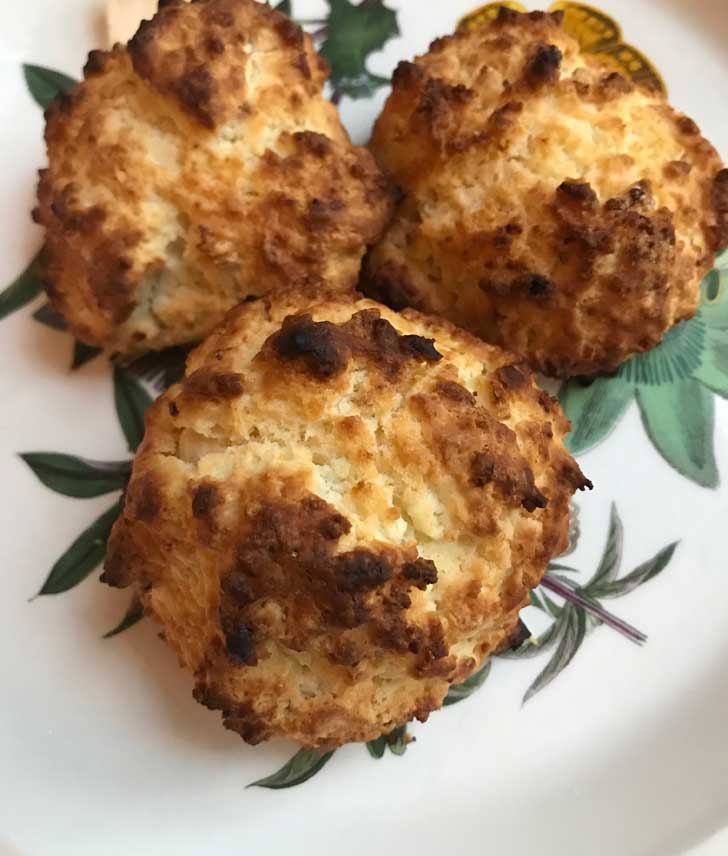 These are so good, and perfect for when you don't have a lot of counterspace to make rolled biscuits. You just mix self-rising flour, sugar, buttermilk powder and cold fat, then add a bit of egg and water. The cold and lumpy batter, which you barely have to stir, bakes into beautiful browned bumpy biscuits.
Powdered Buttermilk Drop Biscuits
The star ingredient in this recipe is the buttermilk powder (I use Saco). It's a real lifesaver when you don't have liquid buttermilk, and in some ways it's more versatile. For instance, if you use buttermilk powder in place of liquid buttermilk, you can play around with the liquid in the recipe. And by that I mean you can use cold water or something bubbly like champagne or soda water. I made a couple of batches of Buttermilk Drop Biscuits with Prosecco instead of water. Not sure how much of a difference it made, but it was a fun way to use a little Prosecco! And maybe the biscuits were a little crispier, but the jury is still out.
Self-Rising Flour Substitute
I used self-rising flour and also tested with the self-rising flour substitute.
The substitute for self-rising flour is generally 1 cup all-purpose flour (130-140 grams) plus 1 ½ teaspoons baking powder and ¼ teaspoon of salt. If using the substitute in this recipe, mix everything very well, then weigh out 130 to 140 grams. The reason I recommend weighing the flour is because weights per cup vary by brand and weight is more accurate. That being said, if you don't have a scale just stir your flour well, spoon it into the cup and level and you should be fine. Add the liquid gradually.
Gluten-Free Biscuits
You can make Buttermilk Drop Biscuits gluten-free! I used a gluten-free baking 1:1 blend with some slight adjustments including subtracting a little butter and adding 2 teaspoons of almond flour. The gluten-free variation is in the notes.
Recipe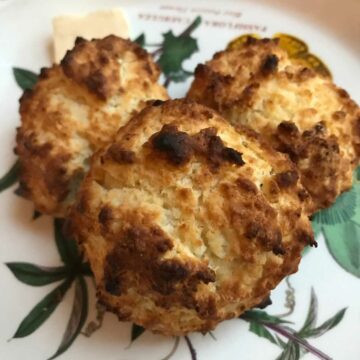 Buttermilk Drop Biscuits
An easy biscuit recipe using self-rising flour. For the milk, you can use buttermilk powder or actual buttermilk.
Ingredients 
1

cup

self-rising flour or all-purpose substitute in notes.

(130 grams)

¼

teaspoon

salt (optional) -- Use if using shortening or unsalted butter (see note)

1

tablespoon

sugar

(25 grams)

1 ½

tablespoons

buttermilk powder or omit and use buttermilk instead of water

4

tablespoons

cold butter or shortening

(56 grams butter or 48 grams shortening)

2

tablespoons

cold beaten egg

(24 grams)

⅓

cup

APPROXIMATE ADD GRADUALLY cold water or use ⅓ cup buttermilk and omit the buttermilk powder
Instructions 
Preheat oven to 450 degrees F. Line a baking pan or toaster oven pan with parchment paper or foil. If using foil, spray with a little cooking spray. You can also grease with butter, but keep in mind the bottoms of the biscuits will brown more.

Put your flour in a mixing bowl and stir in the sugar and buttermilk powder.

Grate cold butter into the flour mixture, tossing gently to distribute. Mix until uniformly crumbly. If you'd rather, you can use shortening, in which case you just plop it onto the dough and stir until crumbly. You can work it in with your fingers or a pastry cutter.

Add the 2 tablespoons of cold egg and stir well, coating the flour mixture.

Gradually pour the ice cold water (or milk, if you did not use the buttermilk powder) into the mixture, stirring until it is lumpy and wet, but still holds its shape. Again, do this gradually. You want the batter to be thick enough to hold its shape. If you end up needing to use more liquid, use more.

Scoop 6 even size balls of lumpy dough onto the greased pan. The biscuits are on the small side.

Bake for about 12-15 minutes or until browned and cooked through.
Notes
Salt: USA self-rising flour has salt in it, but I still think these need a tiny bit more -- especially if using unsalted butter, shortening, or a combination of the two.  If using salted butter, don't add the extra ¼ teaspoon of salt. All-Purpose Flour Version: To substitute all-purpose flour, use 1 cup of all-purpose flour mixed with 1 ½ teaspoons of baking powder and ⅛ teaspoon of salt. If you like your biscuits slightly salty, add another pinch of salt to the recipe or use salted butter. Gluten-Free Version: Use 150 grams (1 cup) gluten-free blend such as Bob's 1:1 in place of the flour.  Add 1 ½ teaspoons of baking powder and ⅛ teaspoon of salt along with 2 teaspoons almond flour.  Decrease the amount of butter to 3 ½ tablespoons (48 grams).