You know what would be a good? Corn muffins with blueberries. But I didn't think of that until after I'd made these cookies, which have a similar theme and breakfast potential. The cookies themselves are fairly soft, but they have crisp, golden edges and juiciness from the blueberries. I'm not sure how well they'll keep, but I couldn't stop eating them today so it's not much of an issue.
To keep the blueberries from mushing all over, I froze them before adding them to the dough. This was very helpful when forming the first round of dough balls (no blueberry juice smears), but since I rarely bake up all the dough at once, I had to be more careful baking the next round of chilled dough because the blueberries had thawed.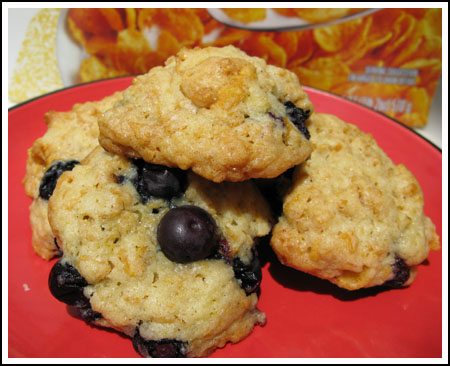 Blueberry Lemon Cornflake Cookies
1 stick (4 oz) unsalted butter, room temperature (114 grams)
½ cup granulated sugar (96 grams)
1 large egg
¼ teaspoon vanilla extract
1 teaspoon lemon zest plus 1 teaspoon lemon juice
1 cup unbleached all purpose flour (135 grams)
½ teaspoon baking powder
¼ teaspoon baking soda
½ teaspoon salt (use scant – ½ is salty, but in a good way)
1 cup corn flakes cereal, crushed after measuring
1 cup frozen blueberries tossed in 1 teaspoon flour
Preheat oven to 350 degree F. Line two cookie sheets with parchment paper.
Beat the butter and sugar on high speed of an electric mixer, in a large mixing bowl, for about 2 minutes or until light and creamy. Beat in the egg, vanilla and lemon zest and juice; scrape sides of bowl and beat for another 30 seconds.
Thoroughly mix the flour, baking powder, baking soda and salt together in a separate bowl. By hand or using lowest speed of mixer, gradually stir the flour mixture into the butter mixture until it is almost incorporated. Add the corn flakes and flour-tossed blueberries and stir until flour is fully incorporated.
Drop dough by rouned teaspoonfuls onto cookie sheets spacing about 2 ½ inches apart. Bake for 12-14 minutes or until edges are golden brown and cookies appear set.
Remove to a wire rack and cool cookies completely before serving.
Makes about 30 cookies