After making a taco recipe that called for lentils instead of beef, I wanted to use more of them and (finally) tried Alton Brown's Lentil Cookies.  If you've never seen the recipe, it's on Food TV's website and it has great reviews.  With lentils, oatmeal and whole wheat pastry flour, it's a recipe with some nutritional value, and while it does call for butter, I figured if I liked the cookies I could try them again with something like I Can't Believe it's Not Butter or Smart Balance.  But first I made the cookies as Alton Brown directs, with minor changes.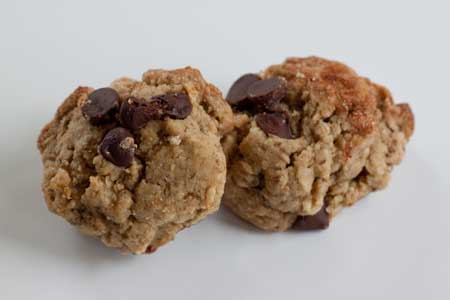 -- used chocolate chips instead of dried fruit
-- left out the coconut (because I forgot it)
-- and sprinkled cinnamon sugar over the cookie dough before baking the balls of dough.
-- halved the recipe
We all liked them. They had a dense, crumbly, scone-like texture and weren't at all cake-like.  Would I make them again? At first I thought I would not and that they were just going to be a novelty one-time thing, but after eating the cookies over a period of days, it seems they improve with age.  Plus I mentioned I was going to try the recipe with a butter alternative so there's that.  If you're a big lentil fan, try these soon.  If you've never baked lentils in your life, I'd also say try these soon because you'll be able to say you've made lentils.  Just don't let the smell of the boiling lentils put you off the cookies.  
If you missed it, here's another link to the original recipe.