Sorry they are not red, white and blue, but these Double Chocolate Chip Brownies might be just what you need for the holiday weekend, so I'm sharing the recipe. It's an old one based on a recipe from the back of a chocolate chip bag.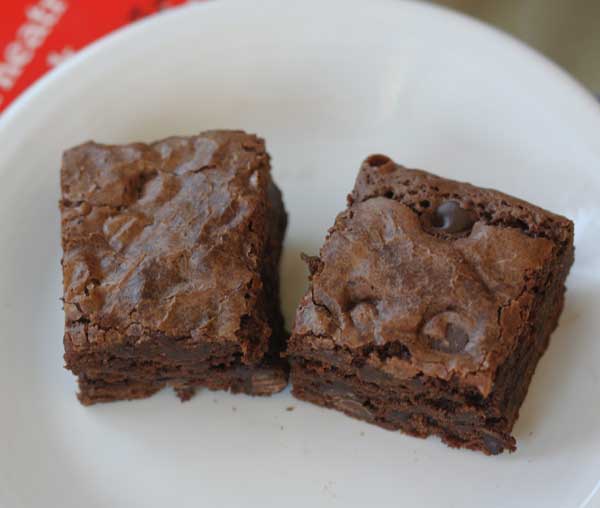 The original version calls for a combination of melted semisweet chips and white chips, but over the years I started making it with semisweet chips only. The original version is also double this and baked in a 9×13 inch pan. My version uses 1 full bag of chips and is baked in an 8 inch square pan. These are thick brownies, so for even baking I keep the temperature at a low and steady 325F. The resulting texture is definitely between fudgy and cakey, and the hefty amount of chocolate chips added at the end makes them even better.

Double Chocolate Chip Brownies
White Treasure Brownies aka Double Chocolate Chip Brownies are brownies made with melted chocolate chips.
Ingredients
3/4 cup all-purpose flour
1/4 teaspoon baking soda
1/4 teaspoon salt
1 (12 oz) bag of semisweet or dark chocolate chips, divided use
1/3 cup (75 grams) unsalted butter, softened
3/4 cup (150 grams) sugar
2 tablespoons water
1 teaspoon vanilla
2 large eggs, cold
Instructions
Preheat oven to 325 degrees F. Line an 8 inch square baking pan with foil and grease foil.
Whisk together the flour, baking soda and salt; set aside.
Put 1 cup (6 oz) chocolate chips in a heat proof mixing bowl and set next to the stove.
In a saucepan, stir together the softened butter, sugar and water. Set over medium heat and bring just to a boil. Remove from heat and pour hot sugar mixture over the chocolate chips, scraping saucepan to get all sugar mixture (I use a silicone scraper). Stir until chips are melted and mixture is smooth.
Add one of the eggs and stir with a heat proof scraper (or whisk) until blended. Add the second egg and stir until blended. Stir in the vanilla.
Add the flour mixture and stir until blended.
If the mixture is very hot, let it cool for about 5 minutes, then add the remaining 1 cup of chips.
Pour mixture into the prepared metal pan and bake at 325 for 35-40 minutes.
Let cool completely, then lift from pan and cut into squares.
Notes
If you use Nestle Dark Chocolate Chips you'll have to buy more than one bag, as a bag is only 10 oz.

For a half batch, use an 8 inch square pan and bake for about 40 minutes.