Sorry they are not red, white and blue, but these Double Chocolate Chip Brownies might be just what you need for the July 4th weekend. The recipe is an old one based on one from the back of a chocolate chip bag.  Actually, now that I think about it the recipe might be from a box of a product Nestle used to make called White Chocolate Treasures.  I'm honestly not sure, but this is how I make the brownies.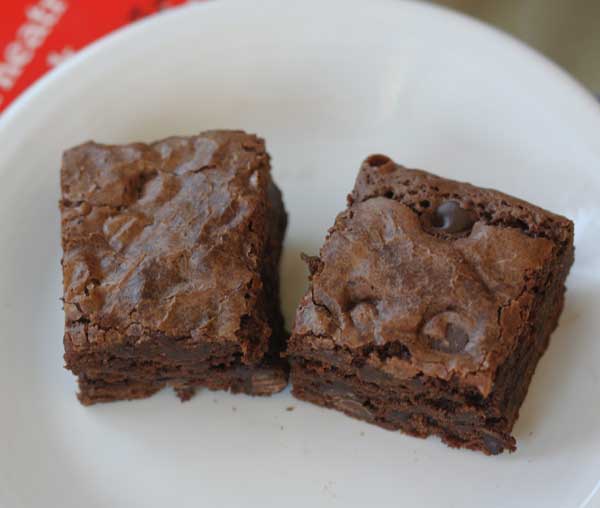 Melted Chocolate Chip Brownies in 8 Inch Pan
This recipe is baked in an 8 inch pan and calls for a full 12 oz of chips.  Unfortunately a lot of chocolate chip brands don't contain a full 12 oz, so you may have to scrounge for more chocolate if you only have one bag.  The most important thing is that you use 6 oz (1 cup) for the melted part.  Using less than a cup for the add-ins at the end would be fine.
These are thick brownies, so for even baking I keep the temperature at a low and steady 325F. The resulting texture is definitely between fudgy and cakey. The hefty amount of chocolate chips added at the end adds contrast to the texture.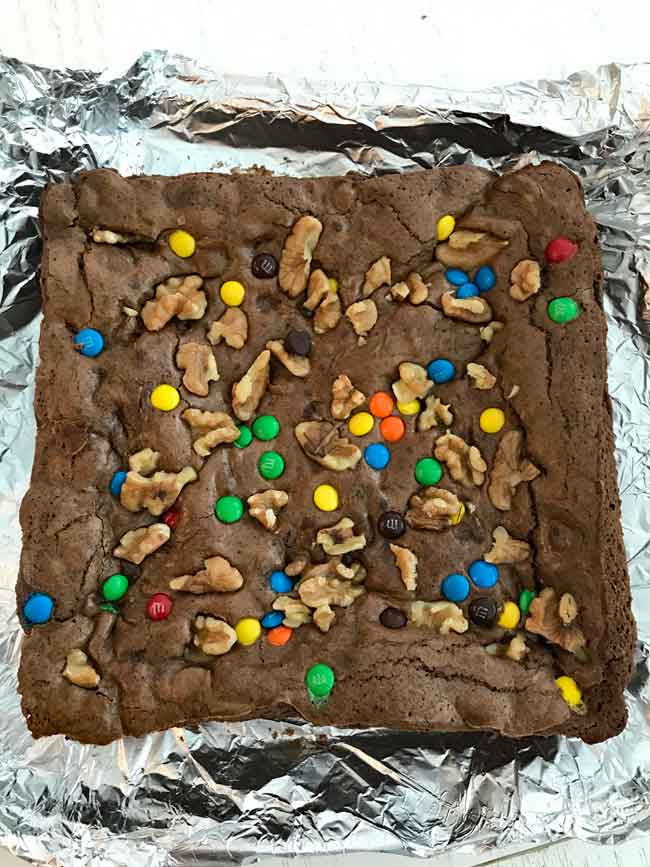 Update:  Double Chocolate Chip Brownies really are great when you are out of cocoa powder but have a lot of chocolate chips.  I made a batch today and jazzed them with a little sea salt, which I put on the bottom of the greased pan. In addition to that I threw in some walnuts.  For the chocolate chips I used a combination of Nestle Toll House and Ghirardelli bittersweet, so I used up two partial bags. That always feels good. Enjoy the recipe, and please leave a review, but only if it's good. Just kidding.
More Recipes with Chocolate Chips
Recipe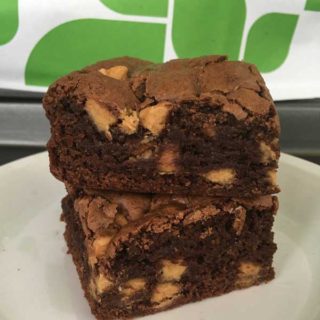 Double Chocolate Chip Brownies
White Treasure Brownies aka Double Chocolate Chip Brownies are brownies made with melted chocolate chips. This recipe is adapted from one that appeared on a discontinued Nestle product called White Chocolate Treasure baking pieces.
Ingredients 
¾

cup

all-purpose flour

(95 grams)

¼

teaspoon

baking soda

¼

teaspoon

salt

12

oz

semisweet or dark chocolate chips, divided use

(336 grams, divided in two parts)

⅓

cup

unsalted butter, softened

(75 grams)

¾

cup

granulated sugar

(150 grams)

2

tablespoons

water

1

teaspoon

vanilla

2

large

eggs

cold
Instructions 
Preheat oven to 325 degrees F. Line an 8 inch square baking pan with foil and grease foil. Try to only grease the bottom so that the batter will cling to the sides of the pan. Don't stress if you do get some butter (or spray) on the sides.

Whisk together the flour, baking soda and salt; set aside.

Put 1 cup (6 oz) chocolate chips in a heat proof mixing bowl and set next to the stove.

In a saucepan, stir together the softened butter, sugar and water. Set over medium heat and bring just to a boil. Remove from heat and pour hot sugar mixture over the chocolate chips, scraping saucepan to get all sugar mixture (I use a silicone scraper). Stir until chips are melted and mixture is smooth.

Add one of the eggs and stir with a heat proof scraper (or whisk) until blended. Add the second egg and stir until blended. Stir in the vanilla.

Add the flour mixture and stir until blended.

If the mixture is very hot, let it cool for about 5 minutes, then add the remaining 1 cup of chips.

Pour mixture into the prepared metal pan and bake at 325 for 35-40 minutes.

Let cool completely, then lift from pan and cut into squares.
Notes
If you use Nestle Dark Chocolate Chips you'll have to buy more than one bag, as a bag is only 10 oz.