I was in a brownie mood this morning and decided to try an easy one-bowl recipe off the back of a dark chocolate chip bag. For the amount of effort, the brownies paid off. They were very good — especially if you like your brownies rich, fudgy, and candy-like. In fact, they were so rich and dense that instead of cutting them into 16 pieces like the recipe said, I cut them into 64 squares and put them in mini cupcake papers. Mini muffin papers can make anything cute, eh?
Anyhow, if you have problems making fudgy brownies or your brownies always turn out a little cakey, this recipe is worth a shot. Make sure to use dark or bittersweet chocolate chips, though. I think semi-sweet might be a little too sweet.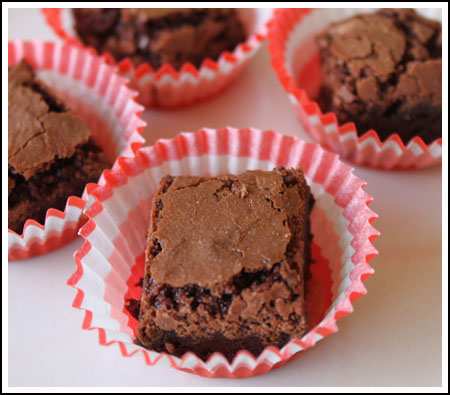 Dark Chocolate Truffle Brownies
1 2/3 cups (10 oz) dark chocolate chips**
3 tablespoons unsalted butter
3 tablespoons water
1 cup granulated sugar (7 oz)
1/2 teaspoon salt
1 teaspoon vanilla
3 large eggs
1/4 cup unsifted all-purpose flour
Preheat oven to 325 degrees. Line an 8 inch square pan with foil and grease bottom of pan or spray with a little cooking spray.
Heat chocolate, butter and water in a large microwave-safe mixing bowl at 50% power for 2-3 minutes, stopping to stir after the first minute and at 30 second intervals thereafter.
Beat the sugar, salt and vanilla into the melted chocolate mixture with a wooden spoon. Beat in the eggs one at a time until smooth and glossy, then stir in the flour.
Spread the batter in the pan and bake 35-40 minutes. Do not overbake. the brownies will firm as they cool.
Cool completely or cool and chill. Lift from pan and cut into about 16 squares and then cut each of those squares into 4 squares to make 64 minis.
**I used extra dark chips, but bittersweet would probably work just as well. I think the brownies might be a little too sweet if made with semi-sweet.