This morning's dilemma? What to do with two peaches just past the peak of ripeness. I want to bake something delicious, but we're short on ingredients.  Maybe my hour of surfing for peach recipes will help you.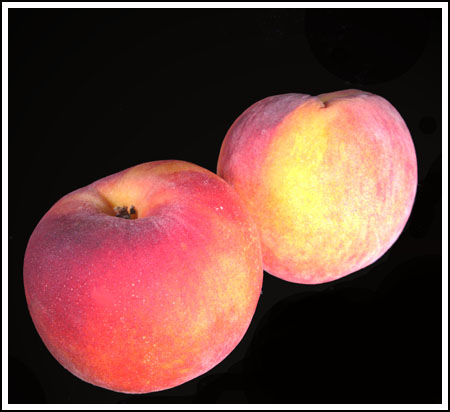 Mennonite Girls can Cook! Peach Custard Tart sounds incredible. Too bad I don't own any tapioca today.
King Arthur's Spiced Peach Muffins are feasible, but the seven year olds in the house won't appreciate. Better to save the recipe for my mother.
What the heck? This Peaches and Cream Pie has close to 5 stars and 575 reviews. I'm curious what it tastes like, but there's no pudding mix in the house.  Maybe that's for the best.
Ack, another one!
My grandma would like this Peaches and Cream Bread Pudding, but she's in heaven now.
If we had sour cream in this house, I'd be using it in thes Sour Cream Peach Bars.  I knew I should have bought sour cream.  Bummer.
Well, well, well, what have we here? Peach scones.  Fuzz is a scone-loving maniac, but she doesn't care for cooked fruit.
What I really want to make is a good peach pie. This recipe sounds good, but two peaches won't do it. Oh well, at least I found The Pie Maven.   She's funny.