I went on a mad baking spree this morning and baked whole wheat chocolate chip cookies, Dutch chocolate brownies (which were "meh") and a basic lemon meringue pie. Out of the three, the chocolate chip cookie recipe was my favorite. I'll post that that in a bit.For now, I want to talk about lemon meringue pie.
I'm not sure where the idea came from, but I started thinking about lemon meringue pie yesterday and it seemed like a good "Friday" kind of dessert. Plus, it was cheap to make and I'm trying to save money for other things. So I made the crust last night (basic shortening base, nothing fancy) and the filling this morning.
If I'd spent too much time looking for a recipe, my head would have exploded. There are so many ways to make lemon meringue pie. But as it happened, I had a limited number of eggs and only 3 lemons, so I used a recipe from my James Villas book. The pie is great, but there are issues. The main being, liquid leaked into the open space after I cut it.
But there are also things I really like about Villas's recipe. One is that it isn't super sweet. A lot of the lemon meringue pies have 1 ½ cups sugar in the base, various amounts of thickener, 1 ½ cups water and between ⅓ and ½ cup lemon juice. Villas's pie has only had 1 cup of sugar and 3 egg yolks. Some recipes have up to 6. The downside is it only has 3 whites and that just didn't give me enough meringue. I ended up making more.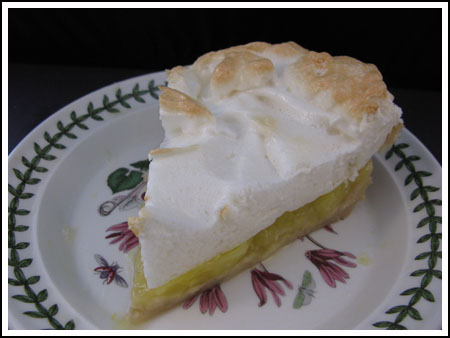 My pie was a hack, but it still tasted good. Next time, I'll go with this lemon meringue pie recipe which is very similar to Villas's but has a cornstarch/flour combo (might prevent leakage), has only 1 cup sugar, an extra egg for a more stable custard and more white for the meringue and an awesome rating from 627 people. The only drawback to the allrecipes recipe is it calls for 2 lemons and their zest which is a little iffy.  Villas's recipe used exactly ⅓ cup juice and 2 teaspoons zest, so if you need more accuracy, go with that, though you might need an extra lemon.
So are you ready to make a lemon meringue pie now? In case you got lost in all my rambling, here's the Grandma's Lemon Meringue Pie link (again). This recipe is very similar to the one from Villas.
Do you have a favorite lemon meringue pie recipe? If so, let me know!