This is the lemon flavored sibling to Oreo Cookies and Cream Pie. If you are a chocoholic you can substitute regular chocolate Oreos, but lemon cookies and cream is a fun summer-time alternative. And I tried to keep the recipe as simple as possible.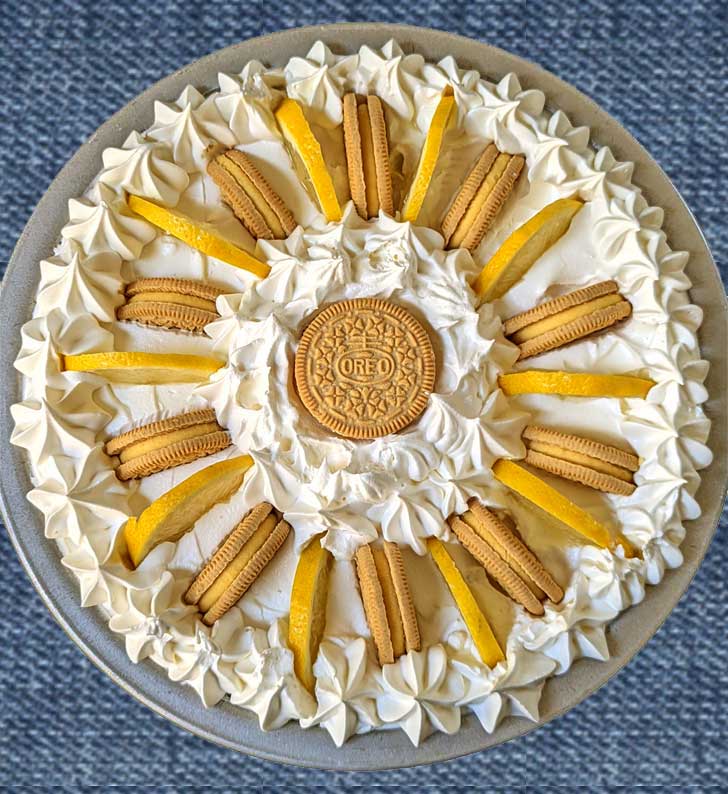 Lemon Oreos Cookie and Cream Pie
This recipe is pretty much a pie version of Layered Chocolate Dessert but with lemon instead of chocolate. You mix Lemon Oreo crumbs and butter and press into a shallow 9 inch pie dish. You then make a thin cheesecake type layer with cream cheese, sugar, milk and cover it with lemon pie filling.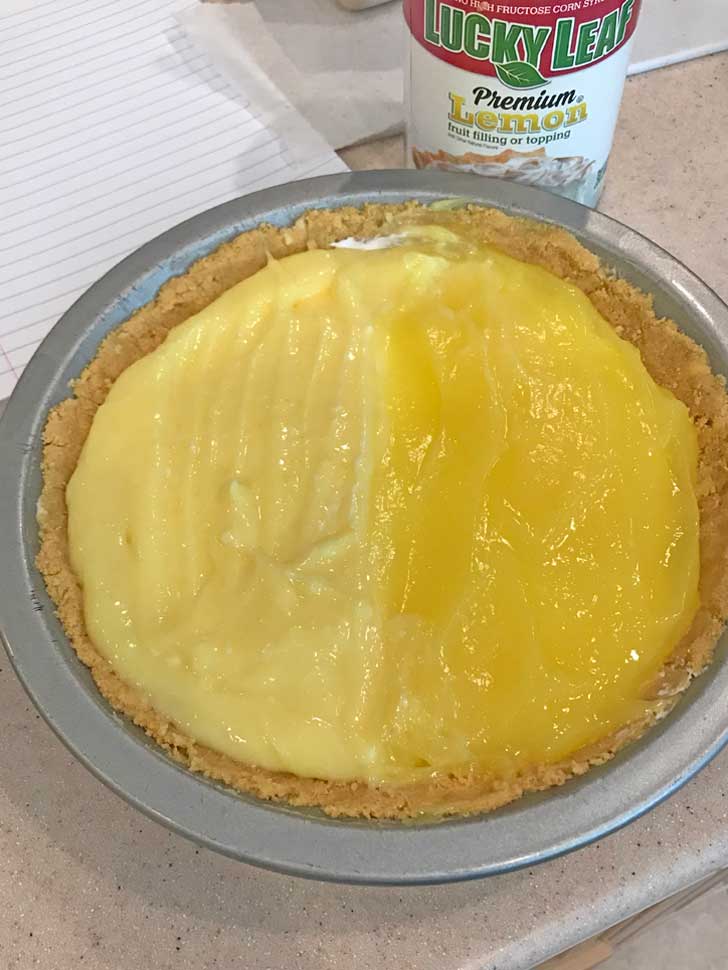 Lemon Pudding vs. Pie Filling
At first I couldn't decide whether to use lemon pie filling or lemon pudding, so I did a test. Pudding layer is on the left, Lucky Leaf lemon is on the right. Both sides were tasty, but true lemon lovers will agree that the pie filling packs more of a citrus punch than pudding. So my pick is the lemon pie filling. But pudding is good too, especially if you want a milder and creamier lemon flavor. And I said I was keeping this simple, but here's another option. You can use lemon pudding and swirl lemon curd (store-bought or homemade) throughout. I may try that next time with some fancy lime curd Fuzz gave me for Christmas.
Cool Whip or Sweetened Whipped Cream
The topping is easy -- lots and lots of sweetened whipped cream. I've been using Cool Whip for convenience, but sweetened whipped cream is always an option. Just pipe it over the top and do your best decorating job with lemons and Lemon Oreos.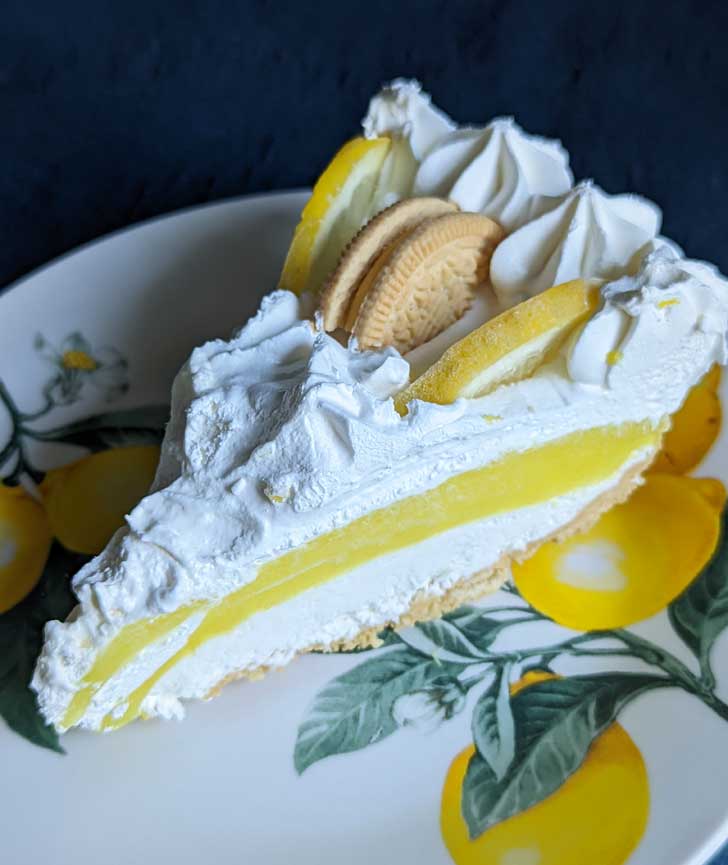 Piping Tips and Bags
I was thinking (again) today that some people out there might not have easy access to disposable bags and piping tips. If you don't already own some, a set of large cupcake size piping tips or at least just one star shape will make your pie decorating experience so much more fun. Buy one and keep it in the silverware drawer. You'll need some bags too. The disposable ones are great because you can cut them to fit different size tips. A box of thick, 16 inch disposable pastry bags should last quite a while, especially if you rinse out the bags and use them more than once.
Go With Lemon or Mix and Match!
Here's the recipe. Make sure to buy the oreos in the "party pack" so you'll have plenty for decorating and sampling. Also, if you can't find the new lemon flavored Oreos, use any other brand of lemon sandwich cookies OR use Golden Oreos. You could even use Golden Oreos, vanilla pudding, and add a layer of bananas and Nilla Wafers! And one final "you could". You could make the whole thing even easier by using a store-bought graham or shortbread crust.
Recipe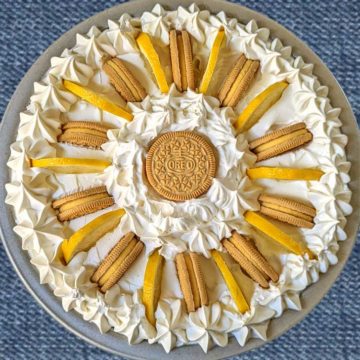 Lemon Oreos Cookies and Cream Pie
A lemon version of Cookies and Cream Pie made with Lemon Oreos.
Ingredients 
Lemon Oreo Crust
20

Lemon Oreos

ground in food processor

3

tablespoons

melted butter
Filling
4

ounces

of softened cream cheese

(114 grams)

2

tablespoons

sugar, plus a little more to taste if desired

1

tablespoon

whole milk

¼

teaspoon

vanilla

¾

cup

sweetened whipped topping (Cool Whip)

(70 grams)

½

can

(feel free to use more) lemon pie filling
Topping:
3

cups

whipped toppin or homemade sweetened whipped cream
Instructions 
Grease a fairly shallow 9 inch pie dish.

Mix together the ground cookies and butter and press into bottom of the dish. Put it in the freezer while you make the filling. (If frozen, the crumbs won't get dragged around as you spread on the filling).

Beat the cream cheese and sugar until smooth. Stir in milk and vanilla, then fold in the sweetened whipped topping. You don't have to measure it with a cup, just eyeball it or weigh it. Spread evenly over the crust.

Spread about a cup of lemon filling (you can use a little more if you want) over the cream cheese layer. (If using pudding mix, see note).

Chill for about an hour, then pipe or spread remaining whipped topping over the top. Decorate with whole or crushed Lemon Oreos. Chill for at least 2 more hours or until ready to serve. I recommend chilling for at least 4 hours, but this one sets up pretty quickly.
Notes
If you'd prefer a less lemony filling, you can whisk together 1 box of lemon pudding and 1 ¾ cup of milk.  Let thicken, then pour over the cream cheese mixture.  For a combination of creamy and lemony, you can use the pudding version and swirl some store bought or homemade lemon curd through it.