Ritz Crust Lemon Pie is an easy lemon icebox pie with a crust made of crushed Ritz crackers. I got the idea a few years ago from my friend Lisa who substituted Ritz for Saltines in Atlantic Beach Pie. Since then I've been using Ritz crusts for Key Lime Pie, Peanut Butter Pie and now this one.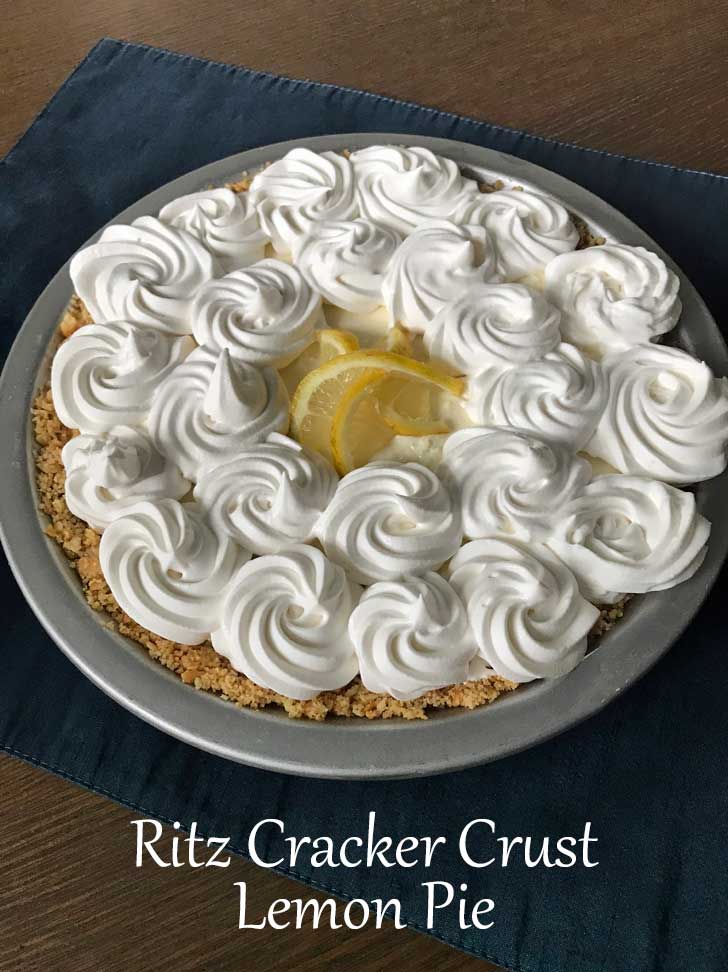 Using Ritz Crackers or Imposters
I guess the first tip is that you don't have to use Ritz. Store brand buttery crackers or the ones from Aldi (called "Golden Round Crackers" heh) work just fine. Companies are always changing packaging, but most boxes contain three sleeves of crackers, with each sleeve holding about 50 crackers weighing 99 grams. You need 1 ½ sleeves or 145 grams of Ritz for one 9 inch pie crust. So if you buy one box of Ritz, you should get two pie crusts from it. If a few of the Ritz mysteriously "go missing" don't worry about it because the 1 ½ sleeves is a little more than enough. Also, don't pull out the food processor for this job. The goal is crushed cracker crumbs, not meal. That is, you don't want the crumbs to be too fine.
Butter and Sugar in Ritz Cracker Crust
For the butter, I stick with 5 tablespoons, but use an extra tablespoon to really butter up the pan. The crust will be super crumbly, so expect that. As for the sugar, I left it out the first time I made this crust. The crust still tasted great, but the baked-in sugar helps hold the crumbs together, so you might want to keep the sugar for that reason. I use brown because it generally helps keep crusts softer, but in this case it doesn't really matter, Use whatever sugar you feel like. Brown might add a TINY bit of flavor, but I doubt most people would detect it.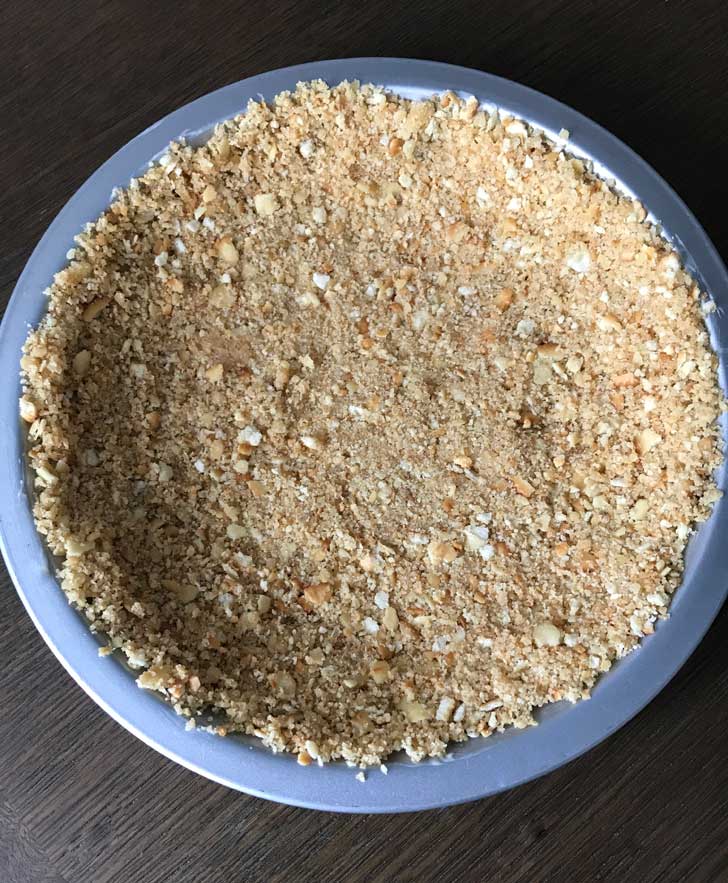 Ritz Cracker Crust Lemon Pie Filling
The pie has a filling made with cream cheese, condensed milk, lemon zest and lots of lemon juice. If you happen to have some Boyjian lemon oil, it's a good addition. However, it's totally optional. I bought some a few weeks ago and have been looking for things to put it in, so I just threw in a bit. The filling is pretty straightforward. Just make sure all of your ingredient, including the lemon juice, are at room temperature so that the cream cheese stays relatively smooth.
Recipe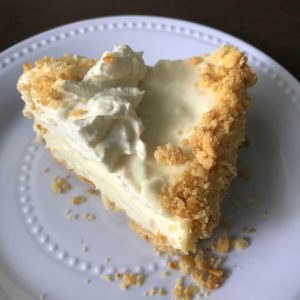 Ritz Crust Lemon Pie aka Ritzy Lemon Pie
An easy lemon icebox pie with a buttery Ritz crust.
Ingredients 
Ritz Crust
6

tablespoons

unsalted butter

(70 grams)

1 ½

sleeves

Ritz Crackers (about 50)

(150 grams)

2

tablespoons

brown sugar, tightly packed

(30 grams)
Lemon Filling
8

oz

cream cheese, softened and at room temperature

(230 grams)

1

can

sweetened condensed milk, 14 oz can

6

tablespoons

freshly squeezed lemon juice

1

tablespoon

lemon zest

1

pinch

salt

¼

teaspoon

lemon oil, such as Boyajian (optional)
Whipped Cream Topping
1

cup

heavy whipping cream

2

tablespoons

powdered sugar
Instructions 
Preheat oven to 350 degrees F.

Grease a 9 inch shallow pie dish with 1 tablespoon of the butter,

Melt remaining 5 tablespoons of butter.

In a mixing bowl, combine crushed Ritz and sugar, then pour in the melted 5 tablespoons of butter. Press mixture into and up side of the pan, set on a baking sheet and bake at 350 for about 8 minutes. Let cool while you make the filling.

Bring all filling ingredients to room temperature.

With an electric mixer, beat the cream cheese until it is soft and smooth. Beat in the lemon zest, then gradually add the condensed milk, beating until smooth. Add the lemon juice and salt and stir well. If using lemon oil, add that too. Don't worry if some lumps form. They will smooth out as the pie chills. Pour into the pie shell.

Chill the pie for about 5 hours or cover and chill overnight. The longer the chill, the better.

Shortly before serving, make the sweetened whipped cream. Put the cream in a mixing bowl and beat until it starts to thicken. Add the sugar and continue beating until thick (do not overbeat). Stir in about ½ teaspoon of vanilla if desired.

Pipe the cream around the edges or spread over the top.