As promised, here is a recipe for Whole Wheat Chocolate Chip Cookies. What I like about these cookies is the mix of nutty flavors from the whole wheat pastry flour and walnuts. I think the natural sugar aka evaporated cane juice crystals also add flavor.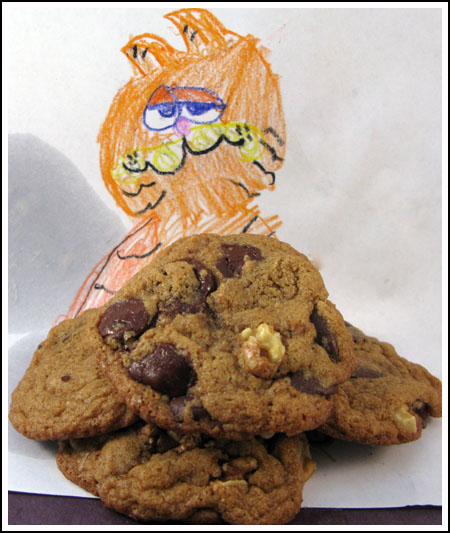 Whole Wheat Pastry Flour vs. Whole Wheat Flour
This recipe calls for whole wheat pastry flour, which is made from a softer wheat than regular whole wheat flour. If you want to make the cookies but don't have the whole wheat pastry flour, you could try substituting 85 grams all-purpose flour combined with 85 grams whole wheat flour (total 170 grams flour).
Evaporated Cane Juice Crystals
Evaporated cane juice crystals is the name for less processed sugar. It used to be widely available in bulk bins at places like Sprouts and Whole Foods. These days it's marketed as organic sugar and can usually be found on the baking aisle or on Amazon. Domino also makes a less processed sugar called Golden Sugar which I have yet to try.
More Whole Wheat Chocolate Chip Cookies
If you don't have the whole wheat pastry flour or evaporated cane juice crystals, no worries! There are other good chocolate chip cookie recipes that call for regular whole wheat flour such a this one and this one.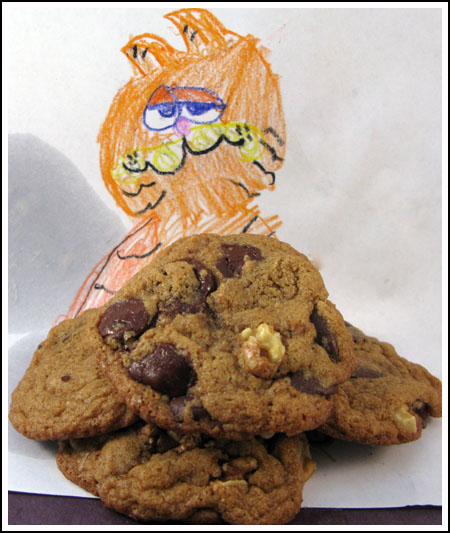 Whole Wheat Chocolate Chip Cookies
Chocolate chip cookies made with whole wheat pastry flour
Ingredients 
1 1/4

cups

whole wheat pastry flour (spoon and sweep)

(170 grams)

1/4

teaspoon

baking soda

1/2

teaspoon

Morton kosher salt

8

tablespoons

cold unsalted butter, cut into chunks

(114 grams)

1/4

cup

evaporated cane juice crystals or just granulated sugar

(50 grams)

1/2

cup

dark brown sugar

(100 grams)

1

teaspoon

vanilla extract

1

large egg

1

cup

bittersweet chocolate chips

2/3

cup

toasted walnuts

coarsely chopped
Instructions 
Preheat oven to 350 degrees F. Have ready a couple of cookie sheets.

Stir together the flour, baking soda and salt; set aside.

Beat the cold butter with an electric mixer until creamy. Add both sugars and beat for another 2 minutes, scraping down sides of bowl. Beat in the vanilla and egg, beating only for about 30 seconds. By hand, stir in the flour mixture. When flour is almost incorporated, stir in the chocolate chips and walnuts and stir until flour is completely mixed.

Drop by rounded tablespoons and bake for 12 minutes on ungreased cookie sheets.