This easy lemon meringue pie is an old recipe from one of my favorite readers, Cheryl.  Cheryl has been making lemon meringue pies for 40 years. Her recipe is double this, baked in a 10 inch pie shell and prepared in a double boiler. This is a smaller version of her lemon meringue pie which you can make in a saucepan and which will fit in a shallow 9 inch glass pie dish or a 9 inch disposable pie pan.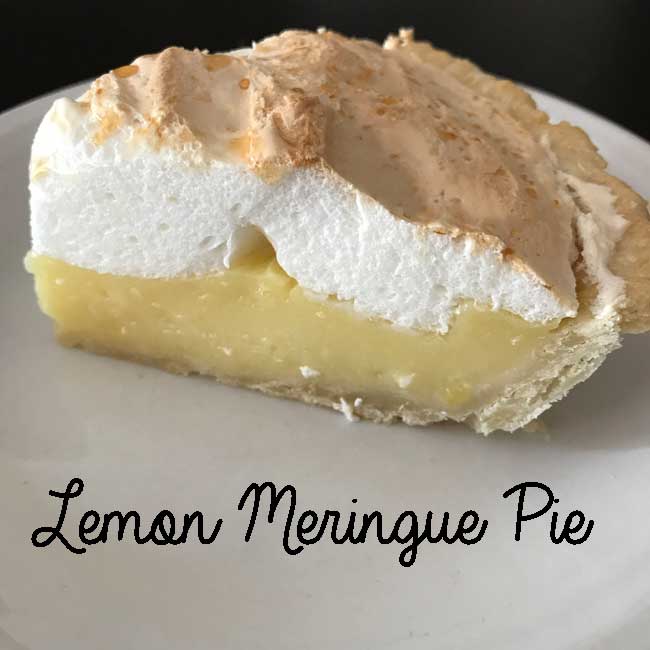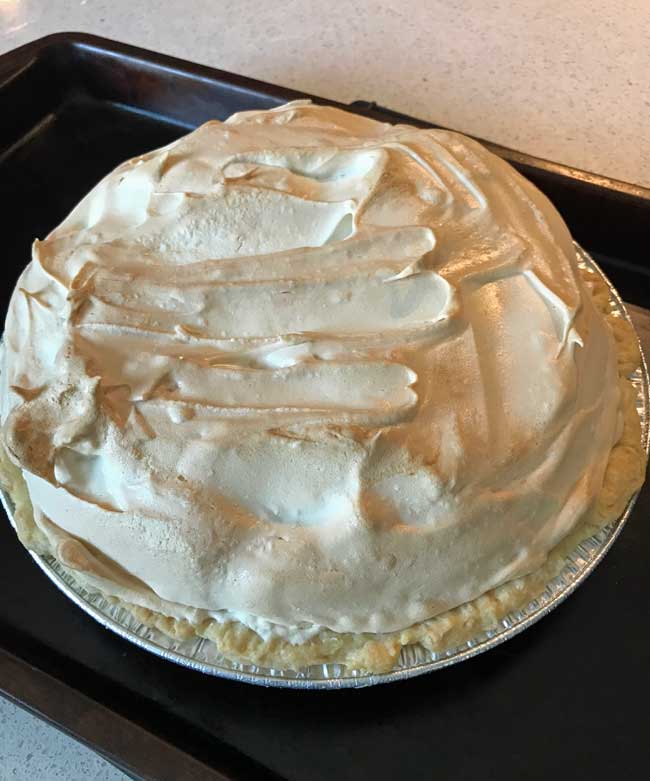 I use glass pie dishes most of the time, but I also like to have a stack of disposable tins on hand so I can make pies and give them away. Since the disposable pie pans are usually a little shallower than the glass pans, they work well with this recipe since.

Cheryl's Lemon Meringue Pie Crust
As for the crust recipe, there are many to choose from but I tend to always use this one which is a pretty simple all-butter pie crust. Use whichever crust recipe you love or just buy a refrigerated roll-out crust.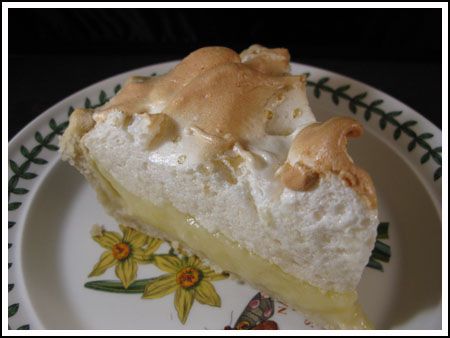 The filling is pretty straight forward, as is the meringue. In order to prevent weeping, I make the meringue first so that I can immediately spread it over the piping hot filling.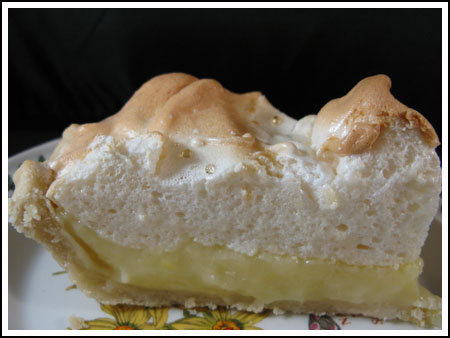 Cheryl's Lemon Meringue Pie
½ cup granulated sugar (100 grams)
3 ½ tablespoons flour (32 grams)
1 ½ tablespoons cornstarch
⅛ teaspoon salt
1 ½ cups boiling water
2 large egg yolks, whisked and sitting in a bowl next to stove
½ tablespoon butter
½ tablespoon lemon zest
¼ cup fresh lemon juice
Meringue:
3 large whites
⅛ teaspoon cream of tartar
6 tablespoons granulated sugar
½ tsp vanilla extract
¼ tsp almond extract (optional)
Preheat oven to 325 degrees F. Have ready a baked 9 inch pie shell. For this pie, use a not-so-deep dish shell.
Combine the sugar, flour, cornstarch and salt in a heavy saucepan. I use a metal All-Clad. Have all the filling ingredients ready to go, but move on to the meringue.
Quickly beat the egg whites until they form soft peaks, then beat in the cream of tartar and sugar and continue beating until stiff peaks form. Add vanilla and almond extracts. Set aside.
Now back to the saucepan, turn heat to medium and whisk about half of the boiling water into the sugar mixture. Whisk until smooth and slowly add remaining water. Keep whisking until mixture begins to thicken. This should only take about 2 minutes. It will go from thickened, to gravy like to runny mashed potato-ish. Whisk about a cup of the hot mixture into the egg yolks, then transfer all of it back into the saucepan. Continue stirring gently for about 2 minutes to cook yolks and thicken mixture, then stir in butter until it melts. Add lemon zest and lemon juice, stirring constantly.
Pour hot filling into the pie shell. With a spatula rub the meringue over the lemon filling, sealing the edges. Bake at 325 until for about 25 minutes or until very golden brown. Cool completely before serving.