My dad came over for dinner, so I had an excuse to make another lemon meringue pie. It's a small one, so those of you who are scared to make lemon meringue pie might want to start Cheryl's Lemon Meringue Pie.
Cheryl has been making lemon meringue pies for 40 years. Hers is double this, baked in a 10 inch pie shell and prepared in a double boiler. This lighter version, which is made in a regular saucepan, will fit into a standard or slightly shallow 9 inch glass pie dish or in this case, a recycled Mrs. Smiths disposable tin (I hate throwing pie tins away) with a homemade crust recipe from Sunset. Use whatever crust you like. Right now, we're concentrating on filling. Don't let crust making hold you back from pie.
Todd said he liked this pie slightly better than the previous. I think it's because this one is tart, and he's a fan of that. My dad commented on the tartness as well. This one didn't have as much fat to buffer the lemon. which could be a good or bad thing depending on whose eating it.
Beads starting forming on this meringue after about an hour. Like I said, they don't bother me.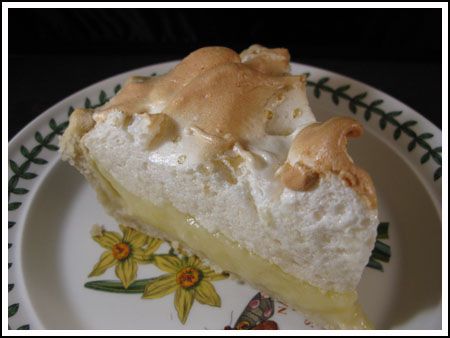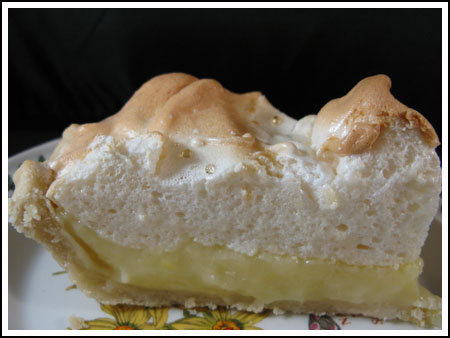 Cheryl's Lemon Meringue Pie
1/2 cup granulated sugar
3 1/2 tablespoons flour
1 1/2 tablespoons cornstarch
1/8 teaspoon salt
1 1/2 cups boiling water
2 large egg yolks, whisked and sitting in a bowl next to stove
1/2 tablespoon butter
1/2 tablespoon lemon zest
1/4 cup fresh lemon juice
Meringue:
3 large whites
1/2 teaspoon cream of tartar
6 tablespoons granulated sugar
1/2 tsp vanilla extract
1/4 tsp almond extract (optional)
Preheat oven to 325 degrees F. Have ready a baked 9 inch pie shell. For this pie, use a not-so-deep dish shell. I used a homemade crust recipe which I'd baked in a recycled foil pie dish (leftover from a Mrs. Smith's).
Combine the sugar, flour, cornstarch and salt in a heavy saucepan. I use a metal All-Clad. Have all the filling ingredients ready to go, but move on to Meringue.
Quickly beat the egg whites until they form soft peaks, then beat in the cream of tartar and sugar and continue beating until stiff peaks form. Add vanilla and almond extracts. Set aside.
Now back to the saucepan, turn heat to medium and whisk about half of the boiling water into the sugar mixture. Whisk until smooth and slowly add remaining water. Keep whisking until mixture begins to thicken. This should only take about 2 minutes. It will go from thickened, to gravy like to runny mashed potato-ish. Whisk about a cup of the hot mixture into the egg yolks, then transfer all of it back into the saucepan. Continue stirring gently for about 2 minutes to cook yolks and thicken mixture, then stir in butter until it melts. Add lemon zest and lemon juice, stirring constantly.
Pour hot filling into the pie shell. With a spatula rub the meringue over the lemon filling, sealing the edges. Bake at 325 until for about 25 minutes or until very golden brown. Cool completely before serving.