Made a quick batch of these Oatmeal Praline Cookies today too. This is an old recipe, but a good one. I need to format it again for the printing and perhaps update the photo?? Err.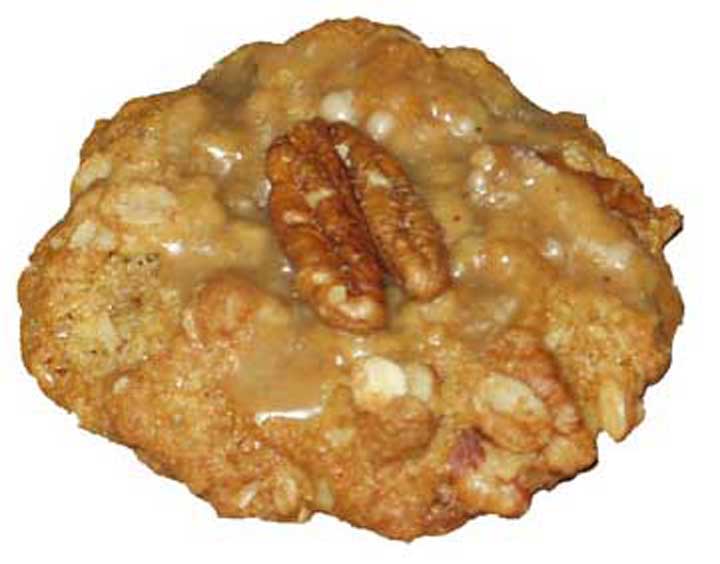 Oatmeal, Browned Butter, Pecan Praline Cookies aka "Oatmeal Praline Cookies"
2 sticks butter (8 oz) -- I used salted butter the first time I made these
1 ½ cups all purpose flour
1 teaspoon baking soda
½ teaspoon salt
1 teaspoon cinnamon
⅔ cup brown sugar
⅔ cups granulated sugar
2 eggs
1 teaspoon vanilla extract
2 ½ cups old rolled oats
1 cup chopped, toasted pecans
Praline Glaze:
6 tablespoons butter
6 tablespoons brown sugar
¼ cup milk
1 cup confectioner's sugar
½ teaspoon vanilla extract
Preheat oven to 350 degrees F.
Place butter in a heavy saucepan and melt over medium heat. Keep over heat until butter starts to bubble and turn brown. Turn off heat and swirl browned butter. Set aside to cool for 10 minutes.
Meanwhile, in medium size bowl, stir together flour, soda, salt and cinnamon.
In a large bowl, stir together brown sugar and granulated sugar. Add browned butter and stir until thorough mixed. Stir in eggs and vanilla, followed by flour mixture, oats and toasted pecans. At this point, you may chill the dough if desired, but it is not really necessary.
Spoon dough by rounded tablespoons onto non-stick or parchment lined cookie sheets. Bake 10-12 minutes. Let cool on cookie sheets for 1 minute and remove. Lay cookies on large sheet of non-stick aluminum foil or parchment.
In a saucepan (you can use same saucepan used to brown butter), melt 6 tablespoons butter over medium heat. Stir in brown sugar and milk; Bring to a boil for 30 seconds, stirring constantly. Turn off heat and stir in confectioners sugar and vanilla. Spoon over oatmeal cookies. Glaze will set as it cools.
Makes about 3 dozen cookies