I was a little skeptical towards a milk chocolate fudge recipe. Wouldn't milk chocolate make it too sweet? But when Sue, whose taste I trust implicitly, mentioned this milk chocolate fudge was her favorite, I gave it a try. It may be my favorite too! It's not overly sweet and the dairy flavor of milk chocolate comes through loud and clear.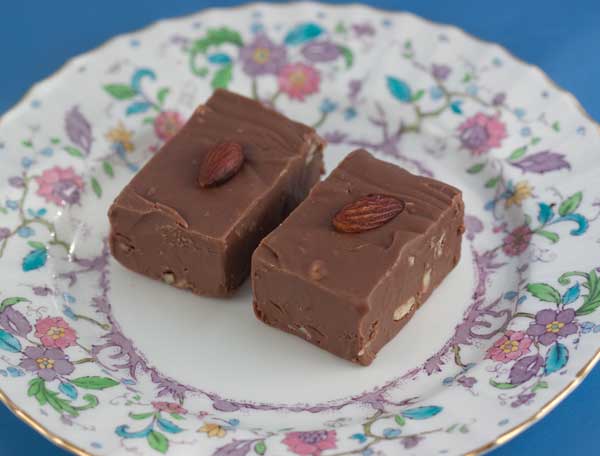 I wanted to hold off and post this closer to Valentine's Day when more people might be on the lookout for good fudge recipes, but I couldn't wait. Plus now you'll have extra time to practice in case you want to get it right by February 14 -- not that it's hard to make. The trick is to follow the directions exactly as written (unless you live at a high altitude) and not monkey around with it. Like most fudge, it freezes perfectly so you can wrap it up tightly and pull it out when you have a craving. Thanks to Sue, for this recipe.
Update:  For the chocolate, I always use Lindt milk chocolate.  If you can find it, the Lindt 95% works well for unsweetened chocolate.
Recipe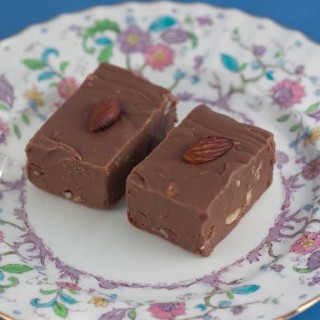 Milk Chocolate Fudge
A milk chocolate based fudge that's not overly sweet. The original recipe does not call for salt, but I like to add a pinch to help offset the sweetness.
Ingredients 
1

ounce

unsweetened chocolate

chopped

6

ounces

good quality milk chocolate

chopped -- I used Lindt

1

teaspoon

vanilla extract

1 ½

cups

granulated white sugar

⅔

cup

sweetened condensed milk

⅔

cup

water

½

cup

heavy cream

⅛

teaspoon

salt

optional

4

tablespoons

unsalted butter

cut into pieces

½

cup

toasted almonds

chopped plus more for garnish if desired
Instructions 
Line the inside of a 9x5 inch loaf pan with nonstick foil.

Place unsweetened chocolate, milk chocolate and vanilla in a metal bowl; set aside.

Combine sugar, condensed milk, water, cream, salt (if using) and butter in heavy 3 to 3 ½ quart saucepan. I like to grease the sides of the saucepan to help prevent sugar crystals from forming.

Stir over medium-low heat (without scraping sides) until butter is melted and sugar dissolves. Brush down the sides of the pan with a damp pastry brush to keep sugar crystals from forming.

Increase heat to high and bring mixture to rolling boil. Don't let it boil over! It will foam and rise quite a bit, so lift it from the heat if this starts to happen.

Reduce heat to medium-high and cook, stirring slowly, until a candy thermometer registers 230F. Time will vary due to humidity levels, stoves, pots, etc., but keep the mixture at a steady boil and a slowly rising temp. It might hover around 220 for a while. When it hits 230 it should be fragrant and just slightly off white.

Without scraping the brown residue that forms on the bottom of the saucepan, pour boiling mixture over the chocolate and stir stir until chocolate melts. Mix in the almonds and transfer to the loaf pan, smoothing the top.

Transfer fudge to prepared pan and smooth top. Sprinkle with reserved nuts. Refrigerate uncovered until firm enough to cut, about 2 hours.

Lift fudge from pan and cut into pieces
Notes
I got this recipe from Sue who got it from a Williams-Sonoma book. The first time I made it I ignored the part about heating the mixture over high and attempted to bring the mixture to 230 degrees over medium heat. This was a mistake. To get the recipe to work, you need to use the high heat setting and bring to 230 quickly. It should be very creamy and not at all grainy.