After reading a few comments from people who tried to make Southern Living's Peanut Butter Streusel brownies but had problems with the bake time, I decided to test the peanut butter streusel on Gloria's banana brownies. It worked perfectly and the peanut butter partnered well with the banana.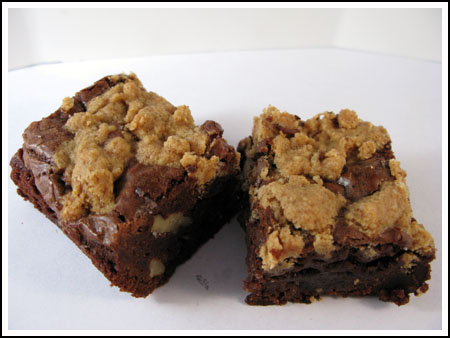 For kicks, I left peanut butter streusel off one quadrant of the brownies and tried swirling peanut butter on top (top left). To keep the peanut butter from drying out, I mixed it with a little melted butter, softened it, then drizzled it on.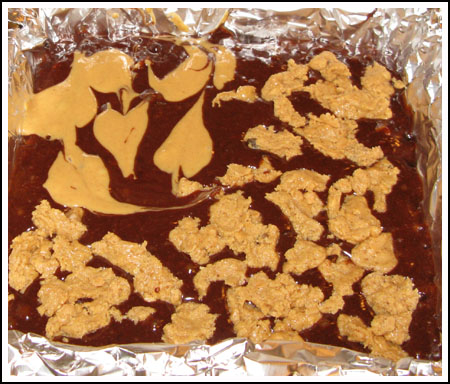 Unfortunately, the peanut butter still dried a bit and I ended up having to rub more plain peanut butter over the hot brownies just to make them look good, but the end result was still great. Next time, I might try mixing the peanut butter with a little vegetable oil instead or might even just rub the peanut butter mixture after baking like in this recipe.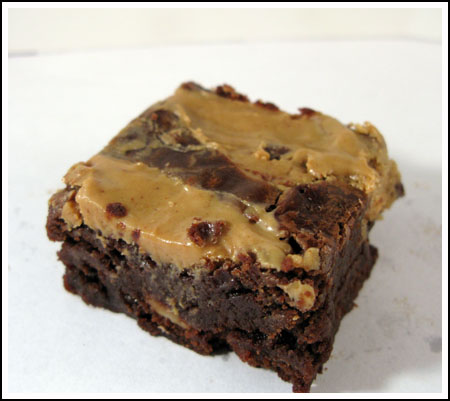 Another thing that might work with Gloria's brownies is the peanut butter ribbon technique. Melted peanut butter chips add sweetness and help the ribbons hold their shape while baking. I haven't made peanut butter ribbons in a while because I've been out of peanut butter chips, but I think they'd work well here.
UPDATE: This recipe has been updated and improved! Here's the recipe.