Lizzie and I have been taking advantage of the weather every morning, so my baking has been pushed back a bit. For instance, this pie didn't get made until 4:00 PM yesterday. By that time, I wasn't really in a baking mood, but I needed to make a dessert and I had all the ingredients on hand for this pie. So this one was sort of an afterthought, but it turned out to be the best chocolate meringue pie yet.
It would have been fun to make this with my new favorite meringue – the one with the cornstarch gel and the marshmallow cream, but I decided to keep it simple and just used the basic egg white, sugar and vanilla recipe. The little beads formed on top right away, but nobody cared because the pie was so good.
Unlike the last pie I made which seeped a little when I cut into it and tasted too much like pudding in pie form, this was one very stiff and had a great structure. I think the flour might have helped with that. The original version of this pie (adapted from Meta Givens) did not use the extra tablespoon of cocoa powder. I added it, but I think it would have been fine without it because it was very chocolaty.
Finally, for the crust I used a Cook's Illustrated recipe, but a store-bought or even a good graham cracker crust would work just as well.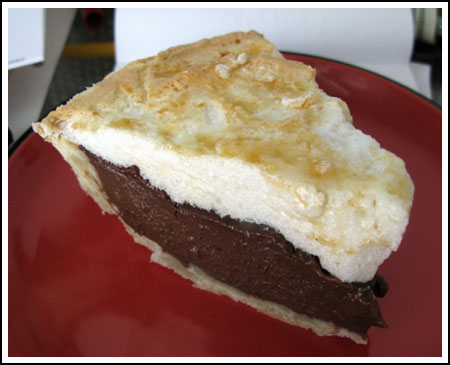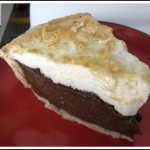 Print Recipe
Best Yet Chocolate Meringue Pie
An easy chocolate cream pie with a meringue topping. I usually use a basic pastry crust, but I've included instructions for a graham cracker crust in the notes.
Ingredients
Meringue
3

large egg whites

1/3

cup

granulated sugar

1/2

teaspoon

vanilla
Filling:
1/3

cup

all purpose flour

1

cup

granulated sugar

1

tablespoon

unsweetened natural or Dutch cocoa powder**

1/4

teaspoon

salt

2 1/2

cups

milk – scalded

I did this in microwave

3

large egg yolks

2

ounces

finely chopped unsweetened chocolate

2

tablespoons

melted butter

1/2

teaspoon

vanilla extract

1

pie shell

baked and ready to be filled
Instructions
Preheat oven to 350 degrees F.

Prep all filling ingredients, then make the meringue first so you'll have it ready to put on a hot filling. Beat the egg whites until soft peaks form. Gradually add sugar, beating on high, until stiff peaks form. Beat in vanilla. Set aside.

Mix the flour, sugar cocoa powder and salt together in a heavy saucepan. Set the pan over medium heat and gradually whisk in the hot milk. Continue whisking and cooking until mixture starts to thicken. Whisk about half cup of the milk mixture into the egg yolks, then add egg/milk mixture back to saucepan and whisk for about two minutes. It should become thick and make big bubbles. Remove from heat and whisk in butter, chocolate and vanilla. Pour hot chocolate mixture into pie shell and cover with the meringue, sealing the edges well.

Set the pie on a cookie sheet and bake for 12-15 minutes. Cool at room temperature for an hour, then chill for 4 hours or until pie is set.
Notes
To make a graham cracker crust, crush 1 sleeve of graham crackers to make 1 1/2 cup crumbs. Mix with 2 tablespoons of sugar and 6 tablespoons of regular salted butter (or unsalted and a tiny pinch of salt). Press into the pie plate and bake at 350 for about 8 minutes.
Let me know if you try this chocolate meringue pie. I need to post a new picture.