My Best Yet Chocolate Meringue Pie is even better now thanks to a few small changes.  For one thing, I changed the meringue to make it a little fluffier and less likely to weep.  I also removed the extra tablespoon of cocoa.  The original version by Meta Given did not include it, and I feel like the pie is chocolate-y enough without it.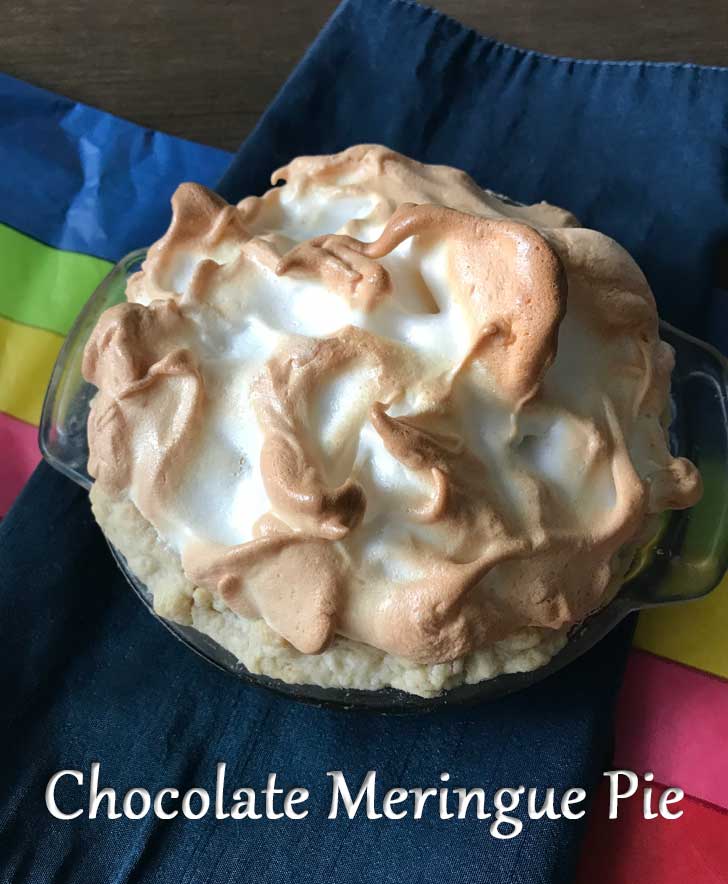 As for the crust, I still prefer a pastry crust rather than a graham cracker crust and recommend this Baked All Butter Crust or this new one.  Lately I've been making my pies in metal pie tins rather than glass.  Both work just fine, but the metal tins are a little shallower so the filling goes all the way to the top and the meringue piles higher which make the pie appear a little taller even though it's still a small pie.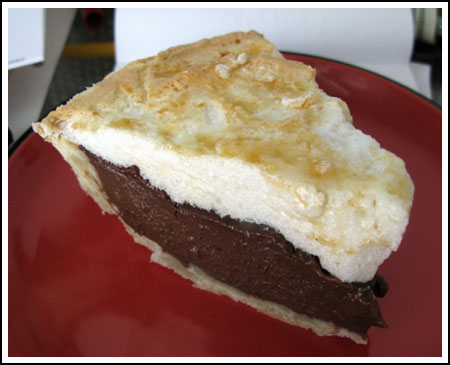 Small Chocolate Meringue Pie Dishes
The recipe makes a standard 9 inch round pie. The last time I made it I halved it and baked it in one of my smaller glass pie dishes. It used to be difficult to find the 6 ½ and 7 inch pie dishes, but thanks to Amazon that's not the case. Here are a couple of smaller pie pans, which are good to have around if you want to make a weeknight pie for 2 to 4 people. Here's a metal one. I haven't tested the ones in the link, but they have good reviews.
Recipe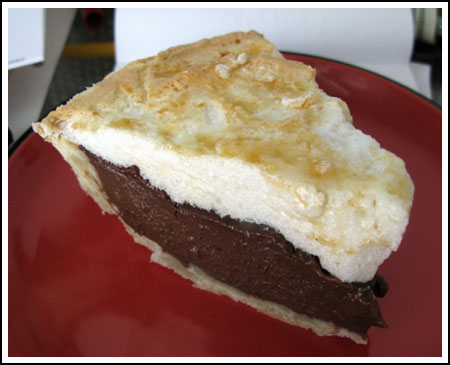 Best Yet Chocolate Meringue Pie
An easy chocolate cream pie with a meringue topping. I usually use a basic pastry crust, but I've included instructions for a graham cracker crust in the notes.
Ingredients 
Meringue
4

large egg whites

¼

teaspoon

cream of tartar

½

cup

granulated sugar

½

teaspoon

vanilla
Filling:
⅓

cup

all purpose flour

45 grams

1

cup

granulated sugar

200 grams

¼

teaspoon

salt

2 ½

cups

milk – scalded

I did this in microwave

3

large egg yolks

2

ounces

unsweetened chocolate

chopped

2

tablespoons

melted butter

½

teaspoon

vanilla extract

1

pie shell

baked and ready to be filled
Instructions 
Preheat oven to 350 degrees F.

Prep all filling ingredients, then make the meringue first so you'll have it ready to put on a hot filling. Beat the egg whites and the cream of tartar until soft peaks form. Very gradually add sugar, beating on high, until stiff peaks form. Beat in vanilla. Set aside.

Put the egg yolks in a medium to large size mixing bowl and set next to the stove.

Mix the flour, sugar and salt together in a heavy saucepan. Set the pan over medium heat and gradually whisk in the hot milk. Continue whisking and cooking until mixture starts to thicken. Whisk about half cup of the milk mixture into the egg yolks, then add egg yolk mixture back to saucepan and whisk for about two minutes. It should become thick and make big bubbles.

Remove from heat and whisk in butter, chocolate and vanilla. Pour hot chocolate mixture into pie shell and cover with the meringue, sealing the edges well.

Set the pie on a cookie sheet and bake for 12-15 minutes. Cool at room temperature for an hour, then chill for 4 hours or until pie is set.
Notes
To make a graham cracker crust, crush 1 sleeve of graham crackers to make 1 ½ cup crumbs. Mix with 2 tablespoons of sugar and 6 tablespoons of regular salted butter (or unsalted and a tiny pinch of salt). Press into the pie plate and bake at 350 for about 8 minutes.
More Chocolate Meringue Pie Related Link