Lemon Meringue Pie with Milk is exactly what you'd think -- a lemon meringue pie made with milk instead of water! Most lemon meringue pie fillings use egg yolks, water, lemon juice, lemon zest, cornstarch, sugar and butter. This one's similar, it's just the water is replaced with milk. And by milk, I mean regular whole milk. There are lots of lemon meringue pie recipes that call for condensed milk which are usually similar to Key lime. This one is more like a traditional lemon meringue pie, just slightly creamier.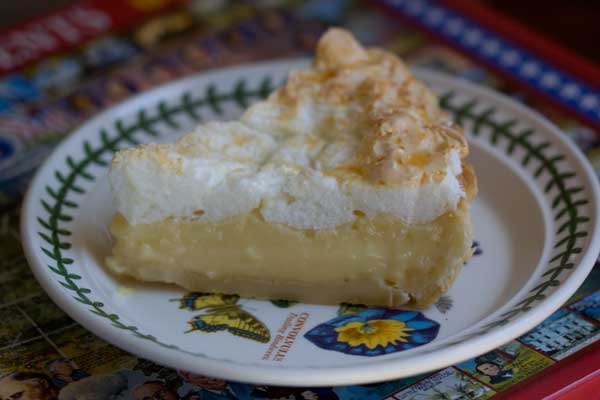 Best Crust for Lemon Meringue
This is a recipe that calls for a blind baked pie crust. My default is the Baked All Butter Crust, but I also love one called Grandma Ruth's. Graham cracker crust would also be good, but I haven't tested it yet.
Which Meringue?
For the meringue, I used my latest favorite (4 eggs, ½ cup sugar, etc.) which I find convenient and easy to remember. However, if you are on a mission to find the perfect no-weep meringue, check out this page where I posted a lot of different meringues back-to-back. The one I like best is Shirley Corriher's recipe (pictured on that page), but it calls for marshmallow creme and I hardly ever have that around.
Recipe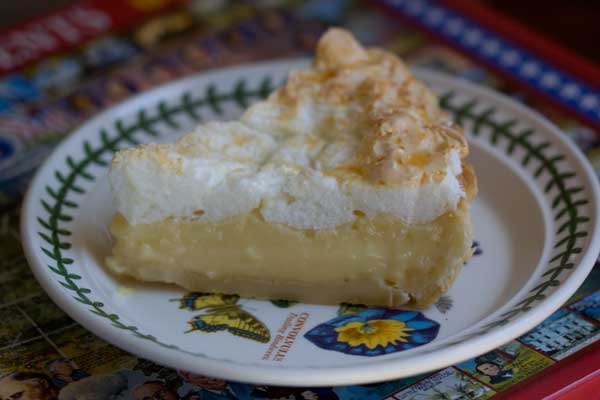 Creamy Lemon Meringue Pie -- Made With Milk
A creamy lemon meringue pie made with milk instead of water
Ingredients 
1 9

inch

deep dish pie crust

baked as directed

1

cup

granulated sugar

¼

cup

cornstarch

⅛

teaspoon

salt

4

large egg yolks

2

cups

of milk

I used half 2% and half whole

⅓

cup

fresh lemon juice

2-3

teaspoons

lemon zest

3

tablespoons

butter
Meringue
4

large egg whites

¼

teaspoon

of cream of tartar

½

cup

sugar

2

teaspoons

of cornstarch

¼

teaspoon

vanilla extract
Instructions 
Line up all the ingredients and have everything ready to go.

Prepare the meringue as directed at the bottom or wait and prepare it after you make the filling. I prefer to make the meringue first so that it's ready to go and I can quickly slather it on top of a piping hot filling.

Mix the sugar, cornstarch and salt in a large (3 ½ quart) non-aluminum saucepan.

Whisk the egg yolks, milk and lemon juice together in a bowl. Whisk the milk mixture into the saucepan with the sugar mixture and turn heat to medium. Whisk constantly until mixture begins to boil -- this could take anywhere from five to 10 minutes. When mixture begins to thicken and boil, boil for 1 minute, whisking constantly. Remove from heat and whisk in the lemon zest, butter and vanilla. Pour into the pie shell and immediately spoon meringue around the edges to seal. Spoon remaining meringue over the center and cover all of the lemon filling.

Bake at 325 F for about 25 minutes. Let cool at room temperature, then transfer to the refrigerator and chill for several hours.

Meringue: Beat the egg whites until foamy, then add the cream of tartar. Continue beating until soft peaks form, then beat in the sugar a few tablespoons at a time along with the cornstarch.
Notes
I first spotted this milk based filling in a Southern Living book, but the recipe included a different crust and meringue. I used my own 9 inch deep dish baked crust and my favorite meringue (as of late) which is the one with 4 eggs etc.