This is an old post where I talked about Plastic Container City. It is NOT a sponsored post, but at the time I was delighted to find a place where I could buy take-out containers and tin-tie bags for homemade treats. I haven't purchased anything from Plastic Container City in a while, but they are still a great source for home bakers.
--------------------------------------------------------------------------------
This weekend Rina told me about a good place to buy packaging materials for baked goods -- Plastic Container City.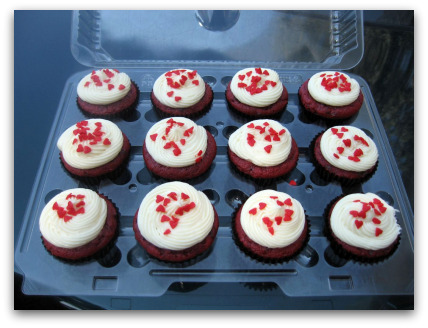 Rina purchased her cupcake boxes from Plastic Container City, and after my experience packing that same cupcake container in my suitcase (this time, with only 7 cakes), I can tell you that the containers are reliable and not dingy. They stay shut and while the cupcakes did become "unnested" from their little grooves when thrown around with the airport baggage, they were fine and dandy when they arrived home. Well, except for the frosting. But you won't be throwing your cupcakes around like that, right?   And I think I could have prevented that with toothpicks, but I didn't have any in the hotel.
What's nice about Plastic Container City is you can buy things by the piece. For instance, the cupcake boxes like the one in the photo are only 45 cents each. There is a minimum $25.00 purchase requirement, but based on how much there is to choose from, that should be an easy requirement to fill. If you're like me, you'll probably go way over. Here are a few things that caught my eye -- things you can't buy at the local craft store.
Paper Molds for Cupcakes and Muffins
Cute Single Portion items
Cookie Bags -- White ones with windows
Candy Apple Containers -- Neat! You can make candy apples like the ones they sell in gourmet stores and give them to teachers.