This recipe for homemade cookie mix is an old one from the Domino Sugar website. Originally called 1001 Cookie Mix, the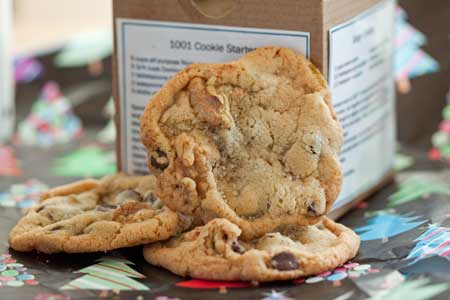 The recipe for the mix itself is still on the Domino site, and if the link still works you can find a collection of recipes that call for it. The corporate websites tend to change things around often, so if the link doesn't work you may have to use their search box. Here it is for now.
Recipes Using Homemade Cookie Mix
It makes baking multiple types of cookies more convenient, plus it also makes a great gift.   For the little gift box above, I measured out 3 cups of mix (18 oz), put it in a cellophane bag, stuffed it in a box, then decorated the sides of the box with recipes from Domino's recipe collection -- specifically, the ones that use the mix.   Hopefully they'll make their goal of actually having 1001.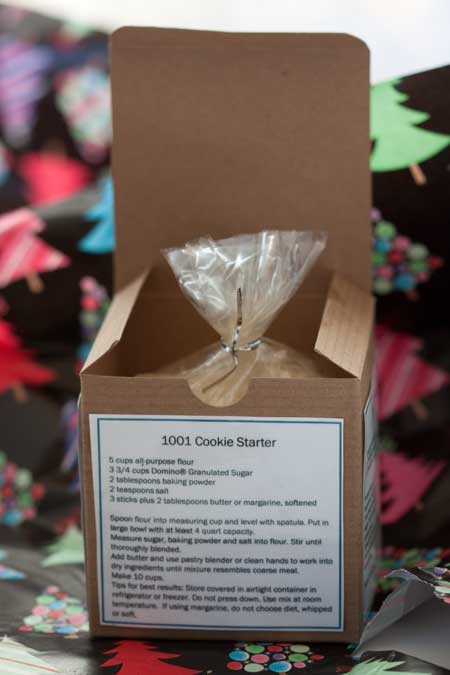 Also, thanks to a reader I have found a good source for boxes. You may already know about this, but if not check out Brown River Packaging. They have the 4x4x4 boxes (as pictured above) priced at 100 boxes for $23.45, plus just about any type of box you could imagine. And they'll send you samples. I just put in an order and will let you know how it goes. Ground shipping in the 48 lower US states is free.
Recipe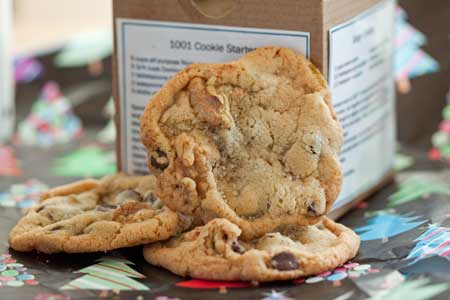 Homemade Cookie Mix and Boxes
Homemade Cookie Mix This recipe is the base for 1001 different cookies, so check the Domino website for more ways to use it.
Ingredients 
5

cups

- all-purpose flour

3 ¾

cups

- Domino® Granulated Sugar

2

tablespoons

- baking powder

2

teaspoons

- salt

1 ½

cups

- plus 2 tablespoons butter or margarine

softened
Instructions 
In a 4-quart bowl, combine flour, sugar, baking powder and salt. Stir until thoroughly blended. Add butter and use pastry blender or clean hands to work into dry ingredients until mixture resembles coarse meal. Makes 10 cups.
Notes
For best results:
Be sure that your baking powder is less than a month old when putting together the mix.
If using margarine, do not choose diet, whipped or soft.
Store in an airtight container in the refrigerator or freezer. Do not press the mix.
Let Cookie Starter Mix come to room temperature before use.