If things had gone as planned, we'd have spent the weekend at Austin City Limits Music Festival listening to B52s and Pearl Jam. But what happened was I had to sell my tickets on Craigslist so that I could lie around in bed and recover from what I'm pretty sure was the flu. I haven't had fever that high since I was 8, and it's still burning itself off. But I'm better now because I'm up typing and am thinking a lot about baking, which I'm going to have to slowly easy back into with some help from Baking with Julia
.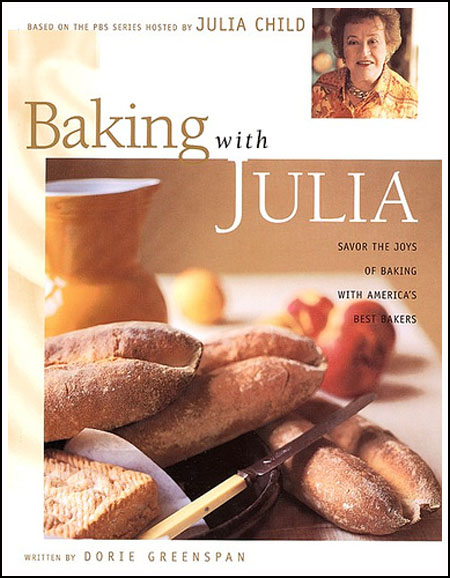 I don't own Baking with Julia, but I've checked it out from the library on occasion and it happened to be by my bedside table while I was sick. I don't think I ever spent much quality time reading it, because if I had, I would have realized its genius. The book, for which Dorie Greenspan is the voice, has over 200 recipes contributed by the best in the business --Flo Braker, Nick Malgierei, Nancy Silverton and many others. And most of the recipes seem to have something fairly unique.
Good Recipes From Baking With Julia
Lemon Loaf Cake – This cake has the rich velvety texture of a pound cake, but the process of putting it together takes, according to Dorie Greenspan, 5 minutes! I'm not sure how this recipe escaped me.
Chocolate Espresso Cookies – What's interesting about this one is that the batter for the cookies is beaten for 10 minutes, incorporating lots of air and making a light and heavenly cookie.
And then there's Rick Kat's Mocha Chocolate Chip Cookies. How did I miss this recipe? The only thing unique is all the chocolate, but it's a recipe with my name on it.
Do you have a favorite Baking With Julia recipe? I've got my eye on that lemon pound cake and might hobble to the kitchen to make it for myself, but I'd be curious to know your favorites.