If you like cheesecake and apple pie but can't choose between the two, this recipe for Apple Almond Cheesecake Bars is a good compromise. It's a cross between the two with almonds, lemon and apple – a little of everything.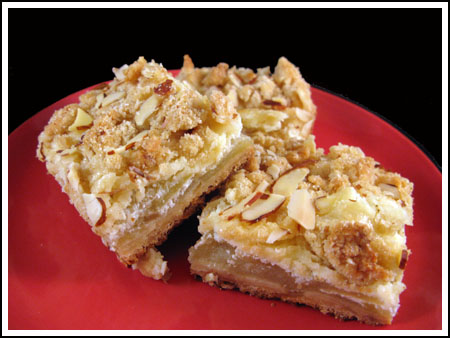 Apple Almond Cheesecake Bars Notes
The recipe is from one of Fine Cooking's special publications "Sweet Cakes". Their photo looks more like an apple bar, but mine seems more like a cheesecake bar that just happens to have some apple in it. The apples don't add as much flavor as I'd expected but the bars are still very good.  They tast even better on day 2 and the lemon  flavor seemed more pronounced.
Fine cooking posted the recipe here.
More Apple Recipes
Here are a few more apple recipes from Cookie Madness. The Apple Crumb Bars are very good and have received great reviews over the years.