This recipe put a dent in my Hershey's Macadamia Kisses supply, and that is a-okay. I want to use them while they're still fresh, and right now the macadamias inside the Kisses are fresher than any of the ones I've purchased here in Austin. Thanks again to Stephanie, who brought the special Kisses home from Hawaii.  She is the one responsible for Macadamia Nut Milk Chocolate Kiss Brownies.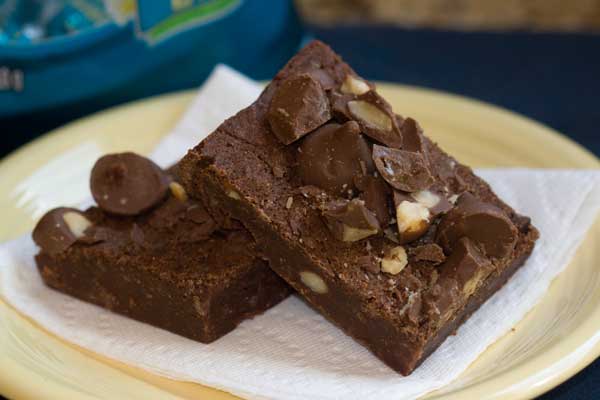 Earlier in the week I posted a chocolate cookie recipe that called for chopped Kisses. Now I've got a brownie recipe which uses them in the batter and on top.

The original recipe was posted on Food.com, but I changed it by converting the measurements, using Macadamia Kisses instead of milk chocolate, using corn syrup in place of honey and adding salt and vanilla.  I also topped the brownies with very roughly chopped up Kisses which I let melt slightly and re-solidify so that the brownies would have a little more dimension and texture.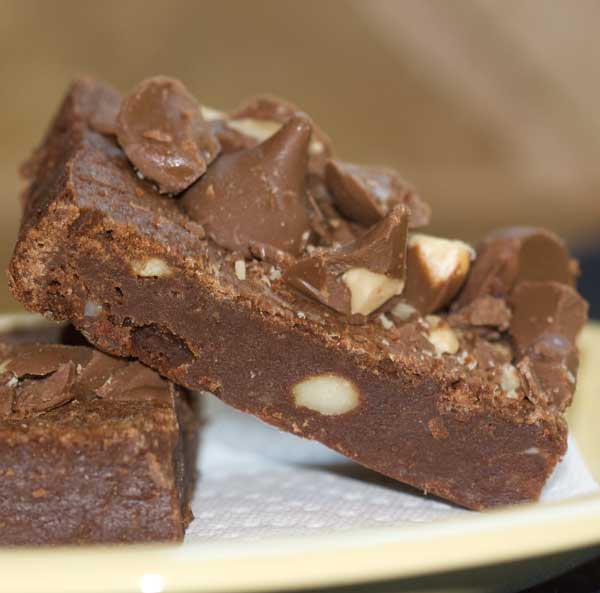 One thing you don't have to worry about is having these brownies turn out cakey or dry.  They are fudgy through and through, but very firm and chewy thanks to the syrup.  This is one brownie I plan to make often, and an excellent use of milk chocolate.
Recipe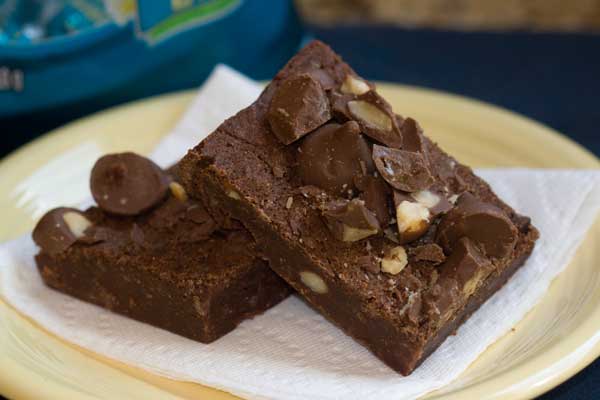 Macadamia Nut Milk Chocolate Kiss Brownies
Brownies made with melted Hershey's Kisses, melted semisweet chocolate and topped with chopped Hershey's Kisses
Ingredients 
9

tablespoons

unsalted butter

3 ¼

ounces

semisweet dark chocolate squares

chopped

25

Macadamia Nut Hershey's Kisses

or just use regular Kisses

½

cup

light brown sugar

firmly packed

2

tablespoons

honey or corn syrup

¾

teaspoon

salt

1

teaspoon

vanilla extract

2

eggs

lightly beaten with a fork

1

cup

4.5 oz unbleached all-purpose flour

⅓

cup

toasted macadamia nuts -- omit if using Macadamia Kisses

25

Macadamia Nut

or regular Hershey's Kisses, roughly chopped
Instructions 
Preheat the oven to 350 degrees F. Line an 8 inch square metal baking pan with foil and spray with baking spray or line with parchment paper.

Melt the butter in a saucepan set over medium heat. Add dark chocolate and milk chocolate Kisses; reduce heat to low and stir until melted and smooth. Remove from heat and stir in the sugar, syrup, salt and vanilla. Gradually stir in the lightly beaten eggs, followed by the flour. When flour is incorporated, stir in the macadamia nuts (if using).

Pour the mixture into the prepared pan and bake for about 25 minutes or until the brownies appear set. Remove from the oven and immediately scatter the chopped Hershey's Kisses over the top. Return to the oven for exactly one minute.

Let the brownies cool to room temperature, then chill thoroughly.

Grasp foil, lift from pan and cut into squares while cold.
Notes
Make sure to chill the brownies thoroughly before cutting. They taste even better on Day 2.