If you want a break from holiday cookies or just need something with a little more sustenance, I have the perfect cookie for you today. Don't let the name "Kids' Choice" fool you. These fruit and oat cookies from King Arthur are fabulous.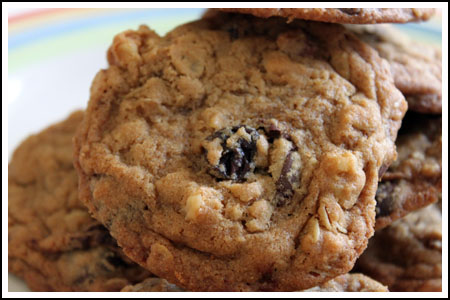 Along with the semi-virtuous addition of whole wheat and oats, the cookie is packed with flavors from nuts, fruit and chocolate. Plus, the little bit of shortening combined with cold butter gives them perfectly rounded edges and a delightfully crispy texture. The only problem with these cookies is they are slightly addictive and I'm mad at myself for baking the whole batch at once because they keep calling me from the kitchen.
Speaking of Kids's Choice, tomorrow's cookie is going to be "Adults' Choice". I'm working on a boozy, Bourbon soaked cookie recipe from Richard Sax and I can't wait to see how they turn out.