If you have a celebration coming up or are just looking for a flashy but easy fruit dessert, I heartily recommend the Triple Berry Mousse Tart originally from Orchard's Finest.   After trying it this week, Todd proclaimed it one of the best desserts ever.  (!!)
Triple Berry Fruit Tart Notes
Now he could have meant one of one hundred best or one of five best, but I didn't press for details. I was just glad that folding straight preserves (no extra fruit purees required) into a mixture of cream cheese, gelatin and whipped cream added enough fruit flavor.  I also liked how tossing the preserves with fresh strawberries and blackberries made them shiny, and am already planning on using this technique to make some pretty fruit topped miniature tarts like you see in bakeries.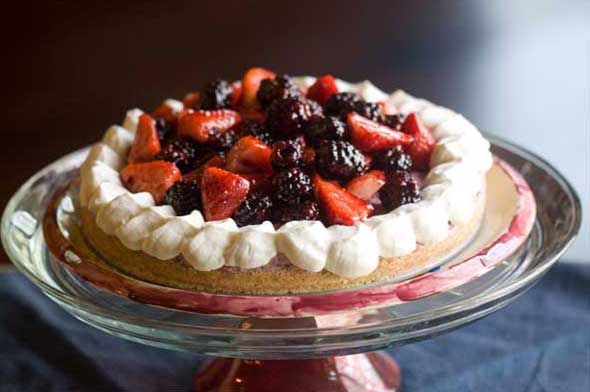 Springform Pan Size
As for this recipe, the only changes I made to the original recipe were to use blackberries instead of blueberries and use a 9 inch round springform pan in place of an 8 inch. In fact, I wonder how many people out there actually own an 8-inch springform. Is that a common size? I only have a 9-inch springform and figured only cake decorators or people who made a lot of cheesecake would own an 8-inch. Either way, this dessert worked.  I scaled up the crust by about ⅕ and left the filling as is because I didn't want to open another package of cream cheese just to increase the height of the filling.
Recipe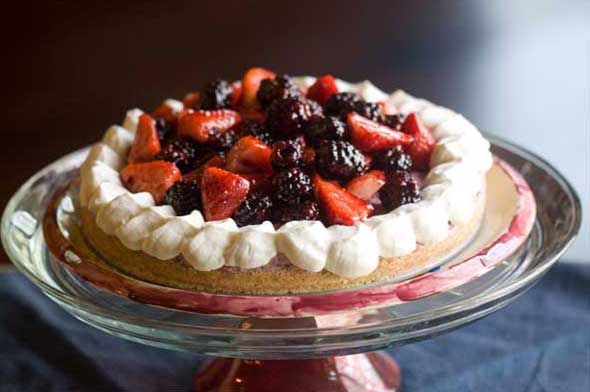 Triple Berry Mousse Tart
An easy Triple Berry Mousse Tart made with Orchard's Finest preserves
Ingredients 
1 ⅔

cups

vanilla wafer crumbs

⅓

cup

quick rolled oats

3

tablespoons

firmly packed brown sugar

5

tablespoons

butter

melted

1 ½

cups

heavy cream

divided -- I used about 2 cups

3

tablespoons

sugar

divided

½

teaspoon

vanilla extract

1

8 oz. package cream cheese, softened

3

tablespoons

boiling water

1

envelope unflavored gelatine

2 teaspoons

1

12 oz. jar Smucker's® Orchard's Finest® Northwest Triple Berry Preserves, divided

¾

cup

fresh mixed berries such as chopped strawberries

blueberries and/or raspberries (Use more if needed)
Instructions 
Combine cookie crumbs, oats and brown sugar in medium bowl. Stir in melted butter with a fork until evenly moistened. Press into 8-inch springform pan. If using a 9-inch springform, increase the crust ingredients by about ⅕ (see note).

Beat 1 cup heavy cream until stiff peaks form. Beat in 2 tablespoons sugar and vanilla. Place cream cheese on microwave-safe plate. Microwave on HIGH 15 to 20 seconds or until very soft. Add to whipped cream, beating until smooth. Pour boiling water over gelatine in small bowl. Stir about 2 minutes or until gelatine is completely dissolved. Beat into cream cheese mixture until blended. Stir in ¾ cup preserves. Spread over crumb crust. Chill 2 hours or overnight.

Beat remaining ½ cup (or 1 cup) heavy cream until stiff peaks form. Beat in 1 or 2 tablespoon sugars. Place in resealable plastic bag. Cut small corner off bag. Remove outer rim of pan. Place dollops of whipped cream around outside edge of cheesecake. Stir remaining preserves with fresh mixed berries in small bowl. Spoon evenly in center of cheesecake.
Notes
If using a 9-inch springform and, you might want to increase the crust ingredients slightly. I used 6 tablespoons of butter, ½ cup oats and about 2 cups of Nilla Wafers. Or just leave the measurements as they are for a thin crust.