I haven't come up with a New Year's Eve dessert, but here's a breakfast idea for New Year's Day. These bourbon chocolate muffins are more like actual muffins than chocolate cupcakes in disguise. They're very chocolaty, but have a firm muffin "shell". They seem a little drier than your typical chocolate cake, but in a good way that's a nice contrast to the generous amount of chocolate chips. Don't leave those out because they do add moisture.
Unless your kids are pirates or winos they probably won't care for these because the booze flavor is pretty strong. So who knows? Maybe a little whiskey baked into your morning muffin will cure a hangover.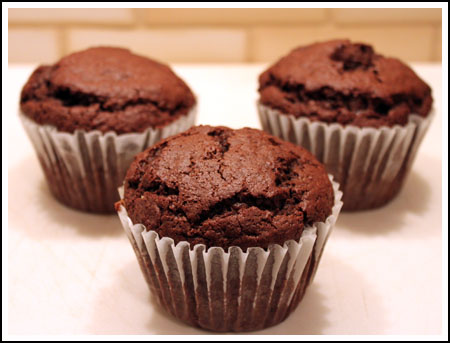 Bourbon Chocolate Muffins
1 3/4 cups all purpose flour (220 grams)
2/3 cup unsweetened cocoa powder
1 teaspoon baking soda
1 teaspoon baking powder
3/4 teaspoon salt
1 1/4 cups packed light brown sugar
8 tablespoons unsalted butter, melted and slightly cooled
2 large eggs
3/4 cup milk
1 teaspoon vanilla
3 tablespoons Bourbon Whiskey
3/4 cup semisweet chocolate chips
Heat oven to 375 degrees F. Line 6 jumbo muffin cups with paper liners
Mix the flour, cocoa powder, baking soda, baking powder and salt together in a bowl. When thoroughly mixed, add the brown sugar and stir well, breaking up any lumps in the sugar.
In a second bowl, whisk together the eggs, milk, vanilla and Bourbon. Pour the egg mixture into the dry mixture, then pour the melted butter in over the egg mixture. Stir until ingredients are well mixed, being careful not to over-beat. Stir in the chocolate chips.
Divide batter equally among muffin cups and bake for 23-25 minutes or until a toothpick inserted in center comes out clean.
Makes 6
Note: If you want to leave the fun booze out of the muffins, increase the milk to 1 cup.