Heart Smart Oatmeal Chocolate Cherry Cookies were winners in an old contest held by Cooking Light magazine. Finalists in the contest included Mexican Shortbread and Caramel Apple Oatmeal Cookies but the Oatmeal Chocolate Cherry Cookies were named the best.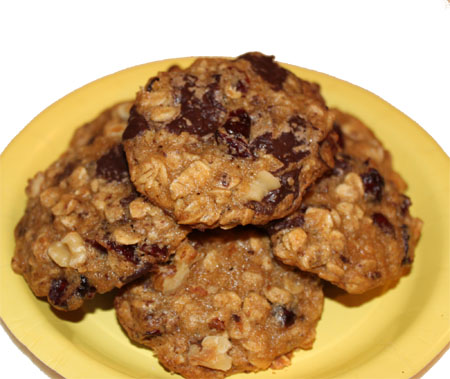 Small Batch to the Rescue!
I had all the ingredients on hand, so I made a quick half-batch yesterday to share with my friend Jennie. Upon taking them out of the oven, I decided not to share them with Jennie because I thought they might taste too healthy. Plus, they needed some time to set, since they were kind of gooey and warm – the chocolate chunks melted into the cookie.
After they'd set, they were pretty good and I wished I had shared them. Then again, I should probably wait until I have actual cherries since that's what the winning recipe calls for and the winner used gourmet dried cherries from Maine. I had to make mine with dried cranberries. Either way, they were a good cookie with some nutrients here and there.
Oatmeal Chocolate Cherry Cookies -- Small Batch
⅓ cup flour, use a mixture of white whole wheat and all-purpose (42 grams total)
¾ cup old-fashioned rolled oats
½ teaspoon baking soda
¼ teaspoon salt
3 tablespoons unsalted butter (42 grams)
¼ cup plus 2 tablespoons packed light brown sugar (75 grams)
½ teaspoon vanilla extract
2 tablespoons lightly beaten egg (28 grams)
½ cup dried cherries (or cranberries)
1 ½ ounces bittersweet chocolate, coarsely chopped (42 grams)
¼ cup walnuts, toasted and chopped
Preheat oven to 350°. Combine flours, oats, baking soda and salt in a bowl and mix well.
Microwave the butter for about a minute (or until melted) in a large microwave-safe liquid measuring cup. Stir the sugar into the butter and let cool for about 5 minutes.
Add sugar mixture and vanilla to flour mixture and stir one or two strokes; add egg and stir until blended. Stir in cherries and nuts. Make sure batter isn't too warm, then stir in chocolate. Drop dough by tablespoonfuls 2 inches apart onto a parchment lined cookie sheet.
Bake at 350° for 12 minutes. Cool on pan 3 minutes or until almost firm. Remove cookies from pans; cool on wire racks.
Makes 15 cookies