Chocolate Marshmallow Pie is a recipe from The Helen Corbitt Cookbook, a book I inherited from my mother who probably got it as a wedding present. Helen Corbitt's book was special in our home because unlike the other books we owned (for instance "The Blender Way of Better Cooking") it had the warmth and humor of a real person; and Helen seemed to have done it all! She worked at The University of Texas, The Houston Country Club, managed high profile tea rooms, catered, wrote cookbooks and finally ended up as head of food services at Neiman Marcus.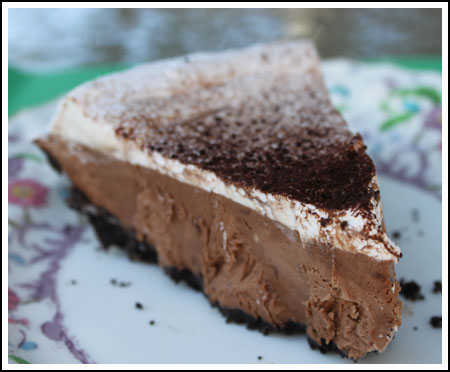 The book is copyright 1957 and I believe it was Helen's first. There are no pictures, just line drawings, recipes, and intros scattered here and there. This pie is casually positioned in the dessert section without an intro or explanation, as if Helen just threw it in there for chocoholics.
Chocolate Marshmallow Pie Notes
Helen Corbitt's recipe reminds me of the popular Hershey Bar Pie recipe, but what I like about this pie is that it's not quite as sweet. I modified Helen's a bit by throwing in some dark chocolate chips and using an Oreo crust, but that's about it. Compared to French Silk pie, it's quite light, but still a rich and satisfying dessert.
The only thing I didn't like about this pie was it didn't come up to the top of my pie tin. I used a store bought pie crust, but threw out the crust and ended up making my own in the tin (long story). If I'd used a 6 oz store bought pie crust, I might not have had that issue. The other issue was the pie took longer than I thought to set. It was much better on Day 2 after a full 12 hours in the refrigerator. You can cut it on Day1, but it won't cut as neatly. And finally, it freezes beautifully.
Chocolate Marshmallow Pie
20 large marshmallows or 200 mini marshmallows
¾ cup milk
2 tablespoons unsweetened cocoa powder
⅓ cup extra dark or semi-sweet chocolate chips
1 pinch salt
1 cup whipping cream
1 tablespoon rum
1 teaspoon vanilla
8 inch pre-made pie crust (or make it yourself, but keep pie pan small)
Topping: 1 cup whipping cream ¼ cup powdered sugar (or more), 1 teaspoon vanilla
In a double boiler or a metal bowl set over a pan of boiling water (not touching), combine the marshmallows, milk, cocoa, chocolate chips and salt. Stir often until melted and smooth. Set mixture aside to cool to room temperature (this will take a good half hour or more, so plan on doing something else).
When the chocolate mixture is room temperature, stir in the rum and vanilla. Whip 1 cup of cream and fold it into the chocolate mixture. Pour it in the pie shell and chill for 6 hours or more. Mine was better set by Day 2, but I could cut it 6 hours later.
Before serving, whip the remaining whipped cream and sweeten with the powdered sugar and vanilla. Spread over pie. Garnish with extra cocoa powder if desired.