After getting a thumbs up from Carolyn, who left a comment with her opinion on the Brownie Bark, I took her advice and tried making an oatmeal version. Definitely more of a brittle than a bark, this Oatmeal Cookie Brittle is from Texas legend Helen Corbitt. And for those of you limiting gluten, you'll be happy to know it does not contain any flour.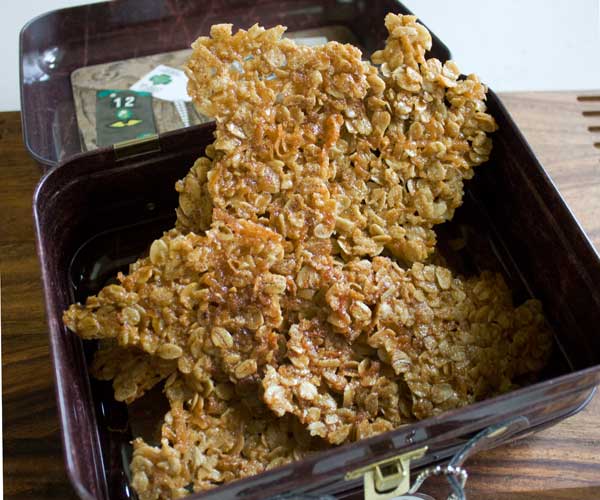 Helen Corbitt's Oatmeal Crisps
Helen Corbitt called this recipe Oatmeal Crisps and she somehow managed to cut it into "narrow fingers". I'm still trying to figure out how she did that because my batch went from being a bowl of soggy oats to a deliciously crisp slab that must be broken rather than cut. But hey, no big deal!  Brittle was what I was going for, and this cookie definitely falls into that category.  I didn't think it would really become crisp since it was so wet coming out of the oven, but it did. 
Oatmeal Cookie Brittle. It's a buttery, crunchy, hard-to-stop-eating treat! Just make sure you have a tin nearby in case you have to hide it from yourself.
Latest Photo of Oatmeal Brittle Plus Tips
To follow-up on Mary's comment, I made a small batch of this today (3/27/2023) and was happy with the results. This time I was even able to cut them into narrow fingers. The key was letting them cool for about 3 minutes and not attempting to do it right when I pulled them from the oven. Also, using a pizza cutter helped. They were not greasy, but they were definitely buttery. I've added gram amounts to the recipe for convenience. Also, I tested with unsweetened shredded coconut.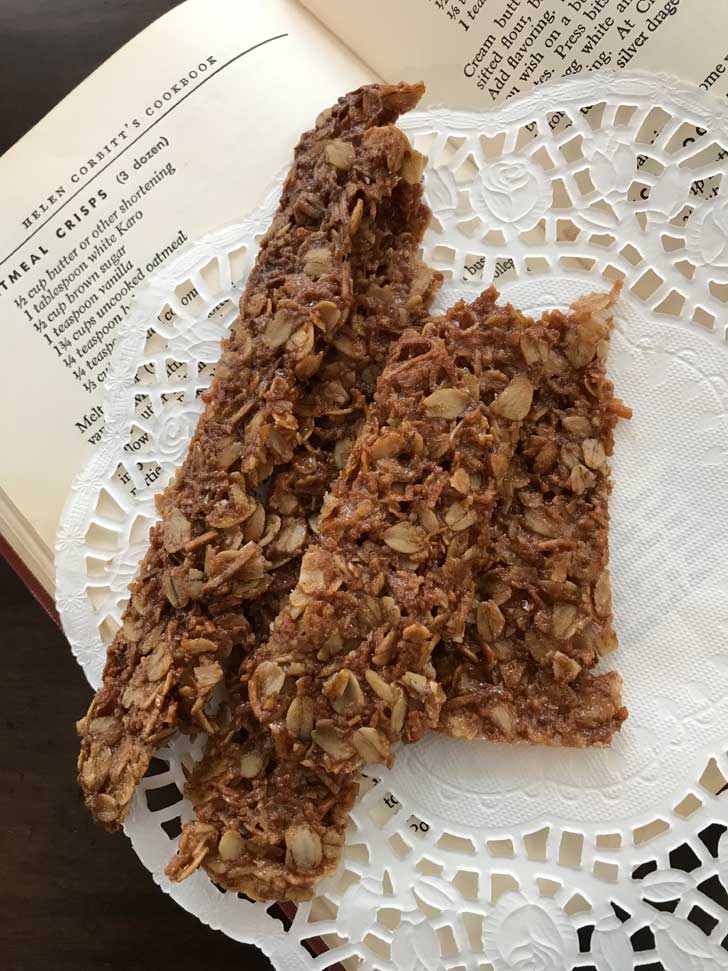 Recipe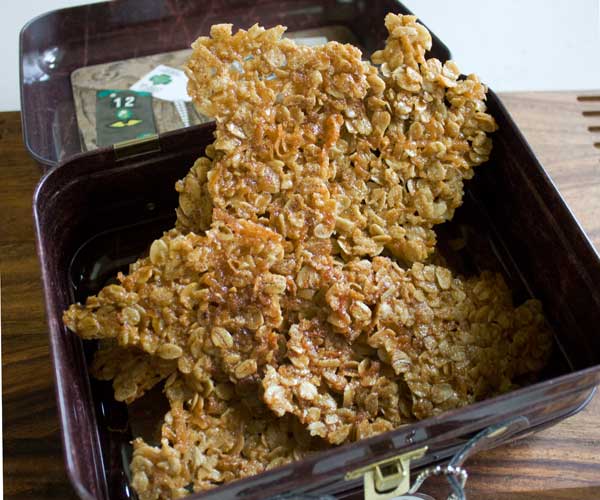 Oatmeal Brittle
A crisp slab of oatmeal cookie that you break into pieces. To make these gluten free, double check all ingredient lists and make sure the products you use are made in a gluten free zone.
Ingredients 
1

stick

unsalted butter, melted

(114 grams)

1

tablespoon

light corn syrup

Karo (20 grams)

½

cup

light brown sugar, packed

(100 grams)

¼

teaspoon

of salt

1

teaspoon

vanilla

¼

teaspoon

baking powder

1 ¾

cups

oats, old fashioned

(140 grams)

⅓

cup

shredded or angel flake coconut

(40 grams)
Instructions 
Preheat oven to 325 degrees F. Line a 13x18 inch heavy duty rimmed baking pan with nonstick foil or parchment paper;

In a large bowl, stir together the butter, corn syrup, sugar, salt, vanilla and baking powder. Add the oats and coconut and stir until thorough mixed. Spread the mixture as thinly as you can across the baking sheet.

Set in preheated oven and bake for about 20 minutes or until edges are browned. Let cool completely on a wire rack. When cool, the cookie should be perfectly crisp. Break it into pieces.
Notes
I used unsalted, but the recipe just called for regular butter or shortening. I felt like the unsalted butter combined with the ¼ teaspoon of salt that is already in the recipe was the perfect level of saltiness. If you used salted butter, you might get even better results.