I've been eating biscotti for days. You'd think I'd be tired of it, but nope! I'm still craving the flavor and the crunch with my noon hour coffee.  Lately I've been craving the oil-free, hard, Italian style biscotti over the more tender, less tooth-cracking type made with butter or oil. This whole grain almond biscotti fits that category.
Last week I made a great batch based on Foodblogga's Italian Mom's biscotti recipe, but I substituted coconut palm sugar for granulated. It worked out so well that I tested it in another favorite biscotti recipe — one with a heavier vanilla-almond flavor which I suspected would go well the burnt caramel flavor of the coconut sugar. It did! These biscotti were fantastic and with the coconut palm sugar, heart healthy almonds and whole grain flour, the nutritional profile is not half bad. The problem is, I keep going back to the cookie tin.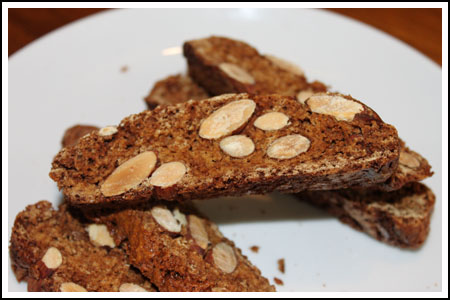 Small Batch Whole Grain Almond Biscotti
1 1/3 cups white whole grain (or all-purpose) flour (170 grams), spoon and sweep
2/3 cup coconut palm sugar (80 grams)
3/4 teaspoon baking soda (3.75 ml)
1/4 teaspoon salt (1.25 ml)
2 large eggs
3/4 teaspoon pure vanilla extract (3.75 ml)
3/4 cups roasted unsalted almond (60 grams)
Preheat oven to 300 degrees F. Line a cookie sheet with parchment paper or non-stick foil.
Stir flour, coconut sugar, baking soda and salt together in a mixing bowl. Set aside
In a second bowl, using an electric mixer or whisk, beat the eggs until light and foamy. Beat in the vanilla. Mix the liquid ingredients into the dry ingredients by hand; the dough should be heavy and sticky.
Add the nuts and using your hands, knead them into the dough so they are evenly distributed. The dough will be thick and possibly crumbly depending on what type of flour you used and if you measured it right.  It will should hold together, though.
Using slightly wet hands, shape the dough into 9 x 2 ½ inch log. Place log on the baking sheet.
Bake log at 300 degrees F. for 50 minutes. It will spread a bit in the oven. Remove from the oven and cool for about 5 minutes. Leave the oven on.
Transfer log to a large cutting board and using a sharp serrated knife, cut the log every 1/2 to 3/4 inch on the diagonal. Lay the cut biscotti on the baking sheet and bake at 300 for about 30 minutes. If you sliced the biscotti thinly (1/2 inch thick or less) check at 20 minutes. Cool on a rack.
Makes about 12-15 biscotti plus stubby ends for sampling.