Here's a fun cake with the potential to be disastrous. Or at least you'd think. Somehow, the few times I've made Rocky Road Bundt Cake, it's been quite delightful! No wonder it's a multiple contest winning cake.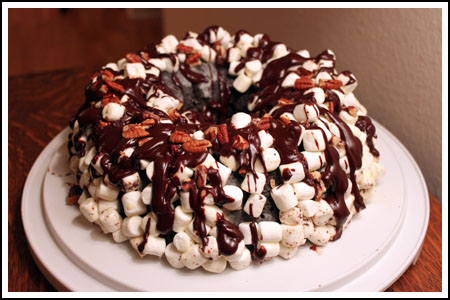 Some history. In 1993, the cake won Peggy Jenson an award in a contest sponsored by Crisco. Crisco published it in one of their little supermarket checkout books called "Best Recipes" with the name Bumpy Highway Cake.
Over a decade later, a contestant entered that same cake in an Accubake Cake Challenge which premiered on Food TV. She gave it a new name -- My Bumpy Life Cake and took home a prize.
So I'd been eyeing this cake for a while, but wanted to make it without the shortening. Using one of my favorite chocolate bundt cake recipes as a base, the original condensed milk glaze as the topping/marshmallow glue and my favorite ganache for the chocolate drizzle, I came up with my own rendition of this cake.
Update: Need to try this as a 6 inch cake.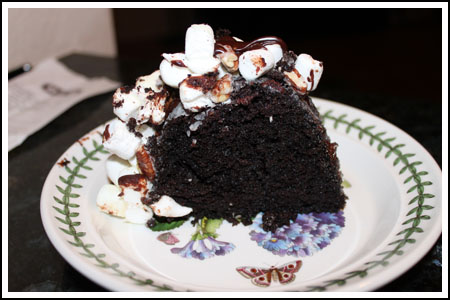 Rocky Road Bundt Cake
  (Please read through before making)
Cake Base:
2 ounces bittersweet chocolate, chopped
¾ cup vegetable oil
1 cup granulated sugar
1 large egg
2 cups all-purpose flour (9 oz)
½ cup Dutch-process cocoa powder
1 tablespoon baking soda
¾ teaspoon salt
1 cup brewed coffee
1 cup buttermilk
Glaze and Rocky Road:
14 oz can of condensed milk minus ⅓ cup (save the ⅓ cup for something else)
4 tablespoons unsalted butter
1 cup powdered sugar
2-3 cups mini marshmallows plus more!
½ cup toasted pecans, chopped
Ganache Drizzle:
⅓ cup heavy cream plus more
3 oz bittersweet chocolate
½ tablespoon corn syrup
½ tablespoon unsalted butter
Preheat the oven to 350°. Grease and flour a Bundt pan.
Melt 2 ounces of the chopped chocolate over low heat, stirring constantly. Scrape the chocolate into a medium bowl and let cool slightly. If you're using a microwave-safe mixing bowl to make the cake, you can just melt the chocolate directly in the bowl in the microwave. Whisk in the oil and sugar until smooth, then whisk in the egg.
Mix the flour, cocoa powder, baking soda and salt in a separate bowl. Add half of the dry ingredients to the chocolate mixture along with ½ cup of the coffee and ½ cup of the buttermilk; whisk until smooth. Add the remaining dry ingredients, coffee and buttermilk and whisk until smooth.
Pour the batter into the prepared pan and bake for about 45 minutes, or until a toothpick inserted in the center of the cake comes out with moist crumbs. Let the cake cool on a rack for 10 minutes. Flip from pan onto a baking rack and set the rack over a cookie sheet or flat surface lined with wax paper, parchment or foil.
Beat the condensed milk, butter and powdered sugar until smooth. Spread it as evenly as you can over the warm cake, letting it fall into the hole and down the sides. I found myself constantly scraping it up and using it as "glue" to paste on the marshmallows. Mix together the marshmallows and pecans, then press into the top of the cake. Press marshmallows into the sides of cake covering it the best you can. What worked for me was to drag little handfuls of marshmallows through puddles of fallen condensed milk mixture and stick them on (that, plus scraping and drizzling).
Let cake cool – marshmallows and glaze will set. Make the ganache.
Bring the ⅓ cup cream to a boil in a microwave safe 2 cup glass measure or in a saucepan. Add 3 ounces of chopped chocolate, corn syrup and butter. Stir until melted and smooth. Mine started out lumpy, but smoothed out once everything had melted. At this point, it will probably be too thick to drizzle, so thin it out with a little more cream.
Drizzle spoonfuls of ganache over the marshmallows. If the ganache is too thick, you'll get clumps, so (again) make sure you thin it out enough.
Let cake set. I'm storing mine in the refrigerator in a cake dome. We'll see how it holds up.