Well, so much for National Peanut Butter Lover's Day. I dropped the ball and made a batch of chocolate chip cookies using half a box of pudding mix. The recipe is based on one called Award Winning Chocolate Chip Pudding Cookies.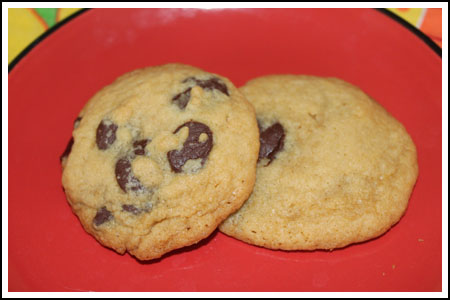 They're okay, but I don't love the artificial vanilla flavor (as opposed to how I did love it in the sugar cookies) and the texture is moist, but not crispy/chewy enough. Back when I first tried the recipe years ago using the original from allrecipes.com, I thought it was award-worthy. But tastes change. I like the cookies, but they're not my favorite and I probably wouldn't give them a ribbon.  Maybe I should try adding peanut butter?
Half a Box of Pudding Chocolate Chip Cookies
1 cup plus 2 tablespoons all purpose flour (5 oz)
½ teaspoon baking soda
¼ tsp. salt – omit if using salted butter
6 tablespoons packed dark brown sugar
2 tablespoons granulated sugar
⅓ scant cup (1.7 oz) instant vanilla pudding mix
1 (4 oz) stick cool unsalted butter, cut up
1 large egg
½ teaspoon vanilla
1 cup semi-sweet or bittersweet chocolate chips
Preheat oven to 350 degrees F.
Sift together flour, salt, and baking soda in a bowl and set aside.
Cream butter and both sugars in the bowl of a stand mixer fitted with the paddle attachment on medium speed until light and fluffy, about two minutes.Pour in instant pudding and mix until completely combined, about a minute. Add in egg and vanilla and beat for about 30 seconds.
Gradually add flour mixture and mix until just combined. Fold in chocolate chips.
Drop by rounded tablespoonfuls on a parchment-lined baking sheet and bake for 12-15 minutes, or until edges are golden. Let cool on sheets for about two minutes, transfer to cooling rack to cool completely.
If you want to make a ton of cookies, the original version is on allrecipes.com.