If you are looking for the best Gingerbread Biscotti recipes, this post may help. A few years ago I baked up a few different recipes and added notes on each. Read on fo some recipe comparisons.
Allrecipes.com Gingerbread Biscotti
Recipe #1. was from allrecipes. It didn't have any add-ins and the texture (thanks to some vegetable oil) wasn't tooth-breakingly hard, but crisp and tight crumbed. It was almost like eating a very thick, ginger flavored melba toast. I liked it quite a bit but missed the nuts.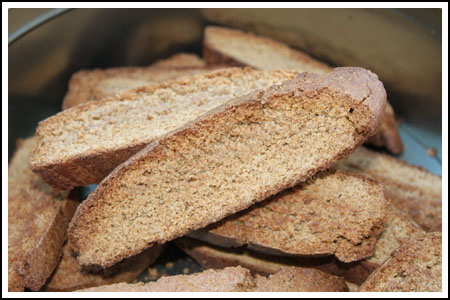 Fine Cooking Magazine Recipe
Recipe #2 was Gingerbread Biscotti from Fine Cooking Magazine and it did have nuts – pecans to be exact. It also had dried apricot, which was an interesting addition and went quite well with the robust flavors of molasses and spice. This biscotti didn't have any added oil to buffer all the spices, so it was strong and in my opinion, the most flavorful. During the 3 weeks in my cookie tin, it grew very hard and dunking was almost required.  I liked it that way.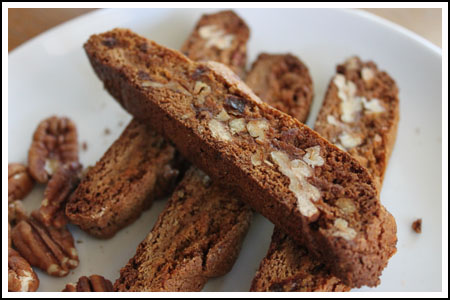 Recipe #3 and the most recent (I made it two days ago) was from Susan at Cookie Scoop. Susan's recipe includes butter. Of the three recipe comparisons, this one was the least hard. In fact, after a couple of days in my biscotti tin it got a little softer. It still tasted very good and because of its texture, it's a no-dunking required biscotti.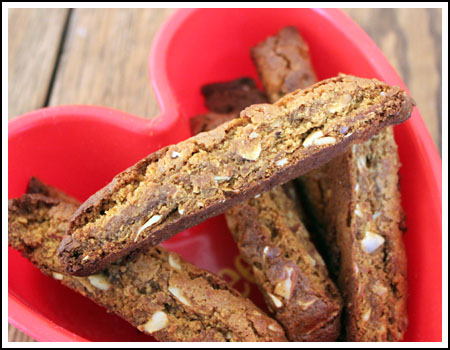 What I've learned from the Gingerbread Biscotti recipe comparisons is oil or no fat at all is the way to go when it comes to keeping things fresh.  And as far as flavor goes, it's a toss up.  Biscotti die-hards will like Fine Cooking's biscotti, but the Allrecipes.com is better for people who don't always plan on dunking.  The butter based biscotti would be good for just about anybody, but doesn't stay fresh as long.
For convenience, I've built you one of my handy at a glance ingredients charts so you can get an idea of the proportions of each recipe.  I converted most of the spices that were in tablespoons to teaspoons so the measurements look slightly different than the original.
Gingerbread Biscotti Recipes Compared
Allrecipes (oil)
Fine Cooking (no fat)
Cookie Scoop (butter)
2 1/4 cups flour
1 cup whole wheat flour
3 tsp. powder
3 tsp. ginger
2 tsp. cinnamon
1 1/2 tsp.  cloves
1/4 tsp. nutmeg
1/3 cup oil
1 cup sugar
3 eggs
1/4 cup molasses
2 1/4 cups flour
1-1/4 dark brown sugar
1-1/4 tsp. b. powder      2 tsp. ginger
1 tsp. cinnamon
1/2 tsp. salt
1/4 tsp. nutmeg
1/4 tsp. soda
4 oz. pecans
4 oz. dried apricots
1/4 cup molasses
2 large eggs
2 tsp. orange zest
3 cups flour
1 ½ tsp b. powder
3 tsp. ginger
3 tsp. cinnamon
1 tsp nutmeg
1/2 tsp. cloves
1/2 tsp. allspice
1/4 tsp cayenne
1/2 c. butter
3/4 cup sugar
4 oz butter
1/2 cup molasses
3 eggs
1 cup almonds
Here's the full recipe for the third one.  Thanks, Susan!  I still have a couple more to try.
Gingerbread Biscotti from The Cookie Scoop
1 cup sliced almonds, toasted
3/4 cup granulated sugar
4 oz butter, room temperature (salted or unsalted?)
1/2 cup molasses
3 eggs
3 cups AP flour
1/2 tbsp. baking powder
3 tsp. ground ginger
1 tbsp. cinnamon
1 tsp. nutmeg
1/2 tsp. cloves
1/2 tsp. allspice
¼ teaspoon cayenne pepper (my addition)
Line baking sheet with parchment paper. Preheat oven to 350 degrees F.
Roughly chop the toasted almonds and set aside.
Beat sugar, butter and molasses until smooth, then beat in the eggs one at a time.
Mix the flour, baking powder, ginger, cinnamon, nutmeg, clovers, allspice and cayenne together in a bowl. Gradually stir the flour mixture into the molasses mixture, followed by the almonds. Mix until it all comes together.
Turn dough from bowl and shape into two logs about 2 ½ inches across.
Place the logs on a cookie sheet and bake for 18-20 minutes at 350. Let cool until cool enough to handle, then transfer logs to a cutting board and slice about ½ inch thick on the diagonal.
Lay the biscotti on the cookie sheets and bake for another 15-18 minutes at 350 F.
Allow biscotti to cool and crisp on a cooling rack.