Update: This is from another old trip report, and reading it makes me miss Rome! One day I'll go back to pet more cats and eat burnt biscotti and gelato.
Next time you burn a batch of biscotti, pat yourself on the back and say "This is the way they make it in Rome." Or at least at one very special bakery, Antico Forno del Ghetto where everything is just a touch burnt.
Antico Forno del Ghetto is in the Jewish Ghetto (Roman Ghetto) located at the corner of Via del Portico d'Ottavia. Don't look for a sign on the door.  The entrance looks like this and there's usually a big line.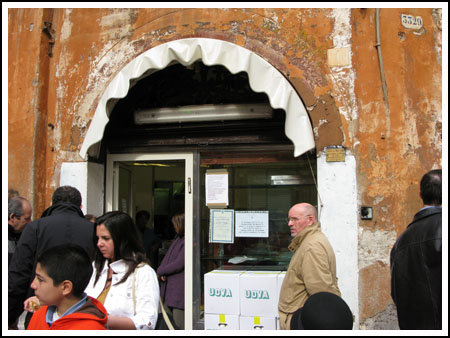 We went on a Friday afternoon shortly before sundown and luckily, the line was short. The ladies were serving burnt biscotti and deliciously charred macaroons.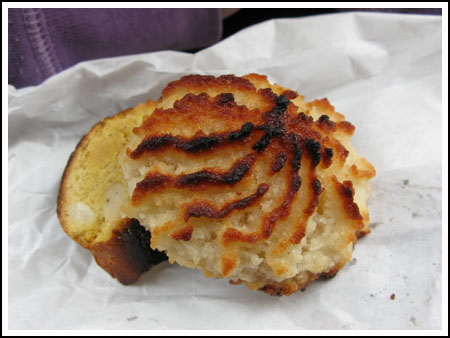 I believe they sell other things depending on the time and day you visit.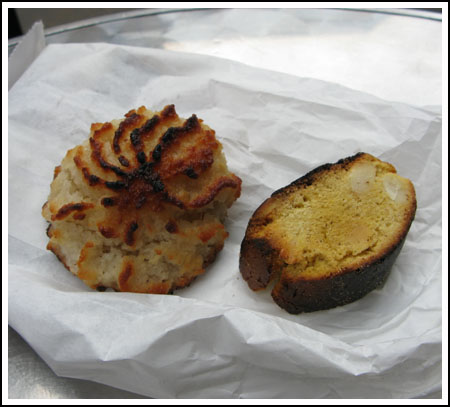 Everyone moves fairly quickly in the bakery, so you have to have an idea of what you want before you go in.  Also, there aren't any tables.   We took our sweets down the street to a little cappuccino bar, bought table service for an extra euro, and enjoyed our burnt pastries and coffee before heading on over to the amazing Portico d'Otavio.