For those of you tired of reading about Italy, here's a truly American style cookie –chocolate chip cookies with whole grain flour and a big scoop of bran cereal.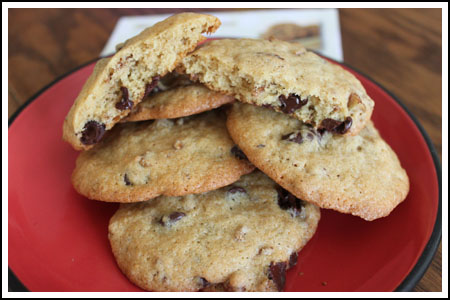 This recipe was on a little card which fell out of a magazine I was reading. I kept it because I liked the design of the ad and because I figured I'd like the flavor of bran in cookies. I did. They were very good even though my first batch was a little moister than I'd hoped. I tend to like crunchy cookies, so for the second batch, I baked them a little longer and got cookies that were fairly brown (a little more and they would have been burnt) but tasty and with just the right crunch. The middles were still soft.
I used the original recipe as a base. The changes I made were to use white whole grain flour (Eagle Mills, but any white whole wheat should work), a scant 1/4 teaspoon of salt instead of 1/8 teaspoon, unsalted butter, and a few extra chocolate chips. For cookies with a little extra fiber in it, these were terrific.
One more thing. They were on the sweet side, so it's a good idea to add the nuts to counteract the sweetness. Not that they were overly sweet….just sweeter than some other chocolate chip cookies.
Update:  American Style is probably a dumb name for these, but it helps me remember what they are.  I like Emma's suggestion of 666 Cookies better. Update Again: I'm renaming them Chocolate Chip Cookies with Whole Grain Flour (because I'm super creative!)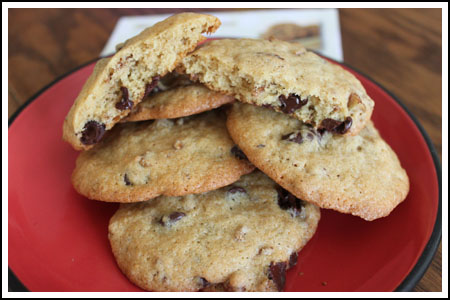 Chocolate Chip Cookies with Whole Grain Flour
A healthier version of chocolate chip cookies. I called it "American Style" because it has a mixed grain flour and some bran cereal thrown in.
Ingredients 
1 1/4

cups

sifted whole grain flour

or white whole wheat – 5.25 oz

1/2

teaspoon

baking soda

1/4

scant teaspoon salt

6

tablespoons

unsalted butter

cool

6

tablespoons

granulated sugar

6

tablespoons

brown sugar

firmly packed

1

large egg

1/2

teaspoon

vanilla

2

tablespoons

hot water

1/4

cup

slightly heaping_ All Bran Original

1/3

cup

chopped

toasted nuts (I used pecans)

2/3

cup

semi-sweet chocolate chips or bittersweet chocolate chips
Instructions 
Preheat oven to 375 degrees F.

Stir together flour, soda and salt. Set aside.

Beat together butter and sugars until light and fluffy. Add egg and vanilla. Beat just until mixed. Mix in hot water. Add cereal, flour mixture, nuts and chocolate morsels, mixing until combined. Drop by teaspoon onto greased or parchment lined baking sheets.

Bake at 375°F about 15 minutes or until golden brown. Remove from baking sheets and cool on wire racks. Store in airtight container.