My dad came over for dinner last night which gave us a good excuse to open the Vin Santo we bought at Fattoria San Michele a Torri.  My dad had never heard of Vin Santo, but was pretty excited about trying it since he'd never dipped cookies in wine before.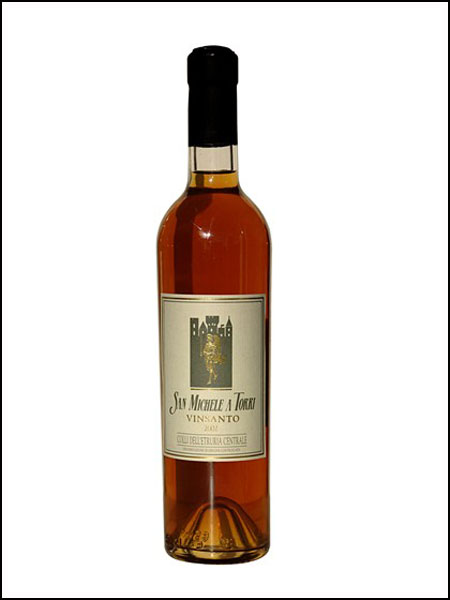 Of course that meant I had to bake biscotti.  I have tons of biscotti recipes, but most have additions such as butter, nuts, chocolate, dried fruit or flavorings. For Vin Santo dunking, I needed a basic biscotti that would highlight the flavors of the wine. Rather than go with this one (which I like very much), I decided to try something new.
This recipe is adapted from the King Arthur Cookie Companion was perfect!  If you make it as written below, you should  get about 9 or 10 cookies.   For more, just double it.
As for the Vin Santo, the vineyard where I bought mine sells their Vin Santo and their incredible olive oil on-line.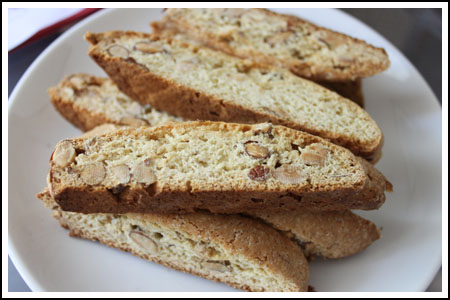 Small Batch Biscotti for Vin Santo — Adapted from KA Cookie Companion
1 large egg
1/3 cup granulated sugar
1/4 teaspoon baking powder
1/4 teaspoon salt
1/2 teaspoon vanilla
1/8 to 1/4 teaspoon of almond extract
1 cup unbleached all purpose flour, gently spooned and swept (4.25 oz)
½ cup roasted, unsalted almonds, coarsely chopped
Preheat oven to 350 degrees F. Line a cookie sheet with parchment paper.
Beat the egg with an electric mixer for about a minute or until foamy. Add the sugar and beat sugar and egg for about 2 minutes. Beat in the baking powder, salt, and both extracts. Mixture should appear creamy. By hand, stir in the flour. When the flour is almost fully blended, stir in the nuts. Batter should be a perfect consistency – not too dry and not too sticky.
Turn batter out onto the lined cookie sheet and shape it into a plank about 6 inches long (maybe a little longer) by 2 ½ inches across. Wet your hands a tiny bit and mold it so that it's smooth across the top.
Bake the plank at 350 F for 25 minutes. Remove from oven and let cool for about 10 minutes. Five minutes before you are ready to slice, mist with water. If you don't have a mister, you can flick little bits of water of the top with your fingers (that's what I had to do). This makes it easier to cut.
Reduce oven heat to 325 F.
Five minutes after you've misted/sprinkled the water over the top, slice biscotti slightly on the diagonal using a straight up and down motion of the knife (this keeps the tops flat) making slices about ¾ inch thick.
Stand the slices on the cookie sheet, return them to the oven and bake at 325 for 25 minutes. Remove from oven and let biscotti cool and crisp.
This should give you about 9 nice size biscotti.