Megan's Favorite Oatmeal Cookies from my friend Megan are definitely one of my new favorites. Megan, who recently moved to Texas, was kind enough to try my marble cake, so in turn I made one of her recipes. Thanks to Megan, I my family has a new favorite, too!  Or at least I do.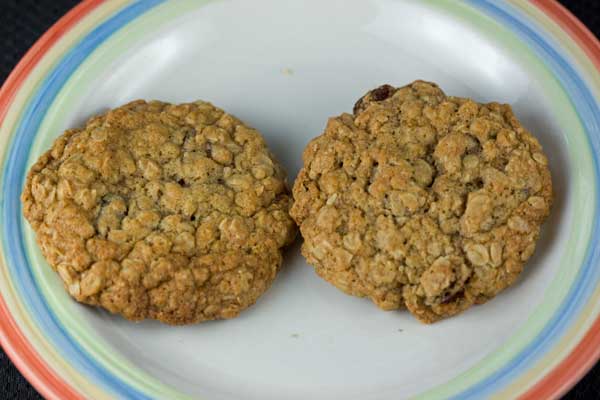 Great for Wrapping Individually
These oatmeal cookies are about 4 inches in diameter, ¾ inch thick, chewy, loaded with raisins and sturdy enough to wrap individually and give as gifts or sell at bake sales.
Freezing Individual Mounds of Dough
Another good thing about the recipe is that you can make 12 mounds of dough, freeze them and bake as needed. Your chances of getting nice, thick, cookies are better if you chill the dough, but I will admit that the cookies in the photo were baked with dough that I didn't take the time to chill and were still great. If you don't have time to chill the dough, use cold butter and whip it until soft, and make sure you use a good brand. I find cookies spread less when I use organic butter, European style (Central Market's house brand, in this case), or Land o' Lakes.
More Favorite Oatmeal Cookies
By the way, here's a link to my other favorite "jumbo" type oatmeal cookies. The cookies on the link are a less oaty, slightly sweeter and denser. The recipe here is lighter textured.
Recipe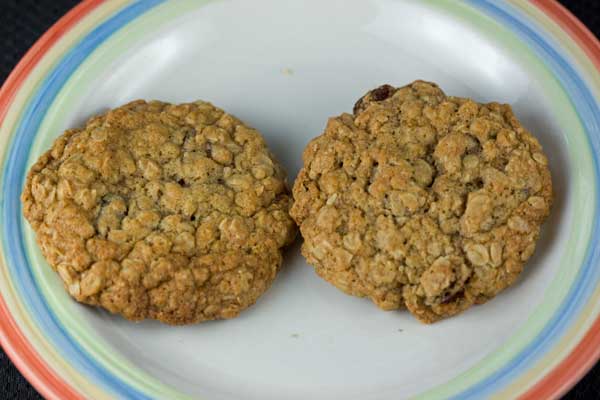 Megan's Favorite Oatmeal Cookies
Big, fat, bake sale worthy oatmeal cookies.
Ingredients 
1 ½

cups

all purpose flour

1

tsp

baking soda

1

tsp

cinnamon

½

teaspoon

salt

3 ⅛

cups

rolled oats

2

large eggs

1

tsp

vanilla

1

cup

unsalted butter

softened -- or salted and omit salt

⅞

cup

brown sugar

this is 1 cup minus 2 tablespoons

½

cup

granulated sugar

1 ¼

cups

raisins

I used slightly less
Instructions 
Don't preheat the oven yet because the cookies require some chilling.

In a medium bowl, stir together flour, baking soda, cinnamon, salt, and oats. In the bowl of a stand mixer, beat the butter and both sugars together until thoroughly blended. Beat in the eggs, one at a time, then add the vanilla. Add the flour/oat mixture and mix on low speed until everything comes together. Stir in the raisins.

Divide the dough into 12 equal portions and set them on a baking sheet or a couple of plates. Cover with plastic wrap and chill slightly until dough is just firm enough to handle, then shape each portion into a neat mount by rolling into a very compact ball and pressing down slightly. Continue chilling until dough mounds are very firm.

When you are ready to bake, preheat the oven to 350 degrees. Divide the dough balls between two parchment lined sheets and bake for 18-22 minutes, rotating the pans halfway through the baking time. Or bake one sheet at a time. Remove the pans from the oven, and allow the cookies to cool on the baking sheets before transferring them to a wire rack to cool completely.