Consider this Part II of the Custard with Whipped Cream and Blackberries post, because it's what you can do with the two leftover egg whites. You can make Forgotten Cookies!
This version of Forgotten Cookies, named because you put them in the oven and forget about them for 8 hours, calls for butterscotch chips and nuts. But of course you can use any combination of chips and nuts you like. I had walnuts, so I made butterscotch walnut and threw in a few chocolate chips as well.
While eating one of these, I had the same thought I did with the custard dessert. I wonder how Forgotten Cookies would be with chopped up Nilla wafers instead of nuts, some white chips instead of chocolate, and tablespoon of two of banana pudding mix in place of the same amount of sugar? You could call them Forgotten Banana Pudding Cookies.
I'm not sure why I'm obsessed with banana pudding today.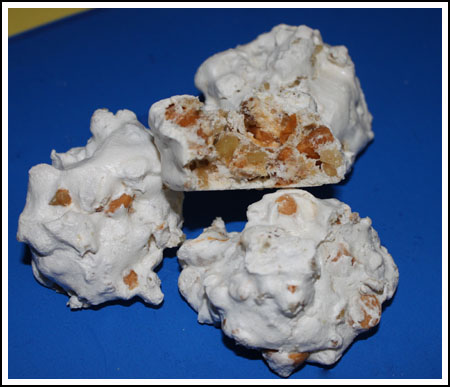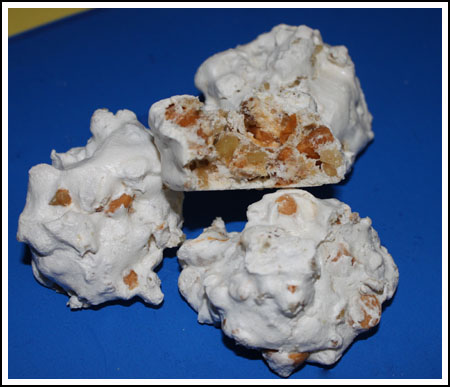 Forgotten Cookies
Forgotten Cookies are meringue cookies made by putting cookies in an oven, turning it off and closing the door.
Ingredients 
2

large egg whites

room temperature

1

pinch

salt

2/3

cup

granulated sugar

1

teaspoon

vanilla extract

1

cup

butterscotch chips or semisweet chocolate chips

1

cup

toasted pecans or walnuts
Instructions 
Preheat oven to 350 degrees F. Line two cookie sheets with parchment paper.

Beat egg whites until white and foamy. Gradually add salt and sugar, continuing to beat until stiff peaks form. Fold in the vanilla, chips and nuts. Drop by tablespoons onto lined cookie sheets.

Place the cookies into the preheated oven, shut the door and turn off the oven immediately. Let cookies sit in the turned off oven for 5 to 6 hours or overnight.

Makes 18-24 depending on how big you make your scoops.