Ah, Forgotten Cookies. Such an appropriate name! They are so good, but only thought of when there is a excess of egg whites to be used. This particular recipe is one I made when I had leftover egg whites from the Custard with Whipped Cream and Blackberries post.
Real Reason They Are Called Forgotten Cookies
They are a cookie we tend to forget about, but the real reason for the name is that you are supposed to put the egg white cookies in the oven, turn off the heat, close the door, then forget about them for 8 hours. You can make the cookies with just egg whites and sugar, or you can add flavored chips. This version calls for butterscotch chips and nuts.
Add-Ins
Whenever I eat these type of cookies, which are also called Meringues, I start thinking about all the other possible add-ins. For instance, you could use Nilla wafers instead of nuts, some white chips instead of chocolate, and tablespoon of two of banana pudding mix in place of the same amount of sugar.
Recipe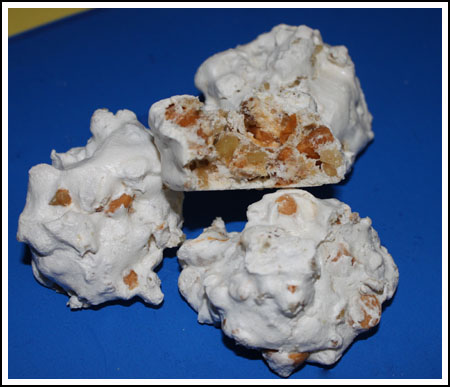 Forgotten Cookies
Forgotten Cookies are meringue cookies made by putting cookies in an oven, turning it off and closing the door.
Ingredients 
2

large egg whites

room temperature

1

pinch

salt

⅔

cup

granulated sugar

1

teaspoon

vanilla extract

1

cup

butterscotch chips or semisweet chocolate chips

1

cup

toasted pecans or walnuts
Instructions 
Preheat oven to 350 degrees F. Line two cookie sheets with parchment paper.

Beat egg whites until white and foamy. Gradually add salt and sugar, continuing to beat until stiff peaks form. Fold in the vanilla, chips and nuts. Drop by tablespoons onto lined cookie sheets.

Place the cookies into the preheated oven, shut the door and turn off the oven immediately. Let cookies sit in the turned off oven for 5 to 6 hours or overnight.

Makes 18-24 depending on how big you make your scoops.