Inspired by an article called Biscotti and its Crunchy Cousins, I finally took a shot at making Pane del Pescatore — a cookie I discovered at a little bakery in Florence just south of the Ponte Vecchio bridge.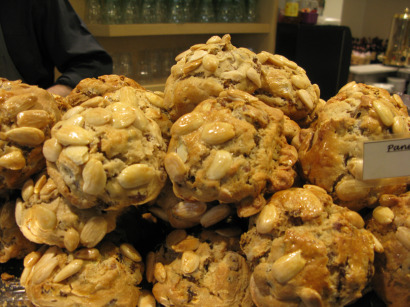 Pane del Pescatore, which means "bread of the fisherman", are  large biscuit shaped cookies.  Also known as Italian scones, they have hard shells studded with nuts and a tender crumb packed with raisins.   The baker who sold me my first bag was happy to give me some tips, so using his tips as well as some from the book mentioned above, I was able to come up with this recipe.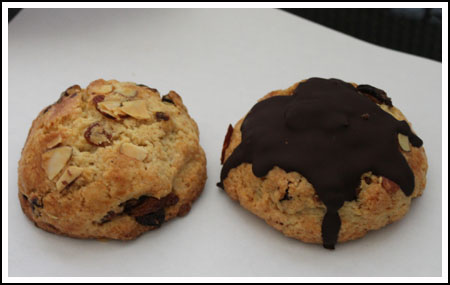 Pane del Pescatore
(Baking Powder Version)
1 cup flour (4.5 oz)
1/8 teaspoon salt plus a tiny pinch — omit if using salted butter
3/4 teaspoons baking powder (may also try with 3/4 teaspoon instant yeast)
1/3 cup granulated sugar
1/4 teaspoon each – orange and lemon zest
3 tablespoons unsalted butter, mine was cold
1 large egg
1/4 teaspoon vanilla
1/3 cup toasted chopped pecans (amount is approximate and you can use a different nut)
1/4 chocolate chips (optional — omit if topping with chocolate)
1/4 cup or slightly more golden raisins, you can soak them in liquor if you have some (I didn't)
Sliced Almonds for the outside or blanched whole almonds or pistachios
A little beaten egg for brushing
Preheat oven to 350 degrees F. Line a cookie sheet with parchment paper
Mix together the flour, salt and baking powder. Stir in the sugar. Add the butter, and using your fingers or a pastry cutter (fingers = better), mix until the mixture is coarse and crumbly. Work in the orange and lemon zest. Mix together the egg and vanilla until the egg is fully blended, then pour the egg mixture over the flour mixture and stir with spoon until egg is incorporated. When batter is mixed but still lumpy, work in the raisins and nuts. The end result will be a smooth dough, but try not to overwork it.
Divide dough into 4 parts and shape each into a  mound. Roll in almonds or just press the almonds into the dough. At this point, I chilled the mounds for a couple of hours because I had something else to do. I don't think this made a difference. If you decided to try making these with yeast, you will need the rising time.
Bake at 350 F for 28 to 35 minutes or until edges are browned and cookies are fragrant. You might want to bake one at a time to get the time right with your oven. Turn off the oven, remove the cookies for 10 minutes. Then, if you want to dry the cookies out a little more, put the cookies in the warm oven and let them sit in the "off" oven for another 30 minutes. Remove from oven and let cool completely.  The shells will be hard and the insides will dry up a bit as the day goes on. When they're cool, spoon some melted chocolate over the top. If you want to quick set the chocolate, you can chill it a bit.
— The dough was easy to work with and I felt like I could pack it with just about any type of dried fruit. I'm glad I used golden raisins, though.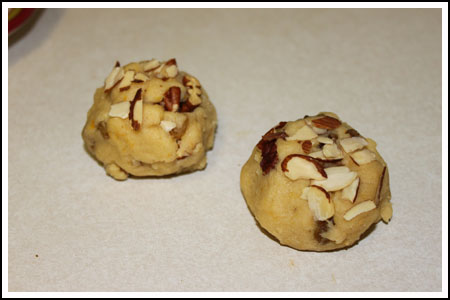 — I baked the first two without brushing with egg. They looked okay, but the egg brushed looked nicer.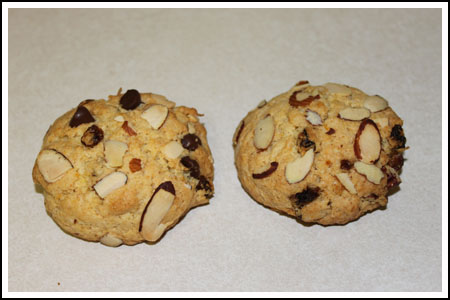 — Late in the day, I cut one open and took a texture shot. They were crumbly, dry yet "short" and very flavorful.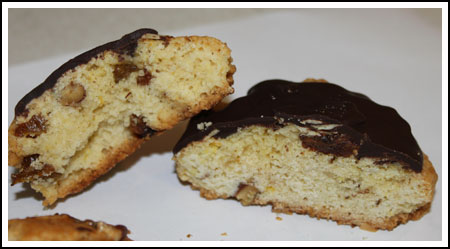 More Notes:
— Until now, I assumed the cookies were made with baking powder because the baker used the word "powder" in describing the ingredients.  But he was doing his best to tell me in English and I think when he said powder he meant powdered yeast or Italian style yeast rather than baking powder.  And it must have been a fast acting or instant type of yeast since the techniques I've seen used by Italian bakers don't say to dissolve it.
— Before I realized the Italians were probably using their special Italian yeast, I made this first batch with baking powder.  They were surprisingly good!  The dough, which was made by cutting butter into a flour/sugar/baking powder/salt mixture and then adding eggs etc. was soft, smooth and easy to work with. I made a small batch of 4, but plan on trying again with some instant yeast.
–Golden raisins are pretty important here.  Their texture and flavor combined with the lemon/orange/vanilla flavor made the cookies taste more Italian.  For chocoholics, just spoon on some melted chocolate and let it set.  I tried putting chocolate chips in some of the dough and that worked well too.  However, I think the cookies really need the raisins, nuts and zest to be more authentic.