Claim Jumper is a California Gold Rush themed restaurant known for large portions and "signature desserts".  Or at least that's what Wikipedia says.  I've never been to a Claim Jumper, but the name kept coming up during my search for a dark, moist bran muffin recipe.  This one's called "Claim Jumper Dark Honey Bran Muffins", which is a funny name considering the recipe has no honey.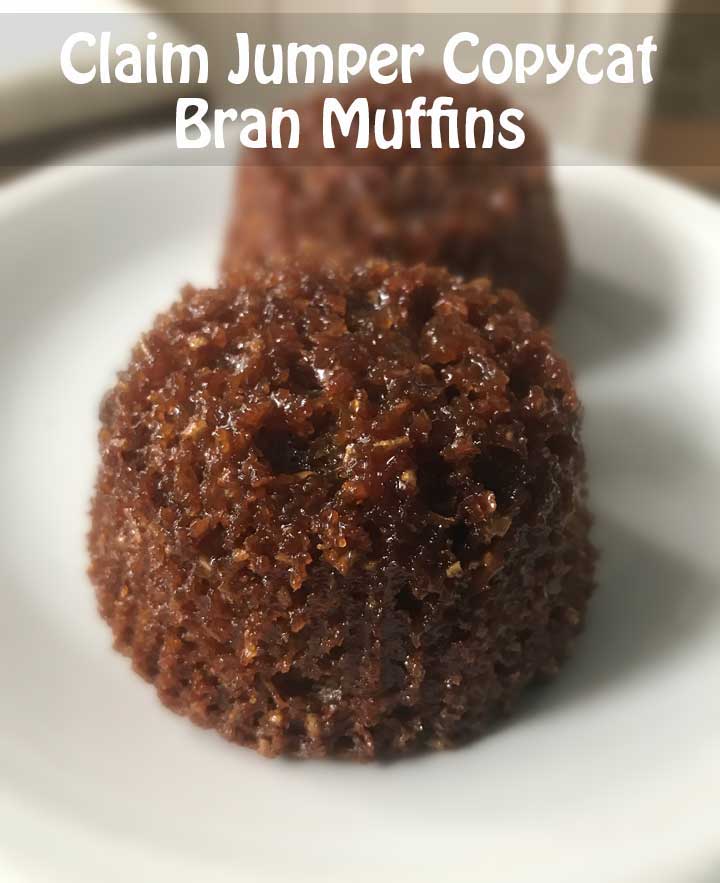 Claim Jumper's bran muffins probably do contain honey, but this clone gets its dark color and sweetness come from dark brown sugar, molasses, dark corn syrup and pureed raisins. Despite the missing honey, I thought the recipe sounded interesting, so I made a batch for the family muffin monster.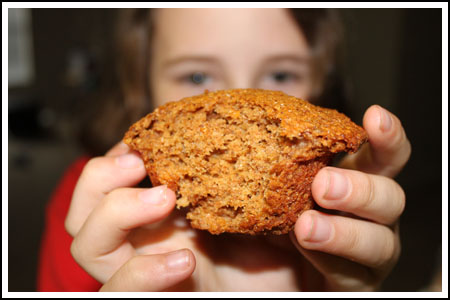 Below is what the clone recipe looks like and you can find it pretty easily by Googling. If you dare try the part about rubbing the muffin cup with glaze, let me know. I just chickened out. It seemed sticky.
Update:  I've been told these are also similar to Mimi's, though I've never tried theirs.

2021 Recipe Update!
This recipe has been here for 15 years and since then no one has sent me a picture of a Claim Jumper bran muffin.  When I google and try to find one, pictures of my daughter (who is now in college) appear. One of these days I'll make it to Claim Jumper, at which point they probably won't even have these muffins (if they exist), so I made some today.
The first time I made them I skipped the glaze.  This time I did not, and it really does make a difference.  I used parchment cupcake liners, sprayed the liners with a little cooking spray to be safe, and used butter in place of the shortening.  They are really good!  You serve them upside down (as in the picture above) and they have kind of a chewy, sticky shell.
Recipe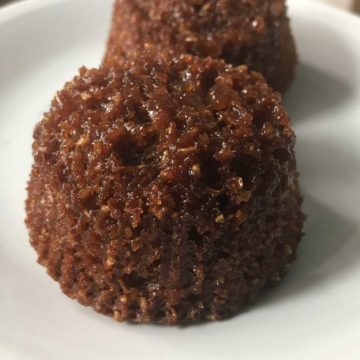 Claim Jumper Bran Muffins
Glaze goes on the bottom, then muffins are served upside down.
Ingredients 
1

cup

all purpose or white whole wheat flour

(130 grams)

1

cup

wheat bran

(50 grams)

4

tsp

dry milk powder

¼

tsp

baking powder

1

tsp

baking soda

¼

tsp

salt

⅓

cup

dark brown sugar

packed (70 grams)

¼

cup

dark corn syrup

(75 grams)

2

Tbsp

molasses

(40 grams)

¼

cup

vegetable oil

1

large egg

⅓

cup

raisins

¼

tsp

grated orange zest

½

cup

water
Glaze
3

Tbsp

shortening (or butter!)

melted

3

Tbsp

sugar

3

Tbsp

dark brown sugar

packed

2

Tbsp

corn syrup

2

tsp

water
Instructions 
If you skip the glaze, just spray the muffin tins with cooking spray or line with paper liners.

Combine flour, bran, milk powder, baking powder, baking soda, and salt. Stir well and set aside.

Mix together brown sugar, dark corn syrup, molasses, oil and egg in separate bowl until well blended.

Puree raisins and orange zest with water in blender or food processor. Add to liquid ingredients.

Stir liquid ingredients into dry ingredients until just moistened.

To make the glaze, melt the butter or shortening in a small bowl and stir in the sugar, brown sugar, corn syrup. and water. Spray 12 parchment muffin liners with cooking spray (or skip the liners) and use a pastry brush to brush the glaze over the bottom and up sides of the liners (or cups).

Fill muffin tins ⅔ full (Do not overfill!) and bake at 350 degrees for 20 minutes or until toothpick inserted comes out clean. You may need to go up to 25 minutes.

Immediately invert onto foil or wax paper to cool.
Notes
-- These muffins are sweet and have an interesting flavor from the pureed raisins. Pureeing them in water sounded like a pain, but I used one of the little cups that came with my Immersion blender and it worked perfectly.
-- The first time I made these without the glaze.  They were very good, but they are better with the glaze.  Whether or not you use the glaze, don't be tempted to overfill the muffin cups.