During our Disney trip, I kept thinking about blueberry pie. If I'd had the ingredients I would have baked one right there in the hotel room.  It did have a full kitchen that was a bit nicer than the one I'm in now, but we had no car and were limited to the groceries we picked up during a 15 minute stop on the way from the airport.  So I had to wait until I got home to bake Double Crust Blueberry Pie.  It was worth it.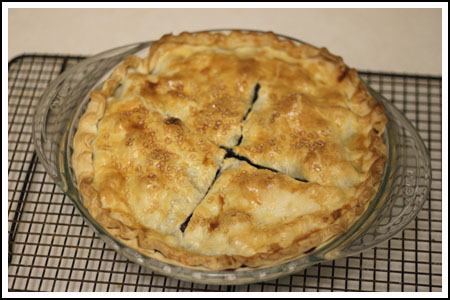 This is adapted from a recipe in the Southern Living Ultimate Cookbook, and it has all the things I like in a blueberry pie – lemon juice, cinnamon and a little bit of butter. It's also simple since you just mix the dry ingredients in a bowl and toss with the berries.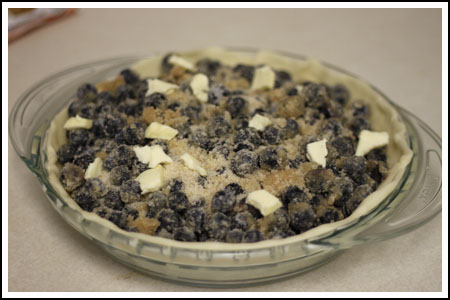 Because I made this late in the day yesterday and still needed to make an actual meal for dinner, I saved time by using roll-and-bake pie dough. In this recipe, the crust doesn't get par-baked and the pie only gets baked for 40 minutes, so I appreciated the predictability of the roll-and-bake dough. The top crust was beautiful. The bottom crust was a little soggy, but we didn't really mind because the top was so flakey and delicious. If you're picky about the bottom crust or are baking for someone who is, you probably already know some tricks to keeping it crispy.
Finally, the pie was a little on the runny side. Okay, a lot runny -- but still pretty and delicious. The photo below was after a night spent in the refrigerator so it was a little firmer, but it's still not a stiff pie.
After I baked this, I found another version of the original recipe on Recipezaar, where people said using ½ cup of flour helped curb the runniness.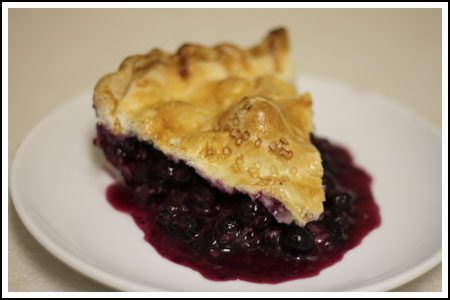 Recipe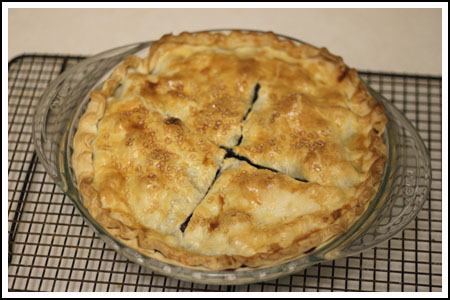 Double Crust Blueberry Pie
A basic double crust blueberry pie made with fresh blueberries, brown and white sugar, cinnamon and a little lemon.
Ingredients 
1

unbaked pie shell for two crusts or 1 pack unroll and bake pie crust

6

cups

fresh blueberries

approximately

1 ½

tablespoons

fresh lemon juice

¾

cup

granulated sugar

3

tablespoons

lightly packed brown sugar

½

teaspoon

cinnamon

⅛

teaspoon

salt

⅓

cup

all purpose flour to ½ cup

updated -- I use ½ cup

2

tablespoons

unsalted butter

cup into small chunks or thin slices

1

egg

lightly beaten

Optional: Sugar for decorating

large grained
Instructions 
Preheat oven to 400 degrees F.

Unroll one roll of pie dough and line a 9 inch ungreased deep dish pie plate as directed on box. If you are woried about a soggy bottom, brush some beaten egg over the pie dough.**

In a large bowl, toss the blueberries with the lemon juice.

In a second bowl, thoroughly mix together both sugars, cinnamon, salt, and flour. Pour dry mixture into the bowl with the berries and toss to coat. Empty the coated berries into the dough lined pie dish. Scatter bits of butter over the top of the berries

Unroll second roll of dough and lay over the berries. Seal edges and crimp. Cut slits in top of dough.

Brush dough with some of the lightly beaten egg. Sprinkle with sugar.

Place pie on center rack of a hot oven. To be safe, place a cookie sheet on lower rack in case there are drips (I didn't have any). Bake pie for 40 minutes or until top is golden brown.
Notes
*Using ½ cup of flour will help with the stiffness. I used ⅓ cup (the mount specified in SL's book), but if you prefer a less runny pie than you might want to try ½ cup.
**Another tip is to brush beaten egg over the bottom crust to make it less soggy. I've never tried that, but it sounds like a good tip.
Latest Double Crust Blueberry Pie Photo!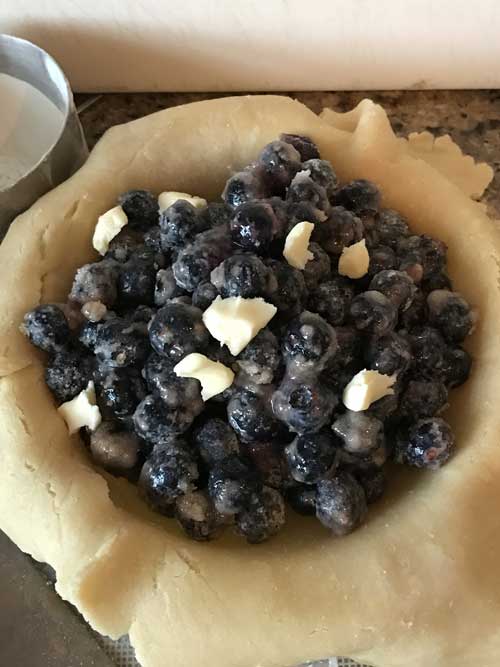 I also make this as a 6 inch pie using ⅓ of the ingredients.