Yesterday was stormy, which meant Lizzie spent most of the afternoon panting and shaking. Having a terrified corgi underfoot isn't very conducive to housework, so I grabbed a book and Lizzie and I sat in Fuzz's closet waiting for the thunder to subside. It didn't, so after an hour in the closet we moved to the kitchen where Lizzie plopped down in the corner and I baked this cake.  By the time it was done, the storm had passed.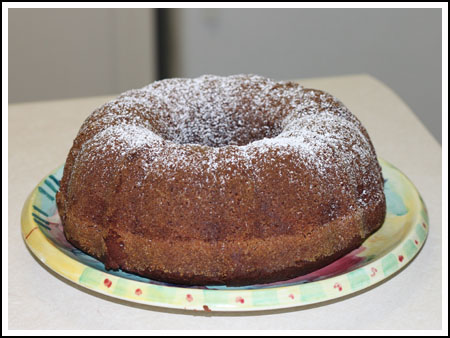 This recipe was recommended by Louise, who got it from Maida Heatter. 86 Proof Chocolate Cake is a regular chocolate Bundt cake with a hint of Bourbon and a rich but light texture. If it hadn't rained all day, I would have gone to the store for some berries to serve alongside each slice, but I wanted to stay inside where it was dry.
Since the recipe is already widely published, I'm linking to it.
There were a few things I questioned, though. For one thing, it calls for ¼ cup espresso. Did that mean brewed espresso or instant espresso powder? That seemed like a lot of powder, so I used 1 rounded teaspoon of instant espresso powder and 1/4 cup boiling water. Louise told me later I should have just used 1/4 cup instant coffee, so maybe I'll try that next time.
Another interesting step was dusting the pan with breadcrumbs to keep it the cake from sticking. You have to butter the whole pan first (which I don't think the recipe says to do), dump the breadcrumbs in the pan, then shake them around so they coat the sides. I'd never done this before, but it worked wonderfully. The cake slid right out of the pan.  As for the crumbs, they dissolved into the cake. Here's a photo of what my pan looked like dusted with bread crumbs.